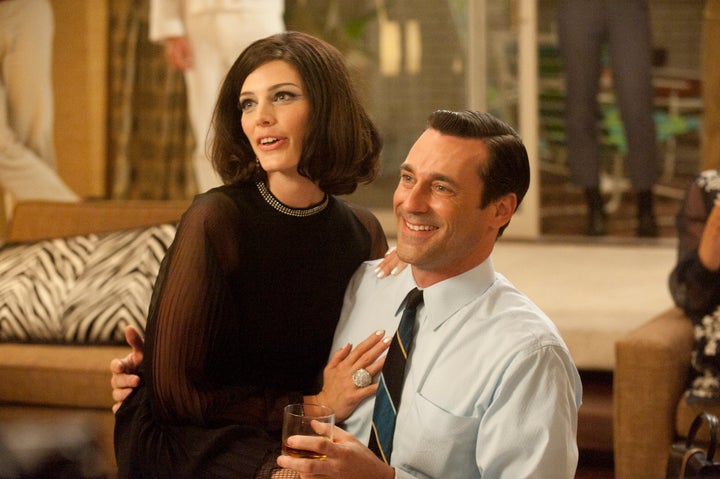 If you liked Jessica Pare's sultry performance of "Zou Bisou Bisou" on last night's season premiere of "Mad Men," you're in luck. Liongate Television Music has released the single on iTunes.
In addition to the digitial single, Lionsgate is also selling two vinyl editions of Pare's recording (it's available in either red or black vinyl). The studio says the track will eventually be available on Amazon and in stores as well. The song is Pare's first to hit iTunes.
Pare, who plays Megan Draper, Don Draper's new, young wife, performs the song at a party her character throws for Don (Jon Hamm). Her rendition has already been dissected across the internet, and helped Pare's character transform from a minor plot device to a full-fledged member of the world of Sterling Draper Cooper Pryce.
According to Lionsgate, "Zou Bisou Bisou" was originally recorded in 1961 by British actress Gillian Hills, but Vulture notes that an English version of the song was released in 1960 by Sophia Loren, as part of a duets album Loren sang with Peter Sellers. Loren and Sellers released the album as a means to cash in on the success of their film "The Millionairess," in which "Zou Bisou Bisiou" is mistakenly believed to appear.
For the complete lyrics to the English version, head over to Vulture. Take a listen to Hills' and Loren's versions below, and let us know if you think Pare's version from the episode is comparable in the comments.
Gillian Hills - Zoo Bisou Bisou
Sophia Loren - Zoo Be Zoo Be Zoo:
PHOTOS: "Mad Men" Is Back! Snapshots From The Premiere Episode:
BEFORE YOU GO