If you missed seeing the Occupy Wall Street protest in Zuccotti Park, there's another chance for you to experience the occupation at the original site.
Mark Skwarek, a faculty member and researcher-in-residence at Polytechnic Institute of New York University, has re-built the encampment using an augmented reality application. The technology allows him to move the protest into spaces that have been restricted, for users to view on a mobile device.
When Skwarek first went to see Occupy Wall Street last fall, he walked down to the New York Stock Exchange where he was greeted with empty streets, police barriers, and citizens hurrying by on sidewalks. Feeling that the protest should actually take place on Wall Street, Skwarek put out a global call for people to get involved in an augmented reality occupation, even if they couldn't physically be in New York. "Send a picture... I'll put you on the ground!" He called it #arOCCUPYWALLSTREET.
He collected photographs of both remote demonstrators and the occupiers at Zuccotti Park. Using a mobile app called Layar, he created a virtual protest by placing the images and animations in front of the New York Stock Exchange. Currently it has 70 occupiers and includes a speech over the People's Mic.
After the Occupy Wall Street eviction by the NYPD, Skwarek re-built the camp so it could live on in the virtual world at Zuccotti Park. The AR version is complete with a food tent and drum circle, and he is continuing to fine-tune it for accuracy, often questioning what point in the protest's evolution should be shown.
#arOCCUPYWALLSTREET now has many participants and has occupied the White House lawn, the Federal Reserve, the Capitol building, and Chase Bank, in addition to decorating the Wall Street Bull.
Skwarek has been working to bridge the gap between the real and virtual worlds as a founding member of Manifest.AR, an augmented reality group for artists. He previously erased the separation barrier between Israel and Palestine using GIS data to show what was on the other side of the wall, and hacked the BP corporate logo to show the Deepwater Horizon Oil Spill whenever the logo is detected in an iPhone app.
Instructions are posted on the site for how to view the virtual protest, and how to get involved in the project.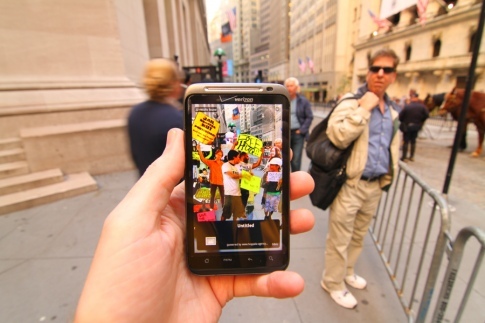 Related
Popular in the Community