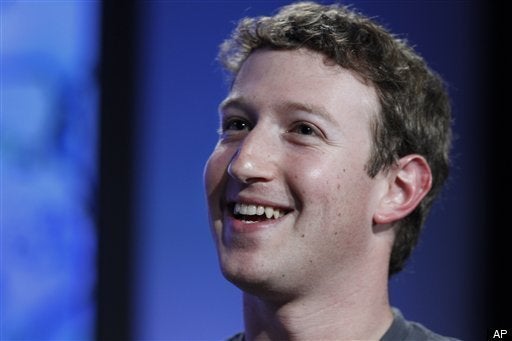 Like all influential and complex entrepreneurs, Facebook co-founder Mark Zuckerberg is many things to many people. But he is, first and foremost, our young century's first Millennial CEO.
That's a fact that's been glaringly omitted -- not to mention profoundly misunderstood -- in everything that's been written and reported about Zuckerberg this year. And due to the continued rise of Zuckerberg's company (users spent more time on Facebook than on Google this year); the critical drum-roll for Aaron Sorkin and David Fincher's The Social Network; and largely because Facebook is closing the gap between our virtual and real lives, all the while serving as an online Rorschach test of sorts; there's been a mountain of interest in and a non-stop flood of all things Zuck, including the 60 Minutes segment that aired this past Sunday.
Though at times the TV interview played like a free infomercial for Facebook, which unveiled its newest site re-design during the segment, it offered some insights. There was the obligatory exchange about Facebook's stance on user privacy, and a nod towards the most interesting story in Silicon Valley -- the battle between Google and Facebook. (Note to reporters and editors: it's not just a business and tech story; it's a story, at bottom, about changing human behavior.) But the most striking nugget in the broadcast came courtesy of Kara Swisher, editor of the Silicon Valley staple All Things Digital.
Three years ago, Swisher famously referred to Zuckerberg as the "Toddler CEO." A Harvard drop-out, with no managerial experience to speak of and a shyness that easily came across as cockiness, Zuckerberg worked through a revolving door of senior executives. Facebook was unstable. "The kid," as the old guard called him, was not up to the job. No one thinks that anymore -- certainly not in the Valley. Swisher told 60 Minutes' Lesley Stahl: "The toddler's a prodigy, as turns out."
And the prodigy, unlike any other CEO of his stature, is growing up right in front of our eyes. I profiled Zuckerberg earlier this year for the New Yorker. After the profile was published and posted online, I received numerous Facebook messages, tweets and emails from readers, asking questions ranging from "Did he really turn down that much money?" (yep, he did, a few times) to some variation of "...but what really makes him tick?" As a Millennial myself, I can tell you that who Zuckerberg is cannot be divorced from the generation he represents.
A Millennial describes someone who was born between the late 1970s and the early 1990s. Members of this generation are prone to blur the line between work and home, between their personal and professional lives. Bureaucracy saddled with hierarchy is sneezed at; what's preferable is a more flattened, individually focused yet collaboration-oriented working environment. Having an impact is just as valued, if not more so, than making money. There's something that seems downright Barney-ish about all of this. "I love you / You love me / We're a happy family," so goes the lyrics to the show's most famous song. Nevertheless, this disposition represents a fundamental change, and an emerging reality, for many businesses within and outside the tech industry. Experts say Millennials comprise the fastest growing group in the workplace.
Facebook is the first major Internet start-up whose core group of founders and key executives are Millennials, from Chris Hughes, who left Facebook to work as director of online organizing for Barack Obama's presidential campaign and now serves as founder and CEO of Jumo, a social network for the social sector, to Sean Parker, the perennial entrepreneur who's the co-founder of Napster, Plaxo and Causes, an online advocacy and fund-raising application within Facebook. Hughes is 27 years old; Parker just turned 31. Though Facebook won't reveal the median age of its employees, the engineering brainpower inside "The Bunker" -- as Zuck calls his company's headquarters in Palo Alto -- skews younger than other comparable tech companies in the Valley, which is populated by CEOs from the Baby Boomer and Generation X generations. From a creative standpoint, Facebook has become a Millennial hub.
"I'm speaking in generalities here, of course, but Gen Xers are largely pragmatists. Boomers are idealists. Millennials combine the two: Let's think of idealistic things to do, but let's think of pragmatic ways to get them done using people, interacting with a community," Morley Winograd told me. Winograd is the co-author of the forthcoming book Millennial Momentum: How A New Generation Is Remaking America, which will be published next year. "Mark Zuckerberg is, right now, the most high-profile entrepreneur of this Millennial generation."
Born in 1984, Zuckerberg is a digital native who grew up in the Internet era, unencumbered by the analog world, the broadcast world, whatever we call the pre-digital age. The Internet -- not television -- has been at the center of his life. He was in middle school when Google was launched, and in high school by the time Wikipedia went live. He could always instant message someone. Everything, and everyone, was a click away, laying the foundation for how he envisions the Web.
"Mark was a blank slate in some respects. Looking at the context of this digitally interconnected world, the world that he grew up in, he was able to say, 'Ah, if this is the way the world is' -- all of us online, all of us with connecting with each other -- 'then this is how Facebook should be,'" Peter Leyden, a tech entrepreneur who was one of the founding editors of Wired magazine, told me. "The ramifications and consequences of everything he's doing are huge, because the world that he's in charge of -- what, more than 500 million users on Facebook -- is growing. Steve Jobs at 26 and Bill Gates at 26 were not dealing with the kind of pressure that Mark Zuckerberg is dealing with right now."
We are living in the third era of the consumer Internet.
The first era saw the rise of portals like AOL, CompuServe, Prodigy in the late 1980s and 1990s -- essentially confined spaces where users read the news, joined moderated forums and participated in chat rooms. The second era broadened and deepened our browsing experience; in the past decade, Google and its algorithms have helped us navigate this new world. The third era -- the one we're living in, the one we're trying desperately to understand -- is an Internet that's built on people. Facebook did not invent this; the arrival of the social Web pre-dated Facebook, of course. But it's a cultural and technological shift that Zuckerberg and his team have tapped into and effectively capitalized.
Everything is better with your friends, Zuckerberg likes to say, and he envisions the Web as becoming more and more social, because we, as people, are inherently social. We share. We tell stories. We make friends. To that end, Facebook is creating, and has succeeded in creating, a Web of its own, launching products and applications in which people's relationships are at the core of the user experience.
Some three years ago, at the inaugural event called f8 (rhymes with fate), Zuckerberg declared that Facebook -- then with 24 million members, less than half whom were in college -- was more than a social networking site. Facebook is a platform, he said, a distribution channel similar to iTunes and an operating system like Windows. Offering a set of tools -- application programming interfaces, or APIs -- Zuckerberg opened up Facebook and its members to third-party developers to create applications. To many Facebook users, that meant games such as FarmVille, where Facebook users play with their friends in tending crops and growing a farm, and more serious-minded applications such as Causes. FarmVille is owned by the Zynga, which was created in 2007. The 1,300-person company has a reported revenue upwards of $500 million.
Almost three years later -- when Facebook boasted more than 400 million members -- Zuckerberg upped the ante at his third f8, in April. In addition to being a platform, Facebook introduced the Open Graph, which includes features such as social plug-ins that make the Web a more personalized experience. Users reading articles on HuffPost, for example, can see which articles their Facebook friends have read, shared and "liked." Previously, at the second f8, in July 2008, Zuckerberg unveiled Facebook Connect, allowing users to sign onto third-party sites, gaming systems and mobile devices with their Facebook identity, which serves as a sort of digital passport. This year, Amazon -- the Web's largest retailer -- integrated Facebook Connect, syncing an Amazon shopper's account with his/her Facebook account. Zuckerberg was particularly proud of this integration because he admires Jeff Bezos, Amazon's founder and CEO.
Taken together, Facebook Platform, Facebook Connect and the Open Graph present a fundamentally different Web in which being social and being public are the norms. There's something really efficient at work here; naturally, I'm more likely to read an article that my friends have read, in the same way that I'm more likely to visit new restaurants or watch movies recommended by friends. As Henry Jenkins, the noted media scholar and author of Convergence Culture: Where Old and New Media Collide, told me: "We've talked about intelligent agents for years but no program has ever been built that is as useful as a friend who knows what I'm interested in and has contacts or sources I don't know." This is why Google, with its still-dominant algorithms, has reason to worry as Facebook's social graphs expand and the Web grows more and more social. Think of it this way: Google is to e-mail as Facebook is to text messaging. But there's also something potentially sinister and dangerous going on here, entrusting our information -- our names, our photos, our relationships -- to a company that profits (handsomely and increasingly) from our identities.
But whatever the motivation -- Zuckerberg, a budding philanthropist who today pledged to give away at least half of his fortune, insists it's not financial -- the future of Facebook, the way it will continually evolve and rapidly iterate, will be based on how Zuckerberg sees the world: how we express ourselves and how we connect with each other.
On Facebook, everything is a relationship, and our relationship with our first Millennial CEO is just beginning.
Related
Popular in the Community