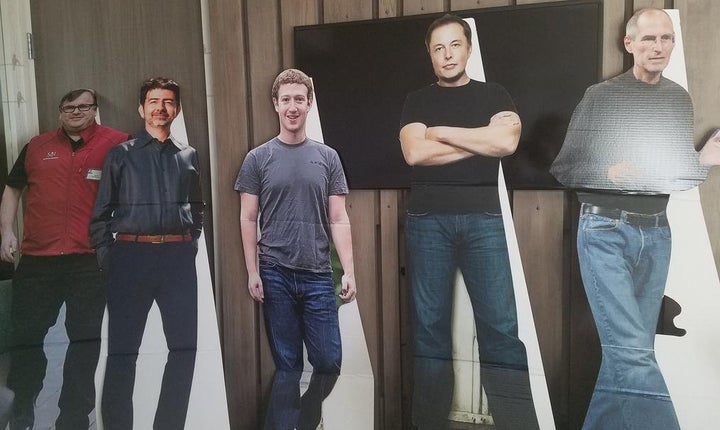 With $30 trillion in wealth set to make its way to millennials in the next decade or so, banks and financial institutions are jockeying for position to capture market share and AUM. To leverage this opportunity, financial services firms need to ask themselves if they are doing enough to market/brand to this important group. Is our corporate brand a known commodity among next generation customers? What can a financial services firm do to connect and engage Next Generation clients? How about a hands-on event for future global entrepreneurs held in the epicenter of enterpreneurship – Silicon Valley.
So, if you hold an event, and the photo cutouts of Silicon Valley heroes like Mark Zuckerberg, Reid Hoffman, Pierre Omidyar, Elon Musk, and even the late Steve Jobs make an appearance, financial institutions and investors should take notice. What type of an event might garner such entrepreneurial luminaries or at least their facsimiles?
The #NextGenExperience hosted in the United States by Bank of the West (and in Paris and Hong Kong by BNP Paribas Wealth Management) is one such event. It's part of a growing communications/client experience trend that goes beyond the usual product and services offerings. Millennials want a deeper connection, and this content was designed to engage the hearts and minds of these #millennials.
While I had attended the Hong Kong event this last June, I was just as thrilled to attend and participate in the #NextGenExperience held in Silicon Valley in September. This hands-on entrepreneurial immersion held at a variety of storied venues around Silicon Valley-- attracted 47 ultra-high-net-worth millennials ranging from 23 to 35 years of age, from more than 18 countries.
So, why is this trend so important? Capgemini's 2017 World Wealth Report details the shifts in the high-net-worth market, namely through the growing importance of big technology in wealth management, entrepreneurship, and the influence of millennials, who are set to benefit from the largest inter-generational wealth shift in history in the coming years. While many articles and studies are dedicated to understanding millennials, especially under the lens of the wealth transfer, what are ways that banks and other financial services firms can connect and provide value to this critical demographic? This Next Gen event was an example of that.
Remember when financial services were all about selling products and related services? Today, financial advisors of all types are evolving, offering more experiences and educational opportunities for all generations of clients. Bank of the West (along with BNP Paribas) has developed these outreach programs to provide education, peer-to-peer networking and hands-on experience to their youngest clients many of whom will be inheriting or have inherited large sums of wealth, or who may want to start their own entrepreneurial ventures, or both!
BNP Paribas and Bank of the West focused on developing a series of events this year that have underscored their commitment to the millennials and ultra-high-net-worth market. The event locations were carefully chosen. Each of the events had overlapping themes as each of these global (and mobile) UHNW bank clients face similar challenges, opportunities and issues when it comes to addressing the millennial ultra-high-net-worth market but certainly had a local flair.
For the September event, Silicon Valley provided a fantastic backdrop for the three themes of this event: entrepreneurship, family wealth, and innovation with impact. Millennials are particularly keen on exploring new ways of thinking to bring positive influence and purpose through investments in today's global economy.
Attendees who convened in Silicon Valley interestingly came from all around the globe with one-third from Asia, one-third from Europe and the remainder from the US. They were eager to explore the ways in which the worlds of family wealth and venture capital intersect and where future opportunities may arise.
For me, one of the most compelling sessions was hearing the personal story of Saeed Amidi. Amidi was an early investor in PayPal, Dropbox, and Lending Club, and founded the Plug and Play Tech Center, a technology accelerator and investor, where much of the event was hosted. His story resonated with tomorrow's leaders who are poised to lead family businesses or launch start-ups.
One key to each presentation was the notion that banks and their high-net-worth business units must be better attuned to the customer experience over the products. Speakers consistently delivered the message that high-net-worth clients care more about the experience they can have through deeper relationships with the bank than any product a bank can dream up. Invitees were toured around "The Valley" and went to see the Omidyar Foundation, LinkedIn, Facebook and other iconic locations.
I asked Steve Prostano, head of Family Wealth Advisors (UHNW) at Bank of the West for some thoughts: "We continue to learn how important innovation and purpose are for our next generation. It was exciting to watch and support our invitees who certainly demonstrated their motivation and excitement on learning from those at the heart of venture capital presentations, various speakers, and developed "peer-to-peer" relationships with others who attended the event in Silicon Valley."
It's exciting to know that change is happening within wealth management. Whether it's millennials, technology or a combination of both, clients are no longer satisfied by the "one size fits all" model.
Pierre Ramadier, Senior Executive VP, Head of wealth management at Bank of the West, said, "Wealth management is no longer simply about products and services. It's about the experience we provide to our clients. We were pleased to provide the platform for ultra-net-worth millennials to network and build relationships that will last a lifetime."
What can your bank or financial services firm do to capture a piece of the millennial market? First, you must to understand what millennials want. That means creating the right offerings that integrate strong mobile and digital features that this generation (and others!) expects. Today, this also means clearly articulating your marketing and brand strategies, so millennials can be assured that you speak the same language that they speak!
Popular in the Community