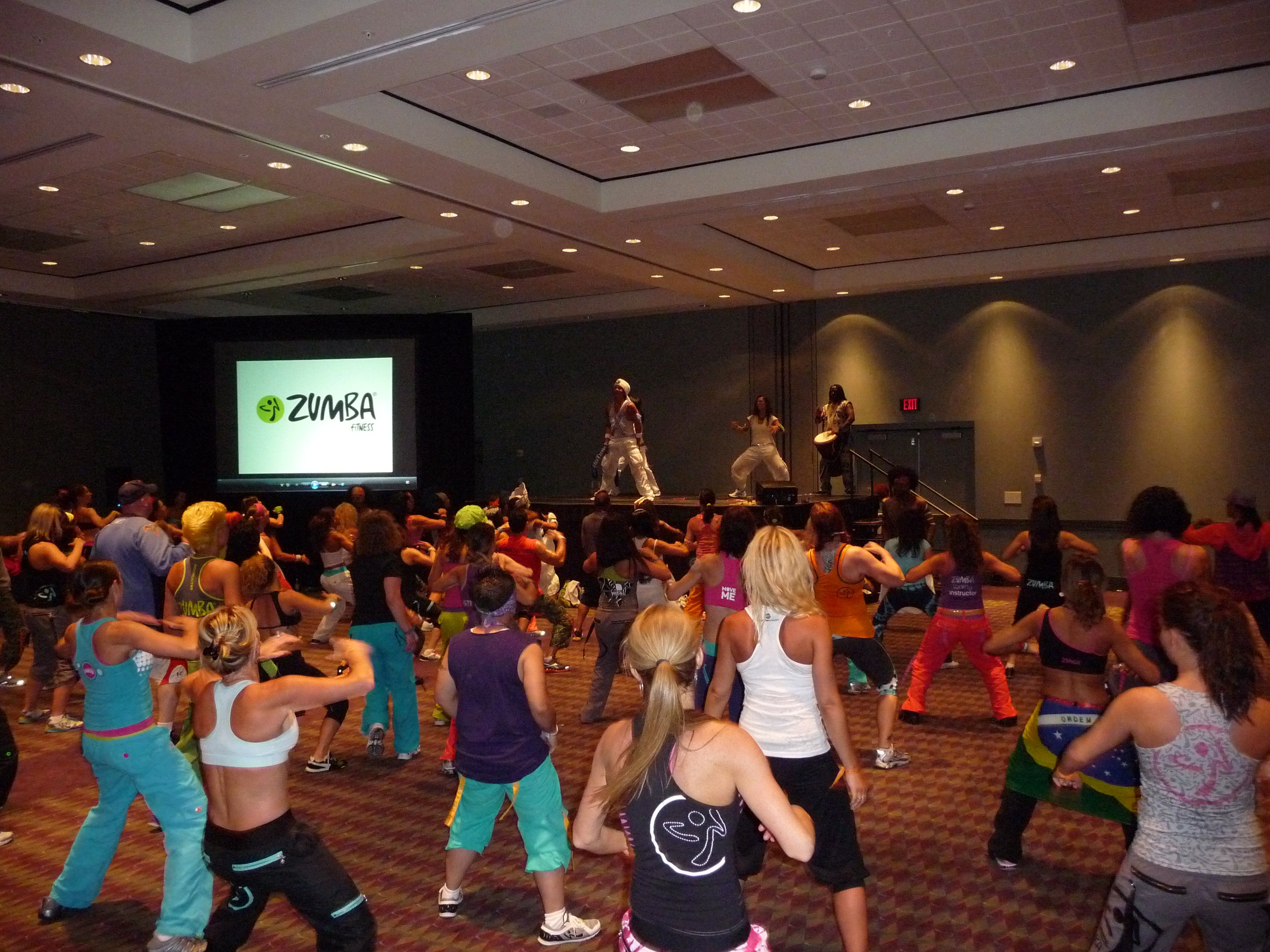 All conventions have their uniforms, marking attendees as members of a certain tribe. Blocks away from the Orlando Convention Center, I begin to spot sinewy women and men in DayGlo plumage, clutching their water bottles in the Florida heat. For four days over this past weekend, several thousand members of the Zumba Instructor Network (ZIN) gathered to catch up with the latest developments in their field. It was the fourth international Zumba convention, and the tenth official anniversary of Zumba itself.
Zumba classes are everywhere these days, boasting 12 million regular attendees in 125 different countries. In a typical class, participants dance their way through an hour-long mélange of styles: salsa, cumbia, hip-hop and belly dancing, to name just a few. At my local gym, the wall-thumping bass of a reggaeton song is audible throughout the entire building, luring people of all ages into the always-packed classes. Zumba classes have been described as happy hour without the drinks. "Ditch the workout -- join the party," is the program's trademarked slogan.
Founder Alberto "Beto" Perez created Zumba by accident in Cali, Colombia when he forgot his usual aerobics tape and improvised using salsa cassettes from his car. In 1999, Beto came to Miami, where he officially started the Zumba program along with two Colombian entrepreneurs. To become a licensed instructor, teachers take an eight-hour course, after which they can teach Zumba wherever they want. As members of the Zumba Instructor Network, they receive bimonthly choreography and music to use in preparing their classes.
In rooms throughout the convention center, scores of instructors follow the movements of professional dancers on a stage in master classes with titles like "Bollywood Magic" and "Colombian Connection." Zumbawear fashions -- cargo pants, tanks and hoodies -- take their cues from hip-hop culture. In one room, everyone dances in the dark with glow sticks attached to their fingertips. Pitbull and Wyclef Jean have both performed this weekend. But Beto is the clear star here. Instructors tweet his whereabouts, nab him en route to workshops for an autograph, and generally revere him as the guru of the movement. Reputedly modest, Beto has created choreography for stars like Shakira (that other hip-shaking Colombian export).
Instructors at the Zumba convention come from countries ranging from Iceland to Japan. Many of them are playing hooky from their day jobs to be here, working toward additional certifications that will license them to teach children or seniors. Other instructors say the convention reaffirms the sense of community they get from Zumba. Amanda Grant, a Zumba Education Specialist (ZES) from Canada, puts it this way: "It's a family-oriented company: come by yourself, leave with new friends."
One of the criticisms leveled at the program is that training for instructors is too lax, leading to student injuries. The Zumba Education Specialists are aware of this, and they encourage instructor certification with the Aerobics and Fitness Association of America to ensure they are educated about exercise safety and physiology. But I believe that one could criticize any number of programs that bring people to fitness who might otherwise never exercise at all.
So does it work? A typical class can burn up to 500 calories. And there are no shortage of success stories. I meet one woman who has lost over a hundred pounds. Another instructor tells me about a student who confessed that Zumba kept her from committing suicide. "It's cool to be a part of something that can change lives," Grant says.
As an anthropologist, I wonder whether throwing together dance styles from completely different cultural contexts waters them down, resulting in a loss of deeper meanings. But the instructors disagree. "They actually bring experts from those cultures to teach others," Nicole Ramirez, an instructor from New Jersey, tells me. In fact, the conference program accurately details the history of dance forms like Capoeira, a martial arts-based dance that originated among Brazilian slaves in the 16th century. If anything, Zumba introduces people to music they might not otherwise hear. Ramirez, who is Puerto Rican, says her family is thrilled that music from their heritage has been integrated into the Zumba program. "They love listening to my mixes," she says.
Skeptics might be tempted to dismiss Zumba as yet another exercise fad (anyone remember Tae Bo?), one that will fade as soon as the next life-changing fitness craze is discovered. Yet after ten years, the Zumba program is going stronger than ever. The corporation's ability to reinvent itself and emphasize Zumba as a lifestyle (and not just as a dance fitness program) will determine its success. Judging from the almost evangelistic fervor of the instructors I met this weekend, and the addictiveness of the classes I've personally attended, for the foreseeable future, the Zumba party is here to stay.