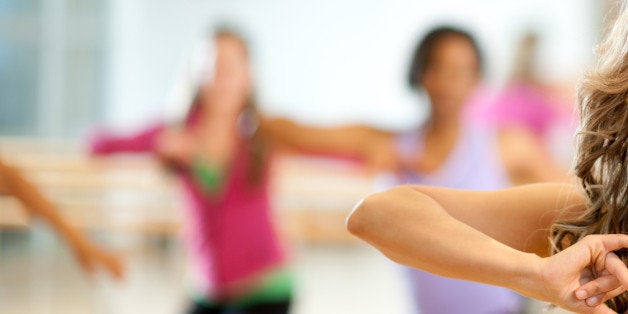 I didn't think I could "Zumba."
I knew I was "fit" enough for the one-hour aerobic dance class at the gym; I regularly took other classes, from cycling to boot camp to kickboxing to yoga. But I didn't think I could take Zumba. I didn't think I could allow my body to move expressively, in ways that I suspected would set loose the sexual trauma of my past. I didn't think I could bear to see its reflection in the mirror, unfurl the feelings of violation and terror and humiliation I'd locked up in my hips and shoulders and heart since I was a girl.
When I was 5, on weekends my mother would put a Disney album on the record player and I'd skip and hop and leap around the room for hours, paying attention to nothing and no one but the music and the way I expressed myself through my body. I danced; I lived and breathed the rhythm of each moment -- until the sexual abuse of my childhood caused me to stop.
I grew up ashamed of my body, closing it up, folding myself inward, so that no one would see my pain or what was underneath it: the essence of me. As an adult, I spent years in therapy psychologically processing the various angles and effects of the abuse, peeling away the layers, but my body still stored the unspeakable parts of my past.
On Sundays at the gym, I could see the Zumba class from where I was on the step master machine. Weekly, for almost a year, I watched through the studio glass walls, envying the women inside, women of all different shapes, sizes, ages and physical abilities, moving their bodies so passionately, so freely, to Latin rhythms. They danced combinations of cumbia, merengue, samba and other routines choreographed and led by Adam B., the instructor I overheard a trainer call "the epitome of life force."
Finally, one day I went in.
Nervous, I stood in the back of the room so as to not be noticed making what I anticipated would be a fool of myself. I'd left my contact lenses at home so that I wouldn't be able to see myself in the mirror, but I could still make out the shape of my body in the distance, my purple tank top, my black workout capris, my blonde hair up in a ponytail. I felt my legs and arms and insides shaking.
Adam walked in front of the mirrors. "If it's your first time taking Zumba," he said, "just keep moving and have fun. Don't worry about knowing what you're doing."
Then he started the music: Ariana Grande's "Break Free."
I spent the first month in the back of the room feeling uncoordinated and embarrassed, at times panicked by the sudden rush of chills and tears that released as my body moved in ways I'd never allowed. I shut my eyes and felt the music -- I'm stronger than I've been before!/This is the part when I break free/'Cause I can't resist it no more! -- I felt my 5-year-old self inside my skin, dancing: I found my own lost joy.
Adam gave us tips about posture, showed us how to hold our shoulders and chest open, how to move our feet, our legs. "Do you feel sexy?" he shouted. The body was not an object to be debased, but a birthright to be respected and honored.
My body, so used to walking around closed and clamped down, started to open. As the weeks progressed, I slowly made my way from the back of the studio towards the front of the room. Outside of class, I became aware that I was beginning to carry myself differently.
Three months late r-- last weekend -- I had a major setback. Watching the television news, I learned that a man was arrested at a popular local café where he was allegedly videotaping women in the restroom. Police believed he was using electronic devices that he hid in a fake flower basket, an arrangement he'd allegedly brought in from outside, to film and stream nude images onto his cell phone. I'd been at the café. I'd stopped in during a bike ride to use the restroom. I'd seen the flower basket. When I saw the pictures on the news report, my heart began to pound and my body numbed over. The trauma of my past came flooding back. I'd worked for years in therapy to overcome a phobia of being violated in the bathroom. Now I felt stripped, naked, ugly, degraded.
The following day, Zumba class was on my schedule. I wasn't sure I could go. I considered staying home, sitting it out. All I could think about was the man at the café. I didn't want anyone to see my body, my "booty." I didn't think I could bear to look at myself. I didn't want to feel the pain. It was as if I'd lost all I'd worked so hard to gain.
I went, out of defiance. I went to take back my power.
I contemplated standing in the back, in the corner, out of sight, out of mind. But then I didn't. I wouldn't indulge my perpetrator, my victimhood. I walked straight to my newfound space, three rows from the front, near the speakers.
When Adam turned on the music, I saw my reflection in the mirror and for a moment, I felt paralyzed, haunted, watched. But then, along with everyone else, I started to dance. I felt myself break free. I felt my joie de vivre. And I understood that no one could take that away from me.
REAL LIFE. REAL NEWS. REAL VOICES.
Help us tell more of the stories that matter from voices that too often remain unheard.