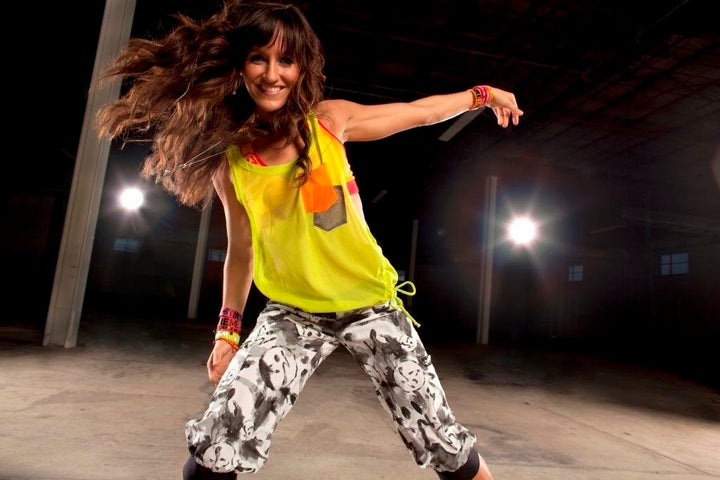 Music is the heart and soul of the Zumba program. We create our playlists to give students a variety of moves and rhythms, fitness levels and feelings. As a Zumba instructor, I want to create a getaway for my students -- a fun place to escape, burn calories and have a party-like atmosphere, rather than a traditional workout class. This is where our slogan "Ditch the workout, join the party" comes into play and can be experienced through music. The whole foundation of a Zumba class is its music -- that's what makes it so fun -- like exercise in disguise. People say that Zumba classes don't feel like workouts. They feel like parties, and the music plays a very strong role in creating this atmosphere. Music is the key ingredient!
Infectious beats and rhythms are the key to good exercise music because they help you forget you are exercising. You get caught up in the vibe and often in the lyrics, and it's an excellent distraction. Before you know it, you've moved through an hour class and burned up to 1,000 calories! In Zumba classes, you'll find a range of international music, including hip hop, reggaeton and Latin beats -- if you can't help but tap your toes to it, it's the perfect tune to exercise to because it's already getting you moving! Zumba Fitness produces amazing songs that are class favorites and can also be found on itunes. Artists like Pitbull, Wyclef and most recently, Don Omar have teamed up with Zumba to launch songs via the Zumba Ftiness' music platform.
I love a mixture of artists, genres, some oldies and top 40 hits and Zumba original songs. I mix up my playlist a lot, but here are many of my favorites that get the class moving and energized.
"Gettin' Over You" -- David Guetta feat. Fergie & LMFAO
"SexyBack" -- Justin Timberlake
"We Found Love" -- Rihanna feat. Calvin Harris
"Un Mes" -- Mara
"Super Estrella" -- Fuego feat. Omega "El Fuerte"
"El Fuerte" - Fuego feat Omega
"La Despedida" -- Daddy Yankee
"Danza Kuduro" -- Don Omar
"Zumba" -- Don Omar (Don Omar just gave us this hot new song to launch through Zumba Fitness's music platform. It's definitely going to be a hit song for the summer, already reaching No. 17 on Billboard Latin Digital and No. 27 on iTunes Latin)
"Pause" -- Pitbull (Pitbull teamed with Zumba Fitness to launch the song "Pause"; we created special choreography and a music video to complement the song. It quickly became a hit with Zumba fans around the world!)
"Caipirinha" -- Zumba Fitness
"Hound Dog" -- Elvis Presley
'Gordita" -- Shakira
"Shake It Up" -- Mara feat. Barbero
"Dance, Dance, Dance" -- Zumba Fitness (An awesome hip-hop song from the Zumba team. All of my students love when it calls for them to freestyle!)
"Oye Como Va" -- Celia Cruz
"Save A Horse [Ride A Cowboy]" -- Big & Rich
"Zumba Mami" -- Zumba Fitness
For more music, check out the rest of the HuffPost Workouts series here.
Related