I have just entered my seventh and final semester at Brandeis University. Brandeis is a university with a large population of Jewish students, and therefore there are many options available each Shabbat (Sabbath) on any given week. There are various dinners, tefillah (prayer) options, and different communities one can choose to associate with. And though I have not experienced all of them, I am sure they all are beautiful at one point or another. Personally, I am never quite sure what I am looking for. Each week seems to require a new moment for me to think about what I want to get out of Shabbat. There is little internal consistency, perhaps due to general external uniformity, which frustrates me because it seems that by now, I should know what I want my Shabbat experience at Brandeis to be. Last week however I had no introspective squabblings about how I wanted to spend Shabbat.
Chabad at Brandeis, led by Rabbi Peretz and Chanie Chein, welcomed the spirited band Zusha into their home for the second year in a row, and the musically-talented, soul-inspired, hipped-out band drove up in their Zushvan, beating the sunset. The highly anticipated return of Zusha to Chabad at Brandeis came just days after the release of their new album Kavana, which currently sits at number two on Billboard's World Music chart, only adding to the excitement of the already hyped crowd of Zusha enthusiasts. On the RSVP form for the event, students indicated their familiarity with neegoonim, the wordless melodies that Zusha create, and reported what they wished to take away from the Zusha experience. While some people reported that they wished to take away new melodies from the weekend, others simply wished to experience Shabbat in a new and a different way, and others sought to be soulfully energized, hoping to come away from the special Zusha Shabbat with fresh energy for the upcoming semester. Being the first semester back from break, and the first Shabbat of my last semester here at Brandeis, I too wished for inspiration, and for a fulfilling, lasting energy. And Zusha did not disappoint.
Zusha, who on their website describe themselves as being a "World Soul band", led by vocalist Shlomo Gaisin, guitarist Zachariah Goldschmiedt and percussionist Elisha Mlotek, rolled into Waltham, Massachusetts fresh off a sold-out show at the Bowery Ballroom in New York City. Despite the travel weariness that accompanies being a band on tour, Zusha met the crowds that showed up at the Chabad House with the utmost joy and energy. Kabbalat Shabbat, the Friday evening service that welcomes in the Sabbath, was scheduled to start at 5:00 and students began arriving and taking their seats.
The service, though structured in the orthodox style with separate seating for men and women, and men leading the service, attracted crowds of people from all different backgrounds. The space buzzed with excitement and anticipation, though most people including the event organizers did not know exactly what to expect. At around 5:40, about forty minutes past the scheduled start time, Shlomo, Elisha and Zechariah began singing, jumping, tapping and praying, leading the one hundred plus crowd in soulful, joyous and spirited prayer.
The evening service for Shabbat typically lasts anywhere from forty five minutes to an hour, but the pure energy in the space blasted away any sort of awareness or attention to time, and the singing, dancing and davening, or praying, that took place in the Chabad house seemed to just go and go and go.
At some point in the night, the davening space evolved into the dining space, and Zusha took a breather during dinner, and Elisha even disappeared for a stretch of time (a quick snooze perhaps?) I had the honor and privilege of sitting and eating with Zusha at the Chein family table, and as the night progressed and dinner winded down, around twenty-five students drew up chairs around the table to listen to Gaisin speak, and to ask them questions. How did they meet? What drove them to become Zusha? Where do they get their inspiration to create such uplifting, soulful music? What is their goal? Do they have disagreements? These were some of the questions posed to the group, but it seems silly to just share all the answers here on blog post. If you have an interest in spirituality, soulfulness, singing and above all harmony, I urge you to check out Zusha yourself.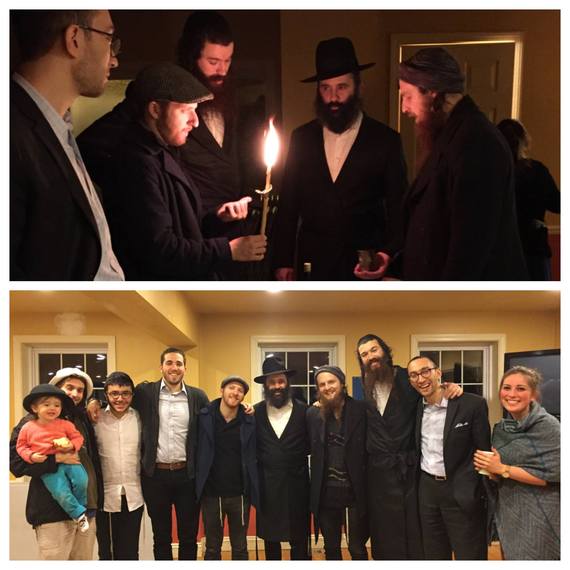 Photo: Chabad at Brandeis

Zusha is on tour right now, having played already in New York, Boston, DC and St. Louis, with upcoming stops in Cleveland, Chicago, Miami, LA and Oakland. Make sure to check out their music on Spotify, iTunes, or online at Zusha.com, and you can follow their tour on Instagram at @zushamusic and on Facebook at Facebook.com/zushamusic.
REAL LIFE. REAL NEWS. REAL VOICES.
Help us tell more of the stories that matter from voices that too often remain unheard.