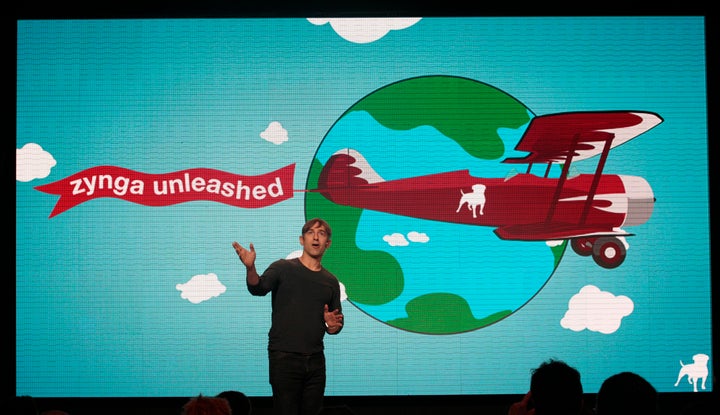 By Anthony Hughes and Robert Sherwood
NEW YORK, Nov 30 (IFR) - Zynga is expected to price its shares on December 15 in one of the most highly anticipated IPOs of the year.
The IPO is expected to value the fast growing social gaming company at around $10bn, below some earlier estimates of as much as $20bn.
The company is targeting a pricing range of $8-$10 per share, according to the source.
Though the details are still being finalized, Zynga is likely to sell around 10% of its shares, including both new and existing shares, to the public.
Having risen to prominence on viral games such as "FarmVille" and "Mafia Wars", Zynga is widely expected to file terms on Friday for an IPO that would generate around $900 million in proceeds at the midpoint of the price range, the source said. Underwriters could ultimately upsize the deal based on demand.
The timetable suggests the banks will opt for a standard nine-day roadshow, paving the way for a Nasdaq debut on December 16, a Friday.
Zynga spokesman Adam Isserlis declined to comment.
Another source familiar with the matter told Reuters on Wednesday that Pincus, the CEO, will not sell shares and neither will Kleiner Perkins, one of Zynga's main venture capital backers.
In its latest filing with the Securities and Exchange Commission on November 17, the company said a third party performed an analysis that valued the company at $14.05 billion.
Zynga first filed plans to go public on July 1, flagging an offering in the order of $1 billion at that time.
Morgan Stanley and Goldman Sachs are lead bookrunners on the deal, with Bank of America Merrill Lynch, Barclays Capital, JP Morgan and Allen & Company also named in the syndicate.
Their underwriting committees at the banks involved are finalizing their participation in the offer.
Sources told Reuters on Tuesday that Chief Executive Officer Mark Pincus will lead presentations to investors, along with Chief Operating Officer John Schappert and Chief Financial Officer David Wehner.
Zynga's games have 54 million daily active users and 227 million monthly active users in 175 countries, mostly via games on Facebook.
The company is on track to become one of the fastest Silicon Valley companies ever to turn over more than $1 billion a year in revenue. Founded in 2007, the company increased its annual revenue from $19.4 million in 2008 to $597.5 million in 2010, and generated revenue of $828.9 million in the nine months to September 30, 2011. Over the same period, net income was $30.7 million and adjusted EBITDA $235.5 million.
(Reporting by IFR's Anthony Hughes and Robert Sherwood; Additional reporting by Reuters reporter Liana Baker)
Copyright 2011 Thomson Reuters. Click for Restrictions.
Related
Popular in the Community