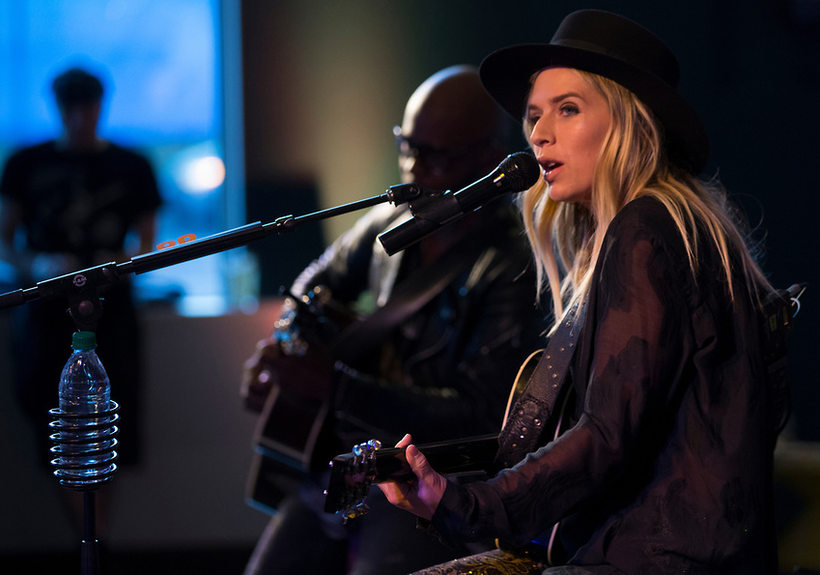 I've been aware of the fact that the Aloft Hotels chain hosts musical performances at various locations for years now, as I used to spend hours watching many of them online. A quick YouTube search turns up hundreds of uploaded clips from some of the coolest underground acts out there, all at different hotels. I watched these when I was first getting my start writing about music years ago, and I remember thinking they were pretty awesome. I had never heard of a hotel having "cool" bands and singers come perform for a public crowd, as opposed to an invite-only event of some kind every once in awhile.
Last week, I finally got to experience one of these shows while I was in Seattle for a festival called Bumbershoot, and it was even cooler than I anticipated.
The event was just as intimate as I had hoped and always imagined, and the artist performing was somebody I've loved and followed since her career began. Soul/rock singer-songwriter ZZ Ward took to the "stage" (meaning the space that was created by moving some furniture) to show off why she remains one of the best-kept secrets in music, despite her incredible talent and the hit-potential many of her compositions have.
The performance space (where couches and tables that typically go unused typically reside) felt more like a spacious, modern, well-appointed living room than a hotel lobby, which made it the perfect location for such a show. There's nothing wrong with a grand ballroom if the artist can fill it, but the smallness made her showing that much more enjoyable.
Those that showed up to hear ZZ and her backing band were young, cool, and clearly a fun-loving after-work crowd. I personally didn't know anyone there (I don't live in the area), but it felt as if I was at a party attended by friends and friends of friends. No, not a party, a get-together, as there wasn't anything potentially rowdy going on here. It was all very civilized and relaxed, and that's not something you typically get at a performance featuring someone like ZZ Ward.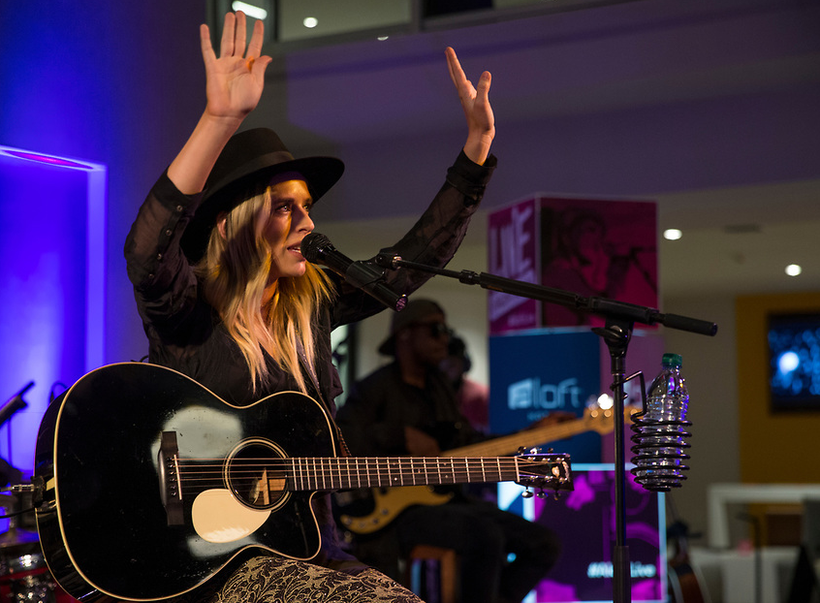 There didn't seem to be anyone over the age of 45 there, though they certainly would have been welcome, and in fact, for those who still love live music but who might not be in the mood for a traditional concert or festival, this seems like a perfect alternative.
As ZZ wrapped her show—which was, of course, excellent—I wondered why more hotel chains don't launch programs similar to what Aloft has. No part of the event, except possibly for whatever the artist herself charged, seemed like it would cost a lot of money, and the space is already there, just waiting to be utilized. It appeared to be a wonderful way to get people into the bar/restaurant area and have them order a few cocktails and for some, dinner, and could there be a greater way to show off a well-designed space, especially for those who live in town who might otherwise not have a reason to visit a local hotel?
Seems like a no-brainer to me, but I'm not in the hospitality business, so perhaps I don't know all that goes into the event...but maybe Aloft's competition should start finding ways to incorporate more music into their spaces and catch up to what the company has been doing for some time now.
REAL LIFE. REAL NEWS. REAL VOICES.
Help us tell more of the stories that matter from voices that too often remain unheard.
This post was published on the now-closed HuffPost Contributor platform. Contributors control their own work and posted freely to our site. If you need to flag this entry as abusive,
send us an email
.