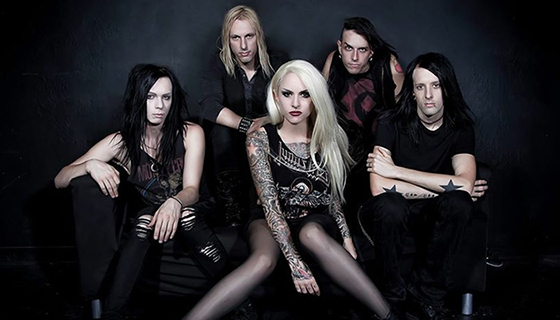 (Photo Credit: Curtis Noble)
The California-based band Stitched Up Heart is still a group of new faces in the world of rock, but they are steadily making waves on their own with their heavy, yet melodic style while embracing so much of a do-it-yourself aesthetic. Led by vocalist Mixi, along with Decker on the drums, Merritt and Dorian on guitars, and Randy on bass, this five-piece hard rock band is wise beyond their years bringing a very personal aspect of their music that reaches out swimmingly to their fans.
I got to hang out with the whole band at the InkAddict Flagship store in Ferndale, Michigan where I got to experience an epic ping-pong battle among the band members. Currently, they are on the road with Like A Storm and have a new single out "Finally Free" ahead of their full-length debut coming out this Spring on Another Century Records. We talked about how the band got together and the process to get to where they are at today.
How did this band originally get together?
Mixi: I actually formed the band over a musical heart break and decided to put together a whole new project in 2010, which is the idea of the name of the band Stitched Up Heart is putting something back together and picking yourself back up again. Five years later and here we are.
How's that road been these past five years trying to find your way?
Mixi: We did it DIY for a long time. We had some advice from friends that worked at labels, which is on the label we are on now, Another Century. A little help and guidance, everybody makes mistakes, and you got to learn through them. We're just striving to get better and better as we go.
Decker: We never stopped. There's been ups and downs, but we always knew that we wanted to keep going, to keep doing this. Each of us has had those moments where like "Aww. I don't know if I can do this anymore", then luckily we've had somebody there to help picks us back up like "No, you have to do this".
How did you link up with Another Century?
Mixi: Like I said, I've been friends with a lot of the team of people that work there since the band started. I just know they are really good at what they do, specifically in our genre, so I just really listened to what they had to say, took notes, and tried to go in that direction. Once we built the band up to where it is now, then they were like "alright, let's take a shot at this and see how it goes". Its been going full sail in the right direction.
When you were forming this band, what was your idea of how you wanted this band to sound?
Mixi: Originally, I wanted a jazzy thing with the vocals. I wanted heavy guitars and some really cool drumbeats. Decker throws down. I originally wanted a lot more screaming, so it started off where I wrote parts for lyrics where there was screaming, and I didn't plan on screaming because I didn't know I could. Then when we would practice, I just started screaming at practices just to show the people where the screams were. I was like "whoa, I can scream". I didn't even know that. Obviously, we don't scream as much in the newer material, however, the guitars and stuff got heavier. It's more melodic with the melodies and what not.
A few years ago, you released an EP, Skeleton Key, but since then you have been working on a full-length album. How has the band progressed while writing new material?
Mixi: Tremendously. The last record we put out DIY. We wrote it in a lock out. We wrote 30 songs and we recorded in a lock out. We picked between those 30 songs that we wrote in like three months, the six top ones that we liked. Obviously, if you're going to write 30 songs in that short period of time, you're really not going to put that much effort into each individual song. This record, this new one coming out in the Spring with Another Century is going to be a full length and every song we put all of our heart into every word and every note. We really think about everything we're trying to say in each song and musically. There's a lot more thought put into it.
The new single "Finally Free", what is the song about and how does it represent this next chapter in your life?
Mixi: I've been personally doing a lot of growth in the last year, a lot of internal research, a lot of trying to be a better person, and a lot of realizing that we're just all alive and just human. When that was written, it was all about just "HEY! Ya know what? I'm alive! I'm just here! I might as well just enjoy the time that I have here". Its just one of those wind in your hair kind of songs. Finally free, one of those "ah-ha" moments.
Stitched Up Heart is currently on tour with Like A Storm, From Ashes To New, and Failure Anthem and will be playing The Music Factory in Battle Creek, Michigan on Friday, December 18th. Their new single "Finally Free" is available now on iTunes. For more information on Stitched Up Heart , visit facebook.com/StitchedUpHeartRock.
Calling all HuffPost superfans!
Sign up for membership to become a founding member and help shape HuffPost's next chapter