The main culprit for this precipitous decline is no longer logging in the reserve (although that still takes place) but the huge increase in land planted with genetically modified, herbicide resistant soybean and corn crops (93 percent of total soybean acreage and 85 percent of corn acreage in 2013) in the U.S. Corn Belt.
Today all Mexico resounds with the cry "They took them alive, we want them back alive". If the 43 are ever found, and they are dead (why and where would their abductors be hiding them?), all hell may break loose. Are the president and his cabinet ready for a major upheaval? Police, politicians and judges have been bought off or put into office by the cartels. Mexicans are fed up with living in a pervasive state of corruption and impunity.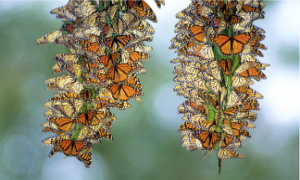 There has been a dramatic plunge in the monarch butterfly population that overwinters in Mexico after flying thousands of miles south from the northern and eastern United States and southern Canada. On the 20th anniversary of NAFTA, I (and all who cherish the monarch butterfly) am urging Presidents Enrique Peña Nieto and Barack Obama and Prime Minister Stephen Harper to put monarch survival on the agenda of their February 19-20 summit meeting in Toluca, in the state of Mexico.