As part of our Blended Family Friday series, each week we spotlight a different stepfamily to learn how they successfully blended their two families. Our hope is that by telling their stories, we'll bring you closer to blended family bliss in your own life!
This week, our reader Jennifer shares how growing up in a blended family helped prepare her to raise a stepfamily of her own.
Hi Jennifer! Want to introduce us to your family?
We have six people in our blended family. My husband, Jason, and I both bring two children from previous marriages into our fairly new family. My daughter, Mackenzie, is our eldest. She's a freshman in high school who is turning 15 next week. Jason's son, Shawn, is the eldest boy in our home. He's a 7th grader who is 13-and-a-half. My son, Sam, is a 6th grader who is 12 and lastly, Jason's son, Ethan, is a 5th grader who is 11.
It's interesting to note that I grew up in a blended family of seven (five kids including me, my three bonus sisters and our half brother). An even number like six is much easier to manage!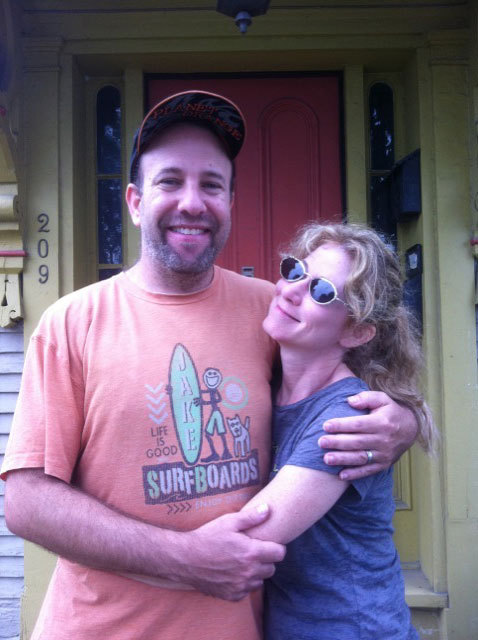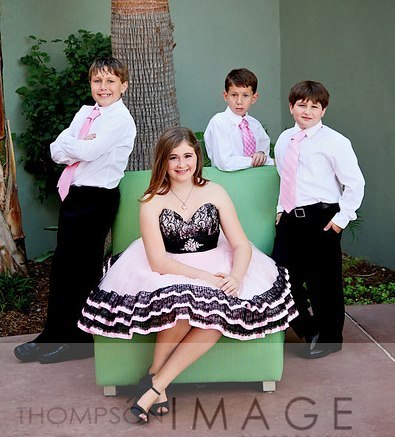 Photos courtesy of Jennifer Kessler and Thompson Image
How long have you and Jason been together?
Jason and I had our first date back in September 2009 at Postino's, a little wine bar in Phoenix, AZ. He had sent me a message on JDate and we started to email outside of the site. Based on a few things he stated in his emails (like his last name) it seemed that we may have met before. We eventually realized we had gone to high school together!
We dated for two years, gently integrated our kids into one another's family and were married on 11-11-11. We've been together about four and a half years, and while the kids grow like weeds, our time together zooms by!
What have been some of the biggest challenges you've faced while integrating your two sets of kids?
Building a blended family is the toughest, greatest, energy-sucking, most heartwarming journey I've ever been a part of. We have many good fortunes: Our kids like and love each other and have been effortlessly accepted by their new grandparents, aunts, uncles and cousins. They truly adore their bonus parent. That said, we also have hearty challenges which include a drastically different approach to parenting than our exes. It has been extremely helpful that I grew up in a blended family so we can rely on my experience when needed. I'm now in my own mother's shoes and she has a plethora of knowledge as well.
What's the best part about being in a blended family?
Being a family that actually blends. We have so many different elements to pool together and learn from. One of the most important lessons our children have learned from our divorces is that some things in life can come to an end, but that's OK because something new is manifested. In our case, it's a blended family that has respect, love, trust, authenticity and a sense of fun. Those are the very ingredients necessary to turn compassionate, insightful, dedicated young people into amazing adults.
How do you manage household stress that comes your way?
We manage stress no different than any other family. Our stress just also includes slow family courts, pricey parenting coordinators and difficult exes. But in the end, stress is stress so we eat the elephant one bite at a time like everybody else. We keep an open forum for communication across the board and spend a great deal of time being together so our bond is strong and valuable. No matter how stressful any of our situations become, we never lose sight of our main goal, which is to experience joy.
What's your best advice for parents of blended families who are struggling to keep it together?
I suggest exploring your thoughts about what peaceful means to you. Peaceful is not something that happens to us -- it's thoughts that direct our feelings. Our feelings are entirely based on our thoughts so monitor your thoughts. In other words, be mindful and deliberate in thinking peacefully.
Never doubt your ability to manifest what you truly want -- just look at your partner's face and the faces of the children you're raising together. They are living proof of your ability to manifest peace and joy in your life. Focus on what you're grateful for and cherish it to no end and that peaceful family dynamic will be yours! Think of it this way: it's not about who is going to help you get there. It's about laughing at whomever is going to try to stop you!
If you'd like your own family to be featured on Blended Family Friday, please email us at divorce@huffingtonpost.com. We're looking forward to hearing your story!