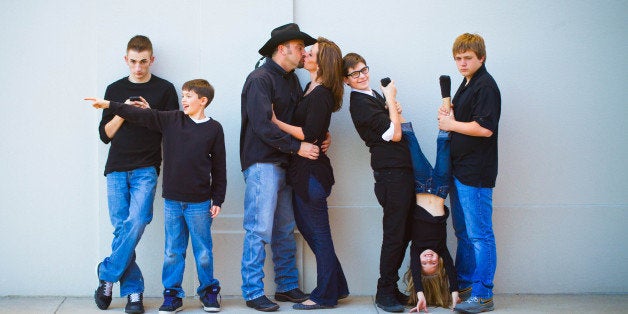 As part of our Blended Family Friday series, each week we're spotlighting a different stepfamily to learn how they successfully blended their two families together. Our hope is that by telling their stories, we'll bring you closer to blended family bliss in your own life!
This week we'd like to introduce you to the Parker-Kimbrough family. Mom Andi writes about the highs and lows of blended family life on her website, Live Love Blend, so we were thrilled to have her tell her story on HuffPost Divorce. Below, she introduces us to her family, talks about a recent co-parent meeting with her husband's ex, and shares her best stepparenting advice.
Hey, Andi! Please introduce us to your family.
My husband, JD, and I have five kids between us: Austin K. (18), Kenan (15), Austin P. (14), Nolan (10), and Khloe (7). Yes, we have two Austins!
JD and I just celebrated our third wedding anniversary. We dated 10 months before getting married. Just FYI, I recommend a longer dating/engagement period than 10 months. We did attend pre-marital counseling and it is a MUST for anyone getting married after divorce.
What have been some of the biggest challenges of blended family life?
One of the biggest challenges is that no two blended families look exactly the same. There is no "normal." My husband was married three times before he found me (or "got it right"), so we have kids traveling back and forth between many different households. Some of our kids have all their parents looking out for their best interests, and some of our kids have a biological father or mother who gives them no emotional or financial support. Everyone comes from a different place, and carries different hurts. Our job as their parents is to love them through all of that, and to provide consistent boundaries no matter what.
You mentioned in an e-mail to HuffPost Divorce that your youngest daughter has oppositional defiance disorder. You and your husband recently held a co-parent meeting to discuss raising her with his ex and her husband. Want to tell us a little about that?
Yes, our daughter, Khloe, has always been a handful. When her mom told us she had been diagnosed with ODD I thought, "a-ha!" and my husband thought, "no way!" So what do you do when daddy defends his baby girl's every action (no matter how ill-tempered or mischievous)? A parent-to-parent conference! Dad and I joined her mom and step-dad for coffee and we discussed everything from her schedules to bedtimes to punishments. We compared what works and what doesn't. We may not have made any earth-shattering discoveries, but the meeting itself showed all of us, as well as all the kids, that the parents are in charge and on the same team. This spoke volumes and has helped all of us help each other, and our little girl.
What's the best thing about being part of a blended family?
The best thing is the amount of material I have to blog about! I say that jokingly, but honestly, being part of a blended family has given me a way to reach out to people, to share my experience, strength and hope doing one of the hardest things out there -- keeping a blended family together and thriving.
What makes you proudest of your family?
I'm proudest that none of our kids acted like I did when I was in their shoes. (I was a rebellious brat!) Not that any of them is perfect, but they are honest, respectful and God-fearing. Our kids know that they can come to either my husband or me for anything... and they do.
What advice do you have for other blended families who are struggling with keeping the peace in their homes?
Live one day at a time (or one moment if you have to). Love God, your spouse, yourself, your kids -- without judgement, just love 'em. Blend little by little and celebrate even the smallest breakthrough.
Click through the slideshow below the see photos of Andi and JD's family.
If you'd like your own family to be featured on a Blended Family Friday, please email us at divorce@huffingtonpost.com. We're looking forward to hearing your story!
Meet Andi And JDs Family
Related