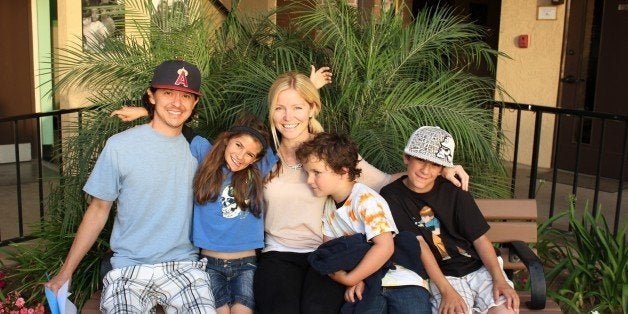 As part of our Blended Family Friday series, each week we're spotlighting a different stepfamily to learn how they successfully blended their two families together. Our hope is that by telling their stories, we'll bring you closer to blended family bliss in your own life!
This Friday, we'd like to introduce you to Beth and Dominic's family. We know how hard it can be to blend two families as one, so we had to admire Beth's honesty when she first reached out to let us know she was interested in sharing her story. "I went in to our relationship blindly assuming that if Dominic and I loved each other, then everything would just work out," she told us. "I was wrong."
So how does the family make it work today? Below, Beth tells us how she and her husband have strived to bring their family closer through the years and what makes her most proud of her kids today.
Hi, Beth! Please introduce us to your family.
There's five of us in all. Dominic has two children from a previous marriage: a 12-year-old girl named Raeden and a 14-year-old boy named Tomio. I have one son, Zachary, who's 7.
How did you and your husband meet?
I actually met my husband when I was in 8th grade. He was a lot older than I was and was in a band that used to play at our school's fiesta every year. One of my best friends from my elementary school, Missy, had an older brother who was best friends with Dominic so I would see him at her house from time to time when we were younger.
Fast forward 17 or so years, and my friend Missy and I went back to our elementary school fiesta to go see Dominic's band play (the band still plays it every year!). After meeting again as adults, I asked him out and we went on a couple of dates. I think we realized very soon after meeting each other that we would be together for a long time.
We had been dating for three years before marrying a year ago. I never wanted to get married, and I don't think he really wanted to get married after his divorce either. But because there were three kids involved, we realized how important it was going to be to be the stepmother or stepfather of a child, rather than Dominic's girlfriend or my boyfriend. If we were going to build a life together and raise three kids together, it was important that we had rights to do so.
What have been some of the biggest challenges for your family?
The difference in parenting styles. Dominic has raised his two children very differently than I have raised my child and that's created a very clear division. We like to do different things, we have different family traditions and values and we have different overall structures and routines. For example, my son goes to Catholic school and we go to church on Sundays and Dominic's children go to public school and have not attended church. Dominic values obedience and discipline in his children, where I value independence and education -- this is one of the biggest challenges. Differences in parenting style can lead to a lot of conflicts between us as parents and caretakers.
Another challenge to our blended family is the children's other parents. We have to consider the needs and wants of many more adult individuals than just ourselves when we make decisions for our children. We have to consult more people and it can be difficult for all adults to agree on the same decisions all the time.
What are some fun activities your family likes to do together?
We make sure that we have dinner together at the dinner table every night (with some exceptions on the weekends). We talk about our day and have a deck of "question cards" that we read aloud and the kids answer. We also got a cat and a dog that belong to the whole family and that's been a really fun adventure for the kids -- we got to name them together and we take our dog, Minnie, on walks and to the park with us.
What's the best thing about being part of a blended family?
The fact that our family has grown. It was only me and my son before, and now he has two siblings and I have an amazing partner and husband. The children get along a lot of the time (they of course fight like brothers and sisters normally would!), but they have to learn to share with each other and cope with obstacles that we face along the way. This makes all of us stronger and better people.
What makes you proudest of your family?
Our ability to change and grow together. The children are so open with each other and to us and they have changed so much in the past three years. They continue to love each other and us, and my husband and I strive to change and grow to make our family better every single day.
What advice do you have for blended families who are struggling to keep the peace at home
I don't think that I have much figured out at all. We are happy overall, but still struggle on many day-to-day issues. My only advice would be to remember why you chose to come together in the first place -- the love that you have for your partner. Your partner's children are an extension of them and this makes them just as important to your happiness. I think it's important to take everything one day at a time and keep building and changing as you go. Never rest or settle!
Click through the slideshow below the see photos of Beth and Dominic's family.
If you'd like your own family to be featured on a Blended Family Friday, please email us at divorce@huffingtonpost.com. We're looking forward to hearing your story!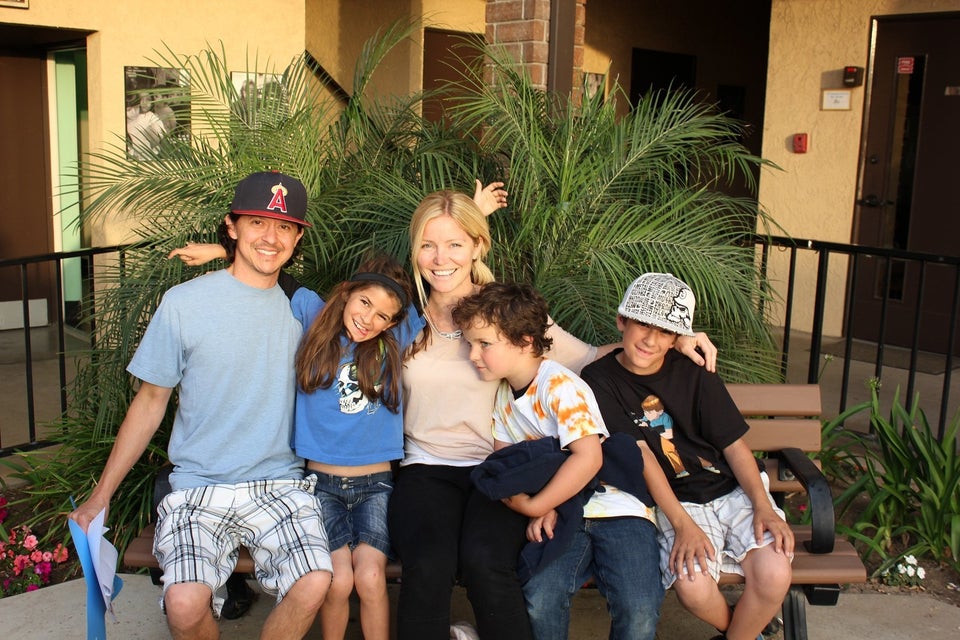 Meet Beth And Dominic's Family