"Se wo were fi na wosankofa a yenkyi" translates as "It is not wrong to go back for that which you have forgotten" or, loosely stated, "You can always go home again." One Saturday morning over brunch, a Ghanaian friend mentioned the old proverb. But what if someone never quite felt at home -- at home? This quest for a sense of place is the dominant theme in If I Never Went Home, the debut novel by author Ingrid Persaud.
Grappling with a slight case of impostor syndrome is Bea, the university professor who has migrated to the United States from Trinidad, but contemplating a visit to attend her father's funeral. "Few had made her journey from one side of the desk to the other. She should be proud. There was no reason to think it would all unravel because of a short visit to Trinidad... thriving in voluntary exile." Across the waters is Tina, a teenager in Trinidad. Despite the age gap, the parallels between Bea and Tina's existence are striking. Tina's world is turned upside-down when her mother is killed in a vehicular accident. In the aftermath, Tina is taken in by family but faces ongoing challenges as she attempts to create a place for herself. As a coping mechanism, Tina harbors the delusion that her father, whose identity was not disclosed by her mother, would rescue her. Both Bea and Tina continue the journey towards self-discovery, unearthing vignettes of family lore along the way.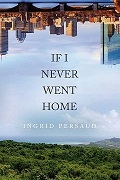 At times it is difficult to follow the narrative as it shifts between Bea and Tina. However, any break in flow or pace is offset by the richness of language, in particular the author's use of Trini vernacular, a trend among this generation of Caribbean writers. Scenes vividly come to life, from the pre- and post-Bump and Wine Fete Tina attends, to the memorial service for Alan Clark where an unidentified female attendee publicly mourns her loss.
The author explores the social and cultural dynamics in Trinidad, sometimes hinting indirectly (by references to hair texture), other times stating directly (mentioning colorism). But she missed an opportunity to explore similar dynamics of Bea's immigrant experience. When Bea was admitted to the Crisis Centre is Boston to be treated for her depressive disorder, Dr. Singh asks, "What part of India are you from? Gujarat?" Bea replied, "Read my file. I'm not Indian." Dr. Singh continued, "Yes, you may be born elsewhere, but you are Indian, no?" Bea held firm, "I'm Trinidadian. Mother Indian, father mixed. ... We are not Indians like you. Never been to India. ... Diaspora." Unfortunately, the author does not pick up the thread again, despite the potential. And so the conversation ends.

But take heart, read to the very end for a few more twists, turns and revelations.
REAL LIFE. REAL NEWS. REAL VOICES.
Help us tell more of the stories that matter from voices that too often remain unheard.