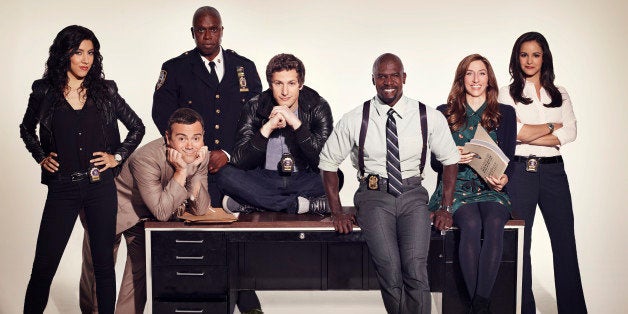 "Brooklyn Nine-Nine" has scored a full season pickup and the coveted post-Super Bowl timeslot, Fox announced Friday.
The network has given a back-nine order to "Brooklyn," bringing it to 22 episodes in its freshman season. The Andy Samberg/Andre Braugher comedy will also be paired with "New Girl" for a "special one-hour comedy event," set to air immediately following the Super Bowl XLVIII on Sunday, Feb. 2, 2014.
"It's exciting to see that both critics and fans love 'Brooklyn Nine-Nine' as much as we do," said Fox Entertainment Chairman Kevin Reilly. "With Andy and Andre out in front of this incredible ensemble, it feels like this show is going to be around for a long time."
When including DVR and VOD playback plus streaming, the series premiere of "Brooklyn Nine-Nine" has drawn a total audience of more than 14.6 million, according to Fox. Through five telecasts, the comedy is averaging a 2.1 rating in the adults 18-49 demo with 4.9 million total viewers,
"Brooklyn Nine-Nine" airs Tuesdays at 8:30 p.m. ET on Fox.
PHOTO GALLERY
Fox New Shows 2013-2014