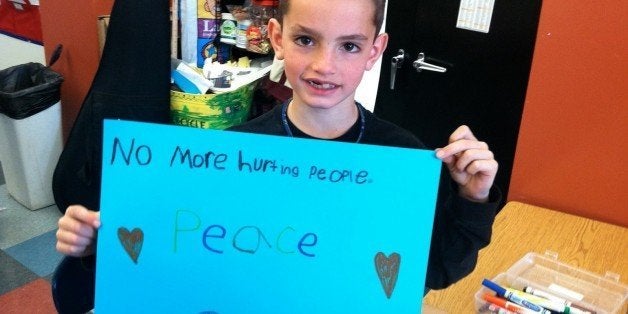 The beginning of October 2015 saw headlines nationwide telling of another school shooting in Roseburg, Oregon. As one 11-year old girl in New York City said, "Oh yeah, there has been another shooting but it was far away." Sadly, these stories have become all too common and have numbed even the youngest in society. Altogether -- 2015 has been one of the deadliest on record: 41 school shootings affecting tens of thousands of children, according to Erik Endress, CEO of Share911.
We can't ignore the grim facts or enter into lengthy debates about gun policy. However, we can do something right now. We can choose to shine a light on positive stories that can bring real change. Nearly 3,000 miles away, a family is doing just that. The Richard family is turning another senseless tragedy into hope -- by spreading peace and kindness to children nationwide.
GenerationOn's Martin Richard Bridge Builder campaign honors Martin Richard, the 8-year old boy who was tragically killed during the Boston Marathon in April 2013. It calls on kids, teens and families to spread peace through service projects and acts of kindness. Following Martin's death, a photo of the third-grader emerged with Martin holding a handmade poster that read, "No more hurting people - Peace." The photo touched the lives and hearts of millions. Martin was known as a "bridge builder" in his school and someone who believed in fairness and kindness. This campaign is intended to continue spreading his message of peace and inclusion.
"Our son Martin was able to recognize at a very young age the importance of teaching people about togetherness, and we are hopeful that this campaign will help inspire kids and teens to do the same," said Bill and Denise Richard, parents of Martin and co-founders of The Martin Richard Foundation. "A day doesn't pass when we don't cry over the loss of Martin, but we are grateful to partner with generationOn and Hasbro in spreading Martin's message of peace and hope which is exactly the mission of our foundation. "
During the month of October, which is also bullying prevention month, educators and parents are being urged to participate in this campaign and create a culture of caring, kindness and compassion in their school, community and home by addressing issues such as bullying, insecurities and community conflict through service.
Students ages 5 -18 can get involved and learn about volunteer projects or share their story of spreading peace and kindness for a chance to win a $250 grant by visiting www.generationOn.org/peace. To date, nearly 20k youth have joined the campaign to honor Martin and spread his message of peace.
The deadline for submissions is October 16, 2015.
To learn more about the Martin Richard Bridge Builder campaign, sign up for service projects or share how your volunteer project has made a difference, log onto www.generationon.org/peace.
Calling all HuffPost superfans!
Sign up for membership to become a founding member and help shape HuffPost's next chapter