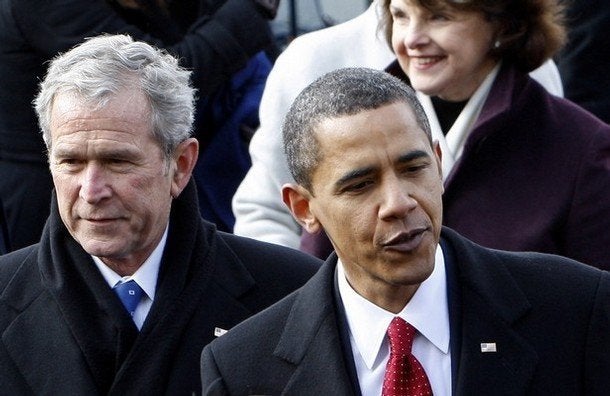 As part of an ongoing court case, the Department of Justice released on Thursday memos issued by the Office of Legal Counsel between 2002 and 2005, detailing techniques used for interrogation of terrorism suspects. In doing so, President Obama declared:
"While I believe strongly in transparency and accountability, I also believe that in a dangerous world, the United States must sometimes carry out intelligence operations and protect information that is classified for purposes of national security. I have already fought for that principle in court and will do so again in the future. However, after consulting with the Attorney General, the Director of National Intelligence, and others, I believe that exceptional circumstances surround these memos and require their release."
Certain aspects of the documents are redacted -- including the names of CIA officials -- but the evidence is of enough weight that Senate Judiciary chairman Patrick Leahy already felt compelled to offer the following statement:
These legal memoranda demonstrate in alarming detail exactly what the Bush administration authorized for "high value detainees" in U.S. custody. The techniques are chilling... We cannot continue to look the other way; we need to understand how these policies were formed if we are to ensure that this can never happen again. This is why my proposal for a Commission of Inquiry is necessary.
One former top official in the Bush administration blasted the publication of the memos, calling it "unbelievable," reports Politico:
"It's damaging because these are techniques that work, and by Obama's action today, we are telling the terrorists what they are," the official said. "We have laid it all out for our enemies. This is totally unnecessary. ... Publicizing the techniques does grave damage to our national security by ensuring they can never be used again -- even in a ticking-time- bomb scenario where thousands or even millions of American lives are at stake."

"I don't believe Obama would intentionally endanger the nation, so it must be that he thinks either 1. the previous administration, including the CIA professionals who have defended this program, is lying about its importance and effectiveness, or 2. he believes we are no longer really at war and no longer face the kind of grave threat to our national security this program has protected against."
The Huffington Post has obtained the memos and is putting them on the website for the public to view. Please help us read through the material and report back what you find.
PART 2 (a continuation of the first document)
Popular in the Community