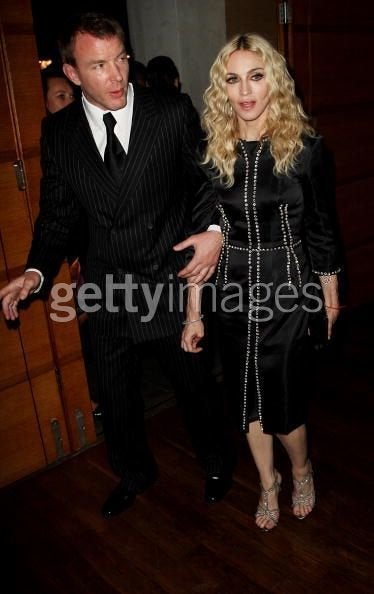 Who says that Hollywood marriages are always short? Not this year. After looking over the celebrity divorces that were either filed or finalized in 2008, I calculated the median length of marriage for the 40 break-ups we covered at the divorce site Firstwivesworld.com, and made a startling discovery. Divorcing celebrities stayed together longer than the national average.
It's easy to say that actors, sports stars, and musicians are vacuous, self-centered egotists who don't value commitment and family. But in fact, this year's divorces reveal that many didn't consider marriage as disposable as Bic pens and maybe it's time to rewrite this perception.
Statistically speaking, the median U.S. marriage ending in divorce lasted 7.8 years. The median length of marriage for the 40 celebrities FWW reported on this year was more than 9 years.
Sure, comedian Chris Kattan and Sunshine Tutt held this year's record for the shortest marriage, only 16 weeks and "Private Practice" star Kate Walsh and TV exec Andrew Young lasted 15 months.

But many of those who split were together for more than 20 years. Those couples include Morgan Freeman, 24 years, Hulk and Linda Hogan, 24 years, and Ronnie and Jo Wood, 23 years.

Couples who lasted longer than 10 years included Dylan McDermott and Shiva Rose - 13 years;
Marg Helgenberger and Alan Rosenberg -19 years; Tea Leoni and David Duchovny - 11 years; and Robin and Marsha Williams - 19 years.
Here is the list of the break-ups we covered as well as a collection of the most interesting, touching, annoying, inspiring stories about the splits, the fits, the emotional pits and the couples who called it quits.
Celebrity Break-Ups

•Chris Kattan and Sunshine Tutt - 4 months (divorced)
•Jodie Sweetin and Cody Herpin - 1.3 years (separated)
•Kate Walsh and Alex Young - 1.5 years (separated)
•Pink and Corey Hunt - 2 years (separated)
•Tate Donovan and Corinne Kingsbury - 2 years (divorced)
•Star Jones and Al Reynolds - .3.5 years (divorced)
•Anna Faris and Benjamin Indra - 4 years (divorced)
•Donnie Wahlberg and Kim Fey - 4 year (divorced)
•Heather Mills and Paul McCartney - 4 years (divorced)
•Swizz Beatz and Mashonda - 4 years (separated)
•Travis Barker and Shanna Moakler - 4 years (divorced)
•Alex and Cynthia Rodriguez - 5 years (divorced)
•Debbie Matenopoulos and Jay Faires - 5 years (separated)
•Liv Tyler and Royston Langdon - 5 years (separated)
•Anne Heche and Coley Lafoon - 6 years (divorced)
•Terence Stamp and Elizabeth O'Rourke - 6 years (divorced)
•Madonna and Guy Ritchie - 8 years (divorced)
•Emily and Charlie Robison - 9 years (divorced)
•Phil Collins and Orianne Cevey - 9 years (divorced)
•Reese Witherspoon and Ryan Philippe - 9 years (divorced)
•Wayne Brady and Mandie Taketa - 9 years (divorced)
•Brendan and Afton Fraser - 10 years (divorced)
•Christie Brinkley and Peter Cook -- 10 years (divorced)
•Dwayne and Dany Johnson - 10 years (divorced)
•Kimora Lee and Russell Simmons - 10 years (separated)
•Bill and Jennifer Murray - 11 years (divorced)
•Téa Leoni and David Duchovny - 11 years (separated)
•Kiefer and Elizabeth Sutherland - 12 years (divorced)
•Dylan McDermott and Shiva Rose - 13 years (separated)
•Johnny Knoxville and Melanie Lynn Cates - 13 years (divorced)
•Shania Twain and Robert Lange - 15 years (separated)
•John Cleese and Alyce Faye Eichelberger - 15 years (divorced)
•Danny and Gretchen Bonaduce - 16 years (divorced)
•George Lazenby and Pam Shriver - 16 years (divorced)
•Robin and Masha Williams - 19 years (divorced)
•Marg Helgenberger and Alan Rosenberg - 19 years (separated)
•Tracy and Sabina Morgan - 22 years (divorced)
•Ronnie and Jo Wood - 23 years (separated)
•Hulk and Linda Hogan - 24 years (divorced)
•Morgan Freeman and Myrna Colley-Lee - 24 years (separated)
And now Firstwivesworld.com's year-end round-up.

The Let's-Just-Be-Friends Award
(Most Amicable Divorce)
Robin Williams and Marsha Garces Williams
Talk about civil unions. No sooner had the couple announced their split after 19 years of marriage than they signed an official agreement stating "we commit ourselves to the collaborative divorce process and agree to seek a positive way to resolve our differences justly and equitably" -- all for the sake of their two children. For those of you playing along at home, this is the way to go.
Runner Up: Dixie Chick Emily Robison and singer Chris Robison. How do we know they were both "ready to make nice"? Their divorce took a mere six months, and the filing was a scant two and a half pages.
The Stirred-Not-Shaken Award
(Best Blended Family)
Demi Moore and Bruce Willis
Is it possible to have it all? Our answer: Look at Demi Moore. Gorgeous, talented, wealthy, hot husband, supportive ex, and great kids! With everyone loving and accepting each other, it's like we're somewhere over the rainbow and just left of center. Wherever we landed (Kansas, OZ, or Hollywood), bravo to Demi and Bruce for consistently blending Thanksgiving, Christmas, film openings, birthdays, etc.

Forced to Divorce: Sad State of the Union
Geneva Sharpe
Emily and Rudy Friece
It seems beyond comprehension that couples would be forced to divorce in order to afford emergency healthcare - and this in the United States. Two couples we know of: Geneva Sharpe and her husband, and Emily and Rudy Friece, divorced so the women could afford Medicaid for costly surgeries and treatments. It is a sad state of affairs when during a time you need your partner most, they must be ripped away. We can all only hope for a change to the system.
The 'Til-Death-Do-Us-Part Award
(Most Devoted Husband)
Mohammed Bello Abubakar
When Nigerian cleric Abubakar, 84, was told he had to divorce all but four of his 86 wives, he refused - even though doing so might lead to the death penalty. He is currently behind bars, fighting for his love. And you thought "Titanic" was the greatest love story ever told.

The Golden Goose Award
(Biggest Settlement)
Madonna & Guy Ritchie
The Material Girl now has another record to add to her collection: The largest "manimony" settlement ever. Her reported $76 million payout to Guy Ritchie has led us to coin a new term: "Madonnamony."
King Solomon Award
(Most Literal Split of Marital Assets)
Meuon Rima splits house in two
Who says divorce has to be so litigious? If you think there can't be an equitable division of property, just look to Meuon Rima of Cambodia and his now ex-wife, Nhang. In an effort to dodge the expensive and corrupt court system, they agreed to split the marital home the old-fashioned way: with a saw. Meuon was last seen hauling half of his stilt house away towards a new future.

The Preemptive Strike Award
Tatsuhiko Kawata
Perhaps sensing that his marriage would go up in flames, 39-year old Kawata devised a sure-fire way to avoid divorce: He set fire to the hotel in which he was set to get married hours before the ceremony. Talk about a hot-headed solution to cold feet.

Least Alarming Divorce Study
Divorce ruins the environment
Run for the hills Divorcees! Now you've done it. A study was released this year that shows how divorce = multiple homes = more energy use = environmental degradation (duh). Other social factors to blame for the decline in sustainable households: "more couples deciding not to have children, more people not getting married and baby boomers living longer." Um, perhaps the article should be renamed..."Everybody is ruining the environment"?

Least Sympathetic Divorced Woman
Heather Mills
No, it wasn't throwing a glass of water at McCartney's divorce attorney Fiona Shackleton. It's not even that she reportedly blew through a third of her $48 million settlement within six months of receiving it. What really led Mills to top our list was her former publicist's claim that Mills fabricated abuse allegations against Sir Paul. Not only is this totally irresponsible, it's disrespectful to the countless women who have actually experienced domestic abuse.
Least Sympathetic Divorced Man
Peter Cook
After cheating on wife Christie Brinkley with his 18-year-old assistant and racking up a $3,000 a month online porn addiction, Cook pretty much cooked himself in our books. But then he did an interview with Barbra Walters, despite signing a confidentiality agreement that he'd never discuss his divorce (leading him right back to court). And what did he reveal in the interview? That he cheated for "attention." Puh-lease...
The Oldest Accused Cheater of the Year
91-year-old Italian Stallion
In a divorce action, a 60 year old woman in Naples, Italy, accused her husband of cheating on her. Here's the puzzler: Her husband is 91. Of course cheating is bad... but 91 and still humping? Impressive.

Youngest Divorcée of the Year
8-year-old Nojoud Muhammed Nasser
Apparently believing there were too many unmarried pre-teens running around, the government of Yemen acted in 1998 to repeal its ban of marriage under the age of 15. One tragic victim of this deregulation is Nojoud Muhammed Nasser, an 8-year-old girl whose father forced her to marry a man 22 years her senior. Thankfully, the Yemeni courts ruled in the girl's favor, and a divorce was granted (though her father was ordered to pay her ex $250).
Sadly, this is a category that has runners up, including 10-year-old Nujood Ali. She took a taxi to a courthouse by herself to demand a divorce from her 30-year-old husband, who frequently raped and beat her.

The Get-a-Life Award
Woman divorces man for cheating in online fantasy game
Husband and wife David Pollard and Amy Taylor had avatars in the online video game "Second Life" called Dave Barmy and Laura Skye. Follow this soap opera if you can: The real-life husband accused his wife of spending so much time in World of Warcraft (online game) and neglecting him (offline) that his avatar had to seek out the virtual attentions of a sympathetic nightclub hostess (online). During a break from casting spells (online), Amy caught David canoodling with the hostess, resulting in a dual dissolution (online and offline).

Worst Grounds for Divorce
Couple split over ceiling fan
Can you imagine a couple mutually deciding to divorce because one wanted the bedroom fan on at night while the other didn't? Yes, we said a fan. Well, it happened this year in India. While the incident may have been the straw that broke the camel's back, we suspect it was an anemic camel in the first place.

Runners up:
-Insecure wife is certain bibliophile husband is cheating on her with his books.
-Husband certain of future infidelities of hot wife seeks divorce to save himself possible heartache.

Most Convenient Way to Legally Divorce Your Spouse
Divorce via text message
Women's rights groups were outraged this year when the Malaysian national court voted to uphold a law that, in essence, allows men to divorce their wives by text message. We don't know whether to LOL or feel very :( about it. But, frankly, if your husband is the kind of guy who'd break up with you via IM, you're better off without him.

Worst Actress in a Supporting Role
Tricia Walsh-Smith, AKA the YouTube Divorcée
Broadcasting your relationship woes on YouTube might seem like an innovative way to bring attention to your plight. But while revealing your husband's lack of desire to perform in bed or pay for your $600 shoe habit may make some viewers cheer, it tends to draw the ire of judges.
Crass But Showed Some Class Award
Rolling Stone Ronnie Wood
He couldn't get no satisfaction from his wife of 23 years, Jo, so he ran off with a 20-year-old Russian cocktail waitress. Sleazy? You bet. But Ronnie, recognizing how supportive Jo had been of his career, acknowledged that she deserved "pretty much anything she wants."

Biggest Trends in Divorce for 2008
Manimony
Madonna isn't the only woman supporting her ex; thanks to women's increased earning potential, experts identify manimony as a growing trend. Ah, Celebrities - they're just like us. Or almost.
Realistically, this year's break-ups consisted of many long term marriages which is why celebrity splits may have lasted longer than the national average. Who knows if that will be the case for next year. However, one other trend is clear. More and more people realize the benefits of amicable divorces because a generation of research has shown us that that while you are breaking up, you are simultaneously rebuilding a new family format. And it is possible to create new family formats that not only survive, but thrive. You're a real star if you work at making that happen.
Popular in the Community