Disclaimer: This post contains graphic imagery.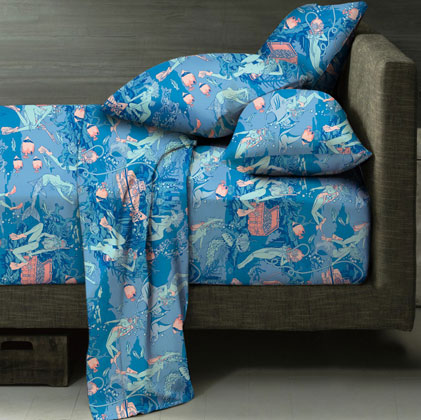 Bedding is really such a snooze these days. Where did you sleep last night? Sure, it was impossibly expensive high thread count sheets, but chances are they were mental hospital white or bland hotel beige. Why not take a nap on the wild side with Vice Merchants' line of extremely graphic, NSFW bed clothes. One night on these babies and you'll definitely drool on your pillow.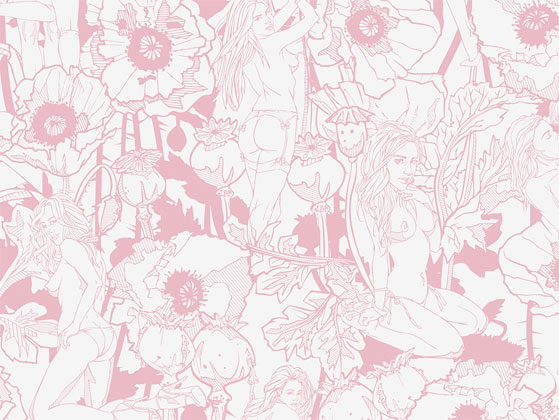 At first glance the Poppy Playground print could be the toile wallpaper in your grandma's guest bathroom. Upon closer inspection it's an Alice in Wonderland orgy of amply bosomed ladies skipping through a garden of earthly delights. Pearl Divers is the most insane print ever. Pneumatic sea nymphs scuba dive with manta rays, yellow subamarines and make out with sexy lady sea monkeys. It's like Hieronymous Bosch on LSD in the Playboy mansion's infamous grotto.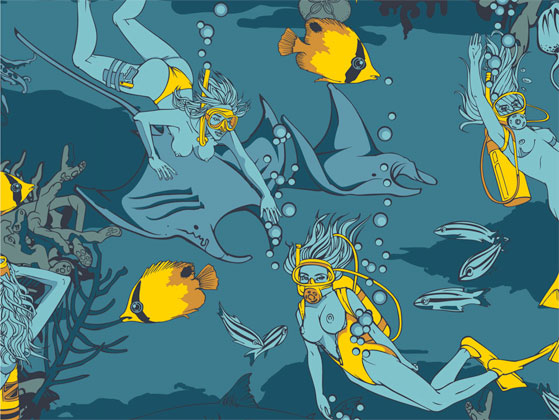 Vice Merchants is Ryan Rock and Jake Katz, who have backgrounds in fashion and finance and decided to forge out on their own and create their decadent new design collective, filling a niche Martha Stewart and KMART never even imagined. Before you cry sexism, please note that the illustrations truly celebrate the female form, and are done by a revolving team of women artists, which Rock then renders into vector graphics.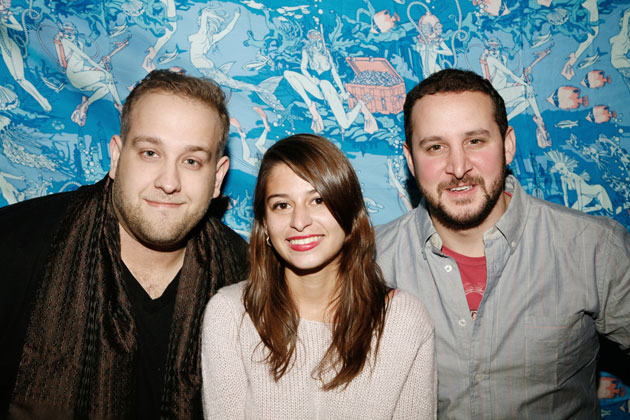 l-r; Vice Merchants' Ryan Rock, Amanda L. and Jake Katz (Amanda did not create the sheet artwork shown).
"The sistine chapel has more naked women on the celing then these sheets," he defends. "And if you can't express yourself and have fun in your bedroom there's a larger problem here." A visit to their studio saw preliminary sketches for upcoming lines; a French Moulin Rouge theme, and a sexy vintage Asian lady motif. Plans are in the works for a naked muscle man line as well, because let's face it, naughty boys need sleep, too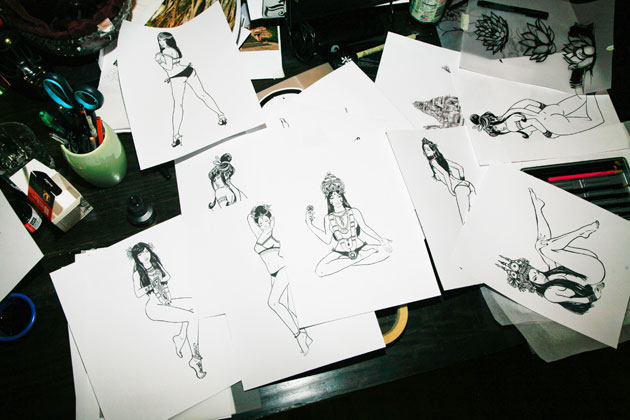 The quality and thread counts are super high, using the similar mills to bedding titans Frette and Pratesi. "We tried a few mills in China and Pakistan, that once they saw the the subject matter, they hung right up on me," laughs Katz. Surprisingly, his very own mother sleeps on the taupe Poppy Playground print. "She thinks theyre super soft and she's very proud." Duvet covers, shower curtains, perhaps even wallpapers will roll out soon. The guys are intent on making your home a sexier, less boring place. Be bold and pick up a set for yourself, your horny teenager or for all the dirty old men and women in your life.