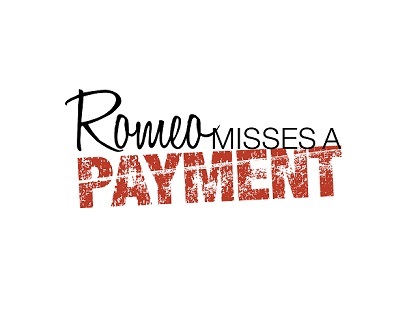 In light of the new year and in the hopes of new beginnings, Aginelo Productions announces "Romeo Misses a Payment", a powerful independent film chronicling the fall out of divorce and child custody cases in America. There will be a FREE VIEWING ONLINE until February 6. Please visit the website and Twitter: @supportthemovie

"Romeo Misses a Payment" showcases the inequities involving child custody among low-income groups, and how the system perpetuates a "one parent household" to the very children that need support the most.
I had the opportunity to speak with Angelo Lobo, a dad who went through a divorce and custody battle. When Angelo saw what was happening in the courts, he decided to journal his findings. This led to the making of Romeo Misses a Payment.
Tell us about the name "Aginelo Productions."
I was born as Aginelo Coelho Lobo and when I got to first grade my teacher, Mrs. Osmond, started calling me "Angelo," so it stuck, and everyone calls me Angelo now. Aginelo was also fitting for our new company. Our co-producer, Jeff Polinsky, and I met in acting class over 17 years ago, and one day we just wanted to start making our own film projects, so the divorce documentary was our first project. After I wrote the treatment, Jeff took the pages and created our shot chart to get us going. He was also instrumental in getting the rest of the crew and team on board; I really could not have done it without him.
What exactly are "noncustodial parents"?
A noncustodial parent is a parent who does not have physical and/or legal custody of his/her child by court order. When we first started this project, the court terms were actually "plaintiff" and "defendant," and after some confusion on the terms we started using custodial and noncustodial. It just makes sense because custodial parents are not always mothers or fathers. Sometimes they can be grandparents or people apart of the family. We figured it was a better descriptor.
Have you, yourself been in a divorce and/or custody battle over a child/children?
Yes, I did go through a divorce and custody battle. So, I understand how hurtful and difficult the whole process can be on parents and children. I was inspired by my experience and wanted to be able to educate and provide support to people who were going through similar situations.
In 2006 when you bought a camera and started filming in courthouses, did you get permission first?
Yes, we did file for permits to film in the courthouses, and were granted them in a few different states; however, we were then told that because it was a documentary the crew was granted to film in public buildings, and the people who participated in the film granted us permission and release.
In your research, have you found a common reason why the non-custodial parent rarely gets to see their children?
In many cases "parent alienation" is present. The custodial parent may just be keeping the child or children away from the other parent. Also, the less time the non-custodial parent gets with the child, more support must be given to the custodial parent, so there is monetary reasons as well.
When you started working on this film, did you have any idea you would receive a suicide note from a father who couldn't see his children? Did you ever think you'd hear stories about fathers walking into a courthouse with a grenade or machine gun?
When I wrote out the first treatment in 2006 I did have an idea that things were bad and parents were suffering; however, once I received that suicide note in my inbox, and had to talk to that man to see that there was hope for him, it did something to me. It really changed the tempo of the film to "urgent". After placing the man with the grenade in, and then the young man hanging himself on a tree, the film really started to consume me. I lived and breathed making the movie and did whatever it took to work on it.
What's the difference between people who are unable to pay their mandated child support versus people who are able to pay it, but fail to?
In our filming, we found that when the system was first created there was a small percentage, like one percent or two percent, of parents that failed to pay child support. This was due to mainly because the parent lost custody or sight of the child due to the custodial parents creating parent alienation, or the child moving away or not communicating.
The courts do not look into the high debts or the any real hardships that the parents may have. They only take the gross income into consideration, and base the percentage the parent will pay on that plus interest. Once that money is deducted from paychecks, parents could be left without enough to pay their other obligations.
Why did you focus on just low-income groups?
We actually did have a few celebrities of high net worth in our first version. The switch came when I received the suicide note in my email because I realized that low income groups did not have the means to seek help or legal advice without digging more into a financial hole. They couldn't even seek counseling or therapy to help them cope, so the anger was directed outward at others or inward with suicide. They would be incarcerated and placed in a cell with murderers, rapists and violent criminals, when in fact all they did is not have funds.
It also seemed like there was a stereotype as well. For example, if they were doctors, lawyers or business owners, etc., the clerk or support magistrate might assume they can "afford" any amount given and in many cases charge more than the state calculations allowed plus interest. If it took three years for the noncustodial parent to get a hearing to revise the rate, then all of the arrears were calculated plus interest for those three years so he or she could be looking at a bill for well over $100k.
Once the amount was not paid in full, the enforcement would be endless and relentless. I think it is important to note that the system also has huge amounts of errors that cause serious harm. In many cases, the parents are paying and not credited correctly, especially when they have wage garnishments that are not processed or credited in time; suspending their professional licenses, contacting their work and causing embarrassment and shame. The non-custodial parent in many cases has nowhere to turn.
For your film, did you interview biological parents only or all different family situations?
We interviewed mostly biological parents.
Where did you get the funding to make Romeo Misses a Payment?
After putting my own savings into it, I raised funding from friends and family in the beginning. Then a lot of family organizations helped us with expenses to film important interviews once they knew what we were trying to do. I got a job driving a limousine full time to keep the project alive, and saved up to re-edit the film to where it is now.
At what point did you choose to get a publicity agent?
When we had the green light for the theatrical screenings, we knew we needed help and we felt really comfortable working with a team.
Were you born in America? What is your family history?
No, I was born on the Cabo Verde (Cape Verde) Islands, which are 10 islands in the Atlantic Ocean that were colonized by the Portuguese, which then became independent in 1975. My family immigrated to New England when I was one year old.
From your film research, what percent of non-custodial parents are male versus female?
From my experience with this film, I can tell you that we would have five men to maybe one woman that was the non-custodial parent. With that being said, the difference for the woman seemed to be that they would not be jailed as much as the men. However, times are changing. There are many women that are noncustodial parents, and sometimes they do lose sight of their children as well. The whole process is very emotionally draining and difficult. Hopefully, as we continue to bring awareness to these issues, things will get better and parents can work together to find best outcome for their children.
Anything else you'd like to say?
I am honored for this interview, and I thank you for your time. I really appreciate the opportunity to be of service.