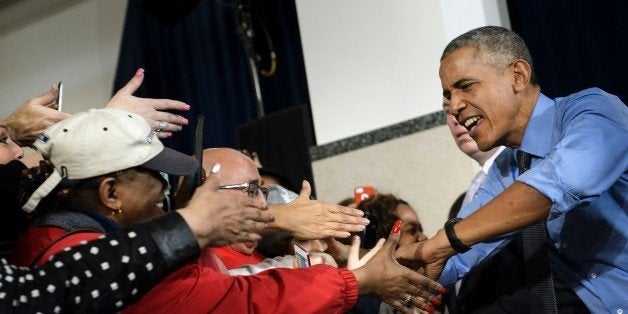 It is clear to most people that corporations hold numerous advantages over everyday Americans when it comes to power in the workplace. But thankfully, the Obama administration just took a step to close a loophole that will shine a spotlight on those engaging in anti-union activities.
The Labor Department just issued its final "persuader" rule language after nearly five years of consideration, which will require management consultants and attorneys involved with creating anti-union propaganda to disclose their efforts to dissuade workers from organizing and collectively bargaining. Previously, these firms could avoid reporting such work as long as they did not directly contact workers.
A new policy was needed because nearly three-quarters of companies hire outside consultants and attorneys to try and defeat organizing drives. Yet these firms-for-hire could shield their activities due to an overly broad interpretation of the Labor Management Reporting and Disclosure Act of 1959 (LMRDA).
For years, big business has taken advantage of the nation's broken system. They've paid millions to consultants and law firms to do the dirty work of misdirecting and intimidating employees. In exchange, these same companies publicly could wash their hands of the whole thing.
The rule change puts these consultants and lawyers on equal footing as employers who must disclose such activities under LMRDA. And it also levels the playing field with unions, who are required to file detailed financial disclosure forms each and every year that includes receipts and expenditures.
While the cottage industry of management consultants and corporate law firms have attempted to cry foul by saying this policy change will impede on attorney-client privilege, that is simply not the case. The LMRDA makes clear that pure legal advice does not need to be disclosed. The new rule only affects efforts to persuade employees regarding unionization -- such as writing speeches or creating flyers or videos to discourage organizing.

This is a modest rule change. It will increase transparency about company activities and will not be a heavy burden to firms who have to file. The form is only two pages long, which pales in comparison to the hundreds of pages of financial disclosure forms unions fill out.
Greater disclosure is needed so workers can be informed about their employer's activities -- and monies spent -- to fight the workers' efforts to form a union. Employees deserve to know whether third-party union busters are being employed to unduly influence the outcomes of union elections.
With this policy shift, the federal government is saying it won't allow corporations to tamp down on the collective bargaining rights of workers across the country. It takes tremendous courage for workers to join with their co-workers and speak up together to form a union. By coming together, workers advocate for better pay and benefits, as well as improved working conditions and greater safety on the job.
Workers deserve a fair shake in the workplace. But too few policymakers at the federal and state level have been willing to stand up for hard-working Americans who are just trying to earn enough to support their families. These changes to the persuader rule don't solve the problem entirely. But they are a start.
Popular in the Community