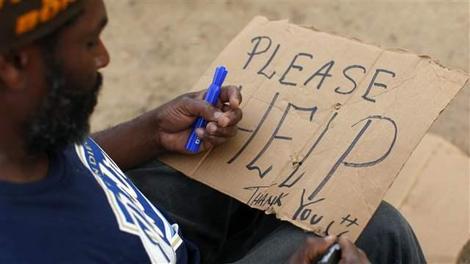 Homelessness is many things. It is a symptom of poverty, substance dependency, mental health, sexual abuse, physical trauma, veteran discharge, dysfunctional family, or even an outgrowth of a faulty foster care system that terminates at adulthood with little to offer the new adult but the wide open street.
Still, we see it as a monolithic behemoth from which we are most comfortable looking away. We search for terminology to describe, in one great stroke, they key to ending homelessness. We call for housing, better yet supportive housing; services, better yet wrap around services; shelters, better yet inclusive shelters; funding, better yet hundreds of millions worth. Still, no magic wand seems to address all the ills that go into creating homelessness.
To anyone that looks squarely in the face of homelessness it is clear that people experiencing homelessness get to that point from infinite walks of life, but can only transition out through some very narrow pathways. Some just can't manage the daily routine of a stable life indoors due to long-standing psychological limitations that have developed over a lifetime. Some have been abandoned over and over by loved ones or people they should have been able to trust and have simply grown to be more comfortable alone and unattached. Some have mental health or substance abuse issues that they've developed because of being homeless, and can only sustain if they remain homeless. Some can't find jobs. It's as simple as being unable to find work to rent or own a roof over their head. Some refuse to succumb to a life in an enclave that is affordable but unsafe and unsightly - they would rather eke out a sustenance on the hillsides or on street corners than to suffer the indignity of living where they don't feel they belong. Some have been abused and battered for too long to know how to re-enter a sober life free of harm. Most would rather live differently and if they could choose, they would choose a different lot.
Such sets the scene for what LA City and County officials have decided to take on, in earnest, with a pledge to end homelessness founded on better planning, more housing, supportive services, effective collaboration and a lot of money. There is even a petition calling on Governor Jerry Brown to declare homelessness a state of emergency, which would reallocate resources and funds to this "emergency". LA has nearly 50,000 homeless people according to the latest Count results from LAHSA, and no real plan for a solution to fit the growing problem. Data shows that where there is focused investment, such as in Veteran housing, the results are often positive. But with the ever climbing numbers of a staggering homeless population in the City, finding the revenue to spend on housing, services and homeless solutions is an ongoing struggle.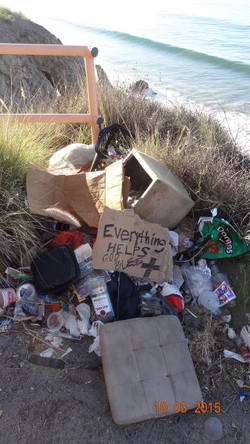 The money has been pledged, but not sourced. I asked Councilman Mike Bonin of CD11, with whom I work closely on issues of local homelessness, where he thought the money might come from. "While some of the funding will come from cutting back on other areas of the city budget" he said, "I strongly support going to voters." This month, the LA City Council approved placing a bond measure on the November ballot to make available $1.2 Billion in funding over a 10 year period, if approved. Bonin had suggested proposing a tax on real estate transactions or a fee for demolition or condominium conversions - estimated to net about $90 million per year for homeless housing and services. Recent polls, however, showed that a tax to generate essential dollars for addressing growing city wide homelessness would be less popular than the bond measure. Still others simply want to see government solve homelessness by reallocating resources it already has.

To everyone's dismay, crime tends to rise in areas where homelessness climbs, says West LAPD Captain, Tina Nieto. When police are dispatched to these areas they check for criminal activity and try to offer services. Many homeless individuals are service resistant. Often times homeless people are cited for low level, quality of life, offenses. The LA City attorney, Mike Feuer, has a program in place to parlay those offenses into a bargaining chip for services. His "Heart" program aims to trade misdemeanor forgiveness for the acceptance of services. This is something he says he can do "unilaterally", expressing some frustration with the slow pace of the broader unified response. The offer is simple says the City Attorney, "take responsibility for your actions, do some community service and accept services we have on offer right here and now, and we will work with the court to forgive the legal citations." So far the Heart program has yielded great results, with over 2000 people off the streets. Still, he says, this is just one ingredient. "It must be complemented with an array of other programs", in order to be effective.
Captain Nieto shares the sentiment. She suggests community mentoring programs. "We need a plan for not just housing but job training and psychological assistance so these people can reintegrate back to the community." With the numbers of LA homelessness on the rise evidenced by LAHSA homeless count results reflecting an increase across the board, agencies are scrambling to find funding, craft strategies and implement programs aimed at helping the homeless out of homelessness. Priorities become key in this planning. For some, a rapid response plan is instrumental in getting out of homeless almost as soon as they find themselves on the street. For others, the quality and breadth of support services will help them out of chronic homelessness and perhaps into supportive housing situations.
Everyone agrees that the answer to homelessness is housing. "Advocates have been saying this for a long time," says County Supervisor Sheila Kuehl, "now convincing funding authorities" that housing is the answer is the crucial test for the struggle to curb homelessness. With no skills to speak of and no jobs on the horizon - and no rapid plan rapid plan or support structure to help them transition out - homelessness becomes a long-term reality for most people who experiencing it. "We need a broad range of options to get people connected with the services they need," says Councilman Bonin. But how to deliver those options, and how to identify which homeless individuals are most at risk and need acute help, or alternatively which are most able to transition out of homelessness with quick intervention and targeted support becomes the challenge.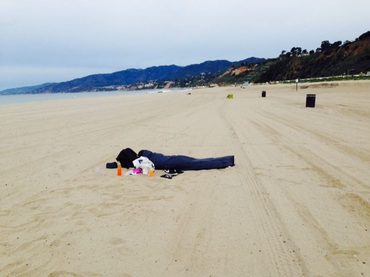 A particular group of homeless people that can be helped with quick intervention and skilled support are single mothers who find themselves homeless wither by virtue of a divorce or the kind of abuse that makes them willing to try the street over staying at home. Their numbers are on the rise, according to the latest LAHSA count. They need safe place to live, child care and some job training. These women often grapple with past abuse and domestic violence which leaves them guarded from strangers, leery of people offering help, and reluctant to trust. There must be a focus on single women, particularly those with children, to be helped immediately off the street.
Another universe of people who can use quick intervention are people who have lost their jobs or are able bodied and willing to work. These are not chronic homeless individuals but people who can be reintegrated without a costly web of long-term services, "just income," says Supervisor Kuehl. She supports a county strategy that includes job training for certain kinds of work, skills retraining for those who need to update their skills, and a push for entry level hiring to focus on skilled homeless people. She is working with California Community Colleges on a program for skills and job training in agriculture and manufacturing, among other sectors.
Councilman Bonin, who seems wholeheartedly committed to reducing homelessness while often bumping up against constituents in a district that includes some of the wealthiest enclaves in LA and a few of its most dense hotbeds for homelessness notes that "every person who is homeless has a different story." If the response to homelessness could take into account all the different kinds of homeless populations, growing by day, it would be one that accounts not just for the chronically homeless who need wrap-around services with long-term supportive housing - which is the most labor intensive and costly response - but also the rapid intervention solutions that are more straight forward and quickly helpful.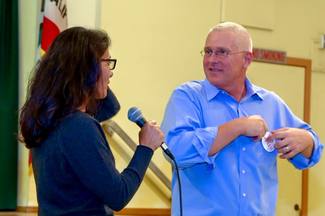 There are no quick solutions but from what I can see from my vantage point as the Chair of the Pacific Palisades task Force on Homelessness for the last two years, all hands are on deck.
Maryam Zar was the founding Chair of the Pacific Palisades Task Force on Homelessness (PPTFH), which formed in October 2014, to help address local homelessness with a strategy founded on law enforcement coupled with the offer of available services to homeless people living in the community of Pacific Palisades. The pilot program was a success in many measurable ways and has been touted as an innovative community strategy to address local homelessness. Ms. Zar's term as Chair of the PPTFH ends on June 1st. On July 1st, she will begin her term as President of the Pacific Palisades Community Council (PPCC).