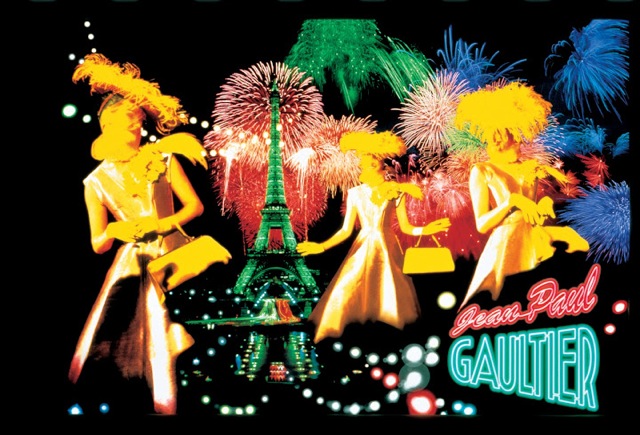 Jean Paul Gaultier. Ad campaign for the Fin de siècle collection
Women's prêt-à-porter spring/summer 1995
Art direction and photography: Jean Paul Gaultier
© Jean Paul Gaultier
I crossed a threshold with Jean Paul Gaultier. Back in the early 1990s, there was a mustard colored blazer, with a backside of wool knitted sweater, that I fell in love with, and ultimately purchased (on sale), in a now defunct menswear emporium with a minimalist interior -- a vast concrete space with a couple of rolling chromed racks swimming in an elegant void. To be in that highly aestheticized, (okay, more than borderline pretentious) environment was an invigorating dive into a pantheon of cool. They let me in there -- and it felt terrific.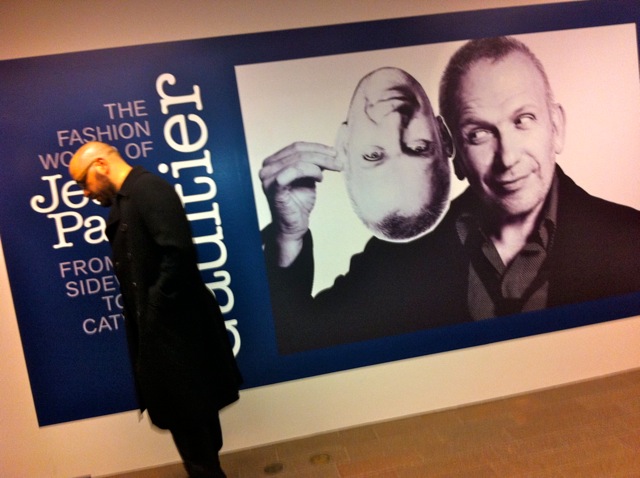 The Jean Paul Gaultier extravaganza at the de Young Museum is hardly a minimal affair, but the effect is similar -- we're all invited into a wonderfully theatrical universe. "The Fashion World of Jean Paul Gaultier: From the Sidewalk to the Catwalk" is the rather mundane title for an enthralling, sensory museum experience filled with state of the art mood lighting and video-enhanced, hard body mannequins sheathed in exuberantly sexy garments for men and women (sometimes the same piece for both), but the high and low reference of the show's title is instructive. The designer's inspirations aren't fancy or elitist -- this is a man who credits his granny, a nurse (albeit one with a formidable lingerie colection), as a primary inspiration -- and the entry points to his world view are pleasure, an inclusive, unconventional sense of beauty, and elevating aspects of daily life with shiny surfaces, satin tuck and roll, and pulsating nightclub atmosphere. "The street," Gaultier is quoted on a wall label, "has always been my first source of inspiration."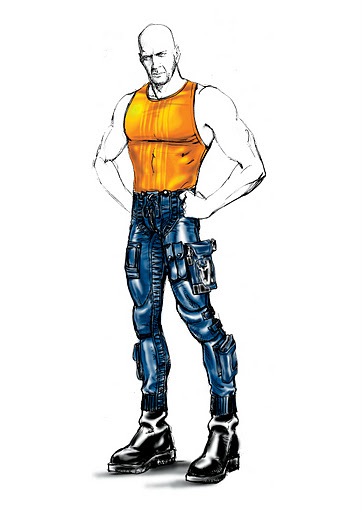 Jean Paul Gaultier, Costume sketch
The Fifth Element, directed by Luc Besson, 1997
© Jean Paul Gaultier
Gaultier has also entered into public imagination through his pop crossovers -- by icon-izing Madonna's breasts with those pointy, conical bras, and designing for sleek, international films where the clothing functions as character. I still count the sci-fi extravagance that is Luc Besson's The Fifth Element as a favorite film if only for Bruce Willis's fetishy orange rubber tank top, Christ Tucker's puss print jump suit, and that fantastic scene in which Milla Jovovich is transformed into a sensuous, athletic waif with body-hugging straps. It was a film in a designed universe, and JPG did it more than once (most recently with flesh tone body suit in Almodovar's The Skin I Live In). His toned-torso perfume bottles, for man and woman, in their tin can containers are packaging genius at once tacky and chic. I happened upon a passage in a new novel, Abdellah Taia's An Arab Melancholia, in which the narrator describes a bad boyfriend who lived in "Three small rooms in a state of unbelievable disorder, and the smell that gave me a headache right away, the scent of his latest fragrance, 'le male' by Jean Paul Gaultier."
I like to imagine that the designer might enjoy the negative connotations--the dysfunctional nature of that description suggests appealing romance of Jean Genet rough trade, a vision that is glamorized in many of the clothes in the exhibition -- or simply the fact that the designer bubbles up all over culture. Gaultier infuses everyday elements, things from the street, from the military, the French striped maritime shirt, a uniform, into something with an elevated sense of style. Unlike other couture kingpins who have been shown at this same museum, Gaultier's sources aren't high art -- no Picasso or Miro-influenced patterns in this dramatically lit show. Instead, he tracks his sources to rooms in the house the boudoir, the disco, the sex club, and to pop stars and supermodels, who so often are elevated (if messed up) visions of us all. He plumbed punk rock, sexual fetish, cancan dancers, and even religious garments. (There are even three examples from his controversial Hassidic-themed Chic Rabbi collection.)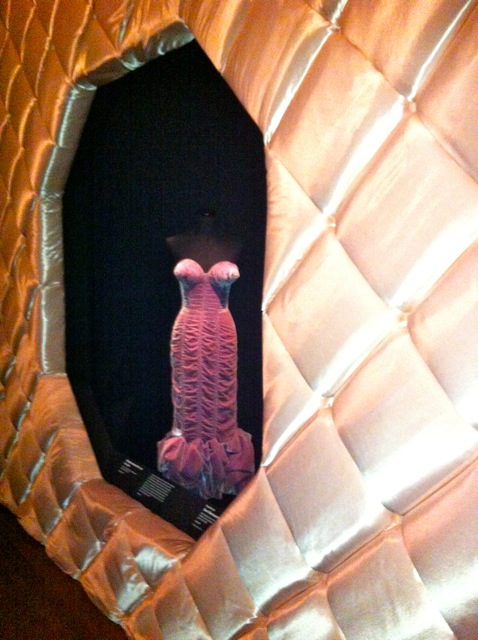 Boudoir portrait
The designer was in San Francisco for the show, and didn't seem snooty or sequestered. He addressed an auditorium full of press (some wearing outlandish garments of his own making). He looked younger than someone who will turn 60 in April, and he seemed relaxed and familiar -- the opposite of a superstar, dressed down in black jeans, a blazer, and black sweater. His came across as genuinely humble, and believe it or not, he radiates a genuine happiness vibe. He was able to tell oft quoted stories -- of being inspired by his grandma's corset, the teddy bear that served as a mannequin when the designer was an awkward child (he got the conical bra idea way back when), transforming a cat food can into bracelet--as if it were the first time.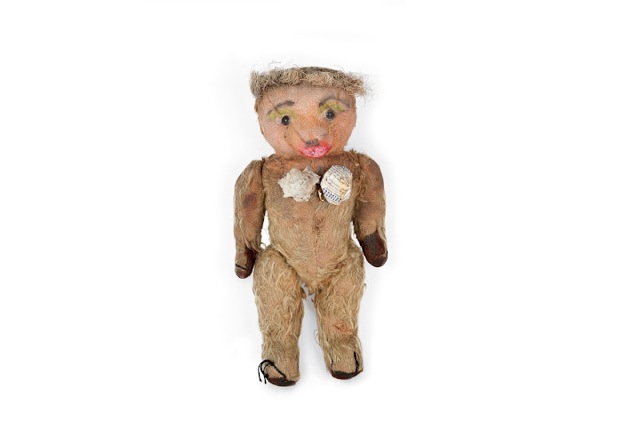 Jean Paul Gaultier's teddy bear, Nana, wearing the first cone bra
© Rainer Torrado/Jean Paul Gaultier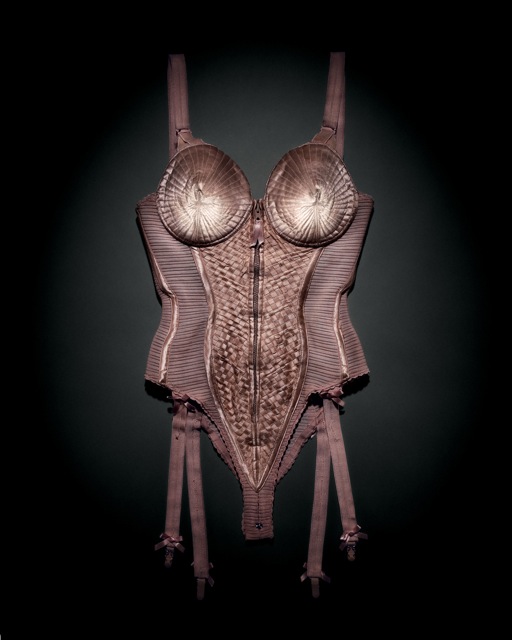 Emil Larsson, Body corset worn by Madonna, Blond Ambition World Tour, 1990
Dazed & Confused, April 2008 © Emil Larsson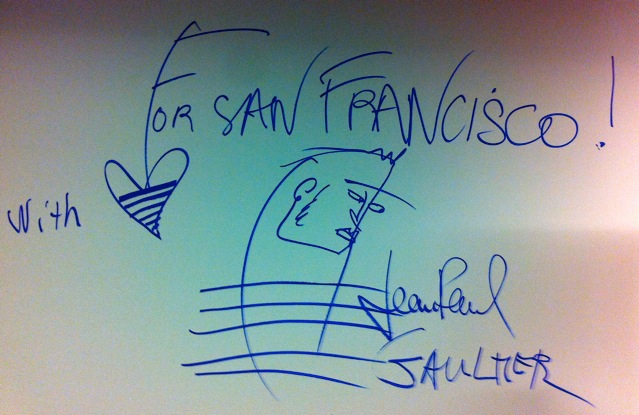 Wall size mash note at entrance to the exhibition
His thoughts about San Francisco, though, did come as something new. He admitted his appreciation for the city's history of cultural freedom -- hippies! -- and there's an oversized love note to this town at the show's entrance. At the press opening, the exhibition's Montreal-based curator, Thierry-Maxime Loriot, prompted Gaultier to recount an early 1980s visit when he was enchanted by the sight of a man in full black leather out on the street. That was decades ago, and Gaultier, if seemingly modest, is not above vanity. He stated more than once that a primary concern about being the subject of a museum retrospective is the assumption that it's for canonized dead designers -- so he did his best to conceive of a show that would be more alive. This is at least approximated with souped-up mannequins with videotaped faces of models projected upon the well-formed heads. They blink, sing, and grumble about being on display, as if in some impossibly hip Disney World animatronic attraction. The conceit, which resembles work by artist Tony Oursler, are on the uncanny side, at once realistic, artificial, and macabre.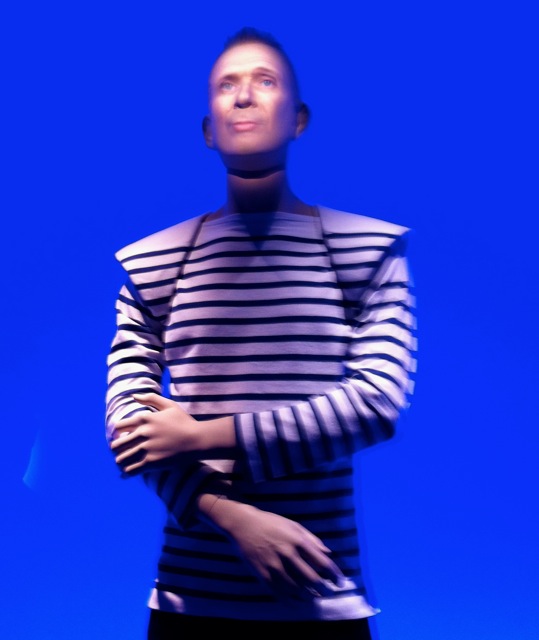 Jean Paul Animatronic
Gaultier introduces the show on one of these figures, making his other oft-repeated humble assertion that he is not an artist, but someone who appreciates the everyday. His stock in trade is recontextualizing things, like the striped French sailor shirt, which he had as a boy. He didn't like it as a child, but it turned into his own classic -- as t-shirt, as evening dress, as souvenirs in the gift shop. The latter don't exactly come cheap, but you know you want one.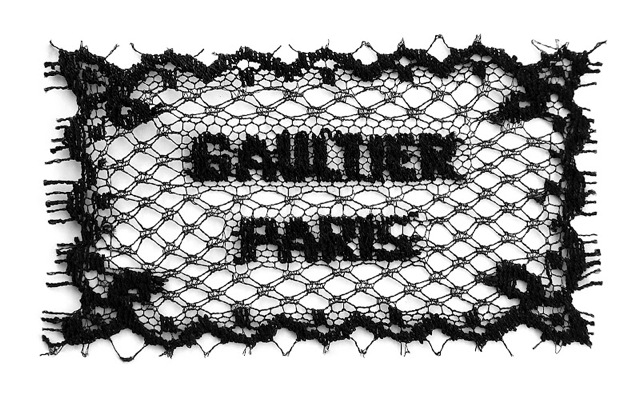 Gaultier Paris lace label, for haute couture © Jean Paul Gaultier
The Fashion World of Jean Paul Gaultier: From the Sidewalk to the Catwalk, will be on view at the de Young in San Francisco until August 19, 2012.

REAL LIFE. REAL NEWS. REAL VOICES.
Help us tell more of the stories that matter from voices that too often remain unheard.