A celebrity mountain lion is suspected of killing a koala at the Los Angeles Zoo, giving new meaning to the term "concrete jungle."
Mauled body parts of Killarney, a 14-year-old female koala, were found hundreds of yards from its pen on March 3, the Los Angeles Times reported. Surveillance footage showed that P-22, a mountain lion known to roam the surrounding Griffith Park, was prowling through the zoo the night the koala was killed.
While Killarney's death remains under investigation, zoo officials are taking additional precautions to protect other animals, including the 10 koalas she leaves behind.
Officials suspect that the 7-year-old mountain lion found Killarney on the ground of her enclosure, separated from the other koalas resting in the trees. There was no sign of a struggle in the pen, which is surrounded by an 8-foot wall.
This wouldn't be the first time P-22 has been spotted in the zoo, which has also been haunted by wild coyotes and bobcats, the Times reported. The mountain lion wears a radio collar, but that data wasn't enough to pinpoint him as the culprit in Killarney's killing.
"We've looked at the GPS evidence, and of course talked to the zoo and looked at the enclosure, and it's really inconclusive," Kate Kuykendall with the National Park Service told KABC. "He was in the area, but our GPS points are separated by two hours, so we can't say for sure."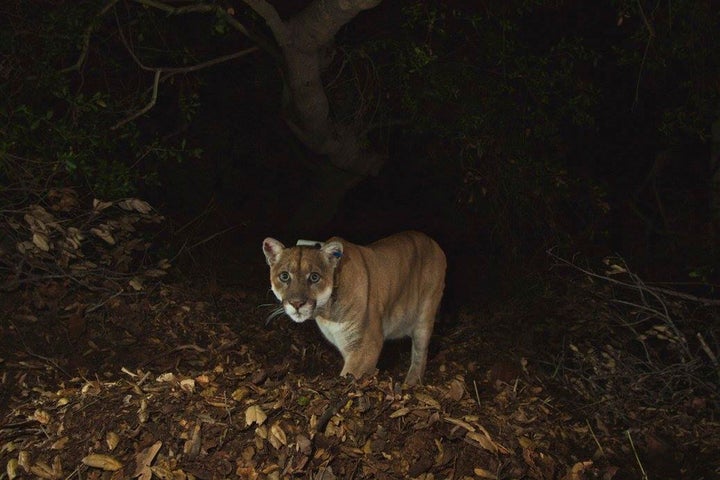 P-22 has become something of a mascot for Griffith Park, the 4,355-acre oasis of nature within Los Angeles. His residence in the sprawling city has also become a topic of controversy.
"Regardless of what predator killed the koala, this tragedy just emphasizes the need to contemplate relocating P-22 to a safer, more remote wild area where he has adequate space to roam without the possibility of human interaction," Los Angeles City Councilman Mitch O'Farrell said in a statement.
Beth Pratt-Bergstrom, California director of the National Wildlife Federation, offered a different view in a statement given to HuffPost.
"That we have a mountain lion living in the second largest city in the country is something to celebrate. And I also celebrate that the citizens of Los Angeles have largely rallied around co-existing with P-22 -- and all wildlife," Pratt-Bergstrom said.
"P-22 has also shown that he can adapt -- we need to show we are all willing to help ensure a future for our wildlife neighbors as well and take precautions like keeping small animals protected," she said.
REAL LIFE. REAL NEWS. REAL VOICES.
Help us tell more of the stories that matter from voices that too often remain unheard.
BEFORE YOU GO
PHOTO GALLERY
The Craziest And Most Colorful Animals On The Planet, Nudibranches!