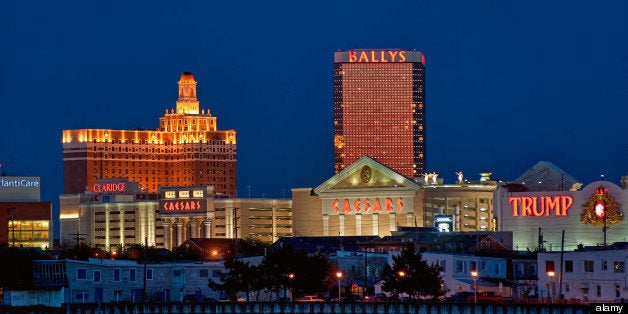 The Golden Child

11:45 pm, Wednesday, July 3, 2003.
It was an inconspicuous day to launch a conspicuous project: a gleaming, golden, sleek structure christened the Borgata Hotel Casino & Spa. No press mention of the opening elaborated on the time and perhaps there was no need. It may have been chosen for the upcoming Independence holiday, for convenience or better yet -- for luck. After all, this was Atlantic City circa-2003: a city packed with casinos which promised the very luck their struggling residents seemed to lack. Despite big ticket attractions like the Trump Taj Mahal, Harrah's Resort Atlantic City and Ceasar's Atlantic City, attendance was down.
In fact, January 2003 statistics from the Atlantic City Convention and Visitors Authority suggest a city that was losing visitors -- and losing them fast. While there were nominal gains in categories like airport arrivals and casino hotel activities, other key segments like convention, trade show and event attendance were in high double-digit decline. The numbers suggest that the millions of tri-state residents, a four-hour, $400 flight to Vegas was preferable to the gambling in their own backyard.
In a city like this, it would take an extraordinary amount of luck for any venue to turn this tide. But that Wednesday, just 15 minutes before midnight, the Borgata took its chances. Boyd Gaming Corporation and MGM Resorts International, joint venture partners for the project, ponied up $1.1 Billion and invested roughly four years in the construction. It boasted a plethora of classic casino offerings from 3,475 slot machines to 182 gaming tables in its 161,000 square foot casino; while injecting some seriously premium non-gaming ones such as five destination restaurants including Bobby Flay Steak, Wolfgang Puck and the Old Homestead Steak House; a 54,000 square foot spa and gym with a barbershop, a 2,400 seat events center and 2,000 meticulously decorated rooms fitted with flat screens, custom furnishings and more. Predictably, these perks transformed the new venue into an instant icon. Not long after it's launch, Borgata's gamble was rewarded with a bonanza of repeat business. This success set the stage for expansion a mere one year later in the form of The Water Club. After four years of construction, the zen-like, 800 room 'Boutique' hotel, crowned with its own top floor spa and five indoor and outdoor pools, opened for business. Yet again, this too was a hit.
By the dawn of 2012 the Borgata Hotel Casino & Spa had settled nicely into its reputation as a successful leader with a lions share of Atlantic City's gambling and hotel market. No longer the new kid on the block, it had joined the fold of older hotel casinos as one of Atlantic City's iconic venues. It was a lucky position -- one that by years end, would be put to test by another new upstart.
To the untrained eye, 10 years have done little to alter Atlantic City. Save a few posh town homes by the sea and a gleaming shopping center in the center of town, the city looks the same. Liquor shops, churches and empty plots are positioned ironically in the glare of bold, bright, beautiful casinos. The Borgata too has exhibited staying power, maintaining its gleaming, golden facade -- now a signature in Atlantic City's skyline.
Yet, the stillness betrays the depths of changes undergone by both the Borgata and the city it belongs to. Those perpetual whispers of Atlantic City's resurgence are finally ringing true thanks to improvements, investments, and an award-winning HBO show, Boardwalk Empire based on its mythology. The Borgata too has undergone changes -- from looks to staff to strategy -- in order to meet the highs and lows of business over the years.
No one understands the nuances of these changes better than Joe Lupo, Senior Vice President of Operations af the Borgata. Lupo, who was transferred by Boyd Gaming from Las Vegas to oversee the property, has been there since the very beginning and reveals that the Borgata success -- without and within -- was planned from the start.
"Prior to opening we met with all of the designers to communicate that we didn't want something that would be dated or have a theme that would go out of date," says Lupo in our exclusive interview. "We wanted to create a very timeless property and a beautiful property."
The glistening exterior, which costs $20 million annually to maintain, may attract the crowds, but by 2008 it didn't do enough to distract from the interior of the property which was routinely earning negative critiques from guests who posted on Trip Advisor and other sites about "average" rooms, broken fixtures and shabby bathrooms.
"The difference is the customer comes here for a night," explains Lupo when reflecting on that period. "It takes more wear and tear on our rooms than in Las Vegas where they turn over the room twice a week."
This context served as the basis for a $50 million dollar redesign of all rooms on the property, which took into mind the key complaints and concerns of guests.
"This was not just a refurbish, but a complete redesign," emphasizes Lupo. "We put in brand new furnishings, electronics, even wall paper."
It's not just been rooms that have been overhauled, but much of the property.
"We've made changes from inputting more restaurants to high-end lounges," says Lupo. "We've been listening to them and been cognizant of what they are looking for. We've had a great understanding of how much gaming and non-gaming to provide from an experiential standpoint."
Yet not all storms weathered by the venue have been propelled by customer critiques. Some, like 2012's Hurricane Sandy, were quite literal. The tropical cyclone ravaged the city's boardwalk and coastline and hit hotels hard plummeting guest rates and casino attendees. Yet here too, the Borgata was lucky. Occupancy rates have bounced back to pre-Sandy days and business looks good as ever.
Yet the Borgata's biggest battle in its 10-year run may have been, ironically, the launch of a hotel, as shiny, as bold, and as ambitious as they were a decade ago: Revel.
The buzzed about property opened last April with flashy architecture that like the Borgata before it became an instant icon on the coastline. Befitting an ambitious young upstart, it opened with a dazzling line up of events and shows including Beyonce's epic first post-pregnancy concert. Between this, lavish ad campaigns and aggressive marketing, Revel boldly signaled its core mission: attracting hundreds of New Yorkers to Jersey's Coastline. Now, one year later, their brash beginnings have simmered, then succumbed into the routine realities of any new casino. Bankruptcy filings, accusations of being overpriced and over hyped, and the recent discovery of two dead bodies at the property, have all marred their strong start and suggested an early finish. But to their credit, Revel carries on and continues to attract curious guests. As to whether or not the Borgata feels heat from the new competition, Lupo responds with his characteristic professional cool.
"We were really hoping that Revel would grow the market. We were really hoping to have it revitalize the city. We were hoping it would bring new blood," says Lupo. "Instead they've struggled - and we've grown in our market share since their launch."
It's 11:45 pm on a recent Saturday night in Atlantic City. Like the decade before it, the winds of change are once again sweeping through this town. This time, it's not only thanks to newer venues -- but older ones too. Golden Nugget, Trump Marina and Trump Plaza are all under new management, promising tantalizing new changes to come.
In the Borgata, these winds of change have meant renewed energy and enthusiasm from customers who are enjoying the expanded gaming floor, poker room, and beautifully lit food court called 'Cafeteria.' On the ground floor, the casino, lobby and restaurants and box office are thick with guests. Families, singles and couples tumble in and out of the main entrance, re-enacting almost by the minute a scene Lupo never tires of.
"When you see a customer come in (to the lobby) and look up at our chandelier or be in the event center and smile and dance," says Lupo, "this is the most fulfilling part for me."
Watching guests tumble in and out of the lobby reveals yet another truth: they have nothing in common. Borgata's guests don't exclusively belong to a single age, cultural or gender category. Instead its a rotating cast of characters: hard partying singles, celebrating brides-to-be, boisterous families and slow-moving grandparents watching the play unfold with delight. From young to old, thrill seekers to zen seekers, this one venue attracts one and all.
It's an accomplishment verified the best way a business like this knows how: profits. Newly released 2012 numbers show Borgata's profits at $120 million, second only to Harrah's Resorts Atlantic City, which posted $127 million profits. It continues their consistent -- and alternating -- position as the number one or two casino hotel in Atlantic City. There couldn't be a more positive -- or poignant -= way for the Borgata to enter their 10th anniversary, which they will officially celebrate this coming July in a series of yet-to-be-announced events. Ten years ago the Borgata took a gamble on a down and out city -- and it won. You could call it a stroke of good luck, but a decade long winning streak suggests something entirely different: ownership, management and employees who know their guests and honor them on every level. Luck, even in a city like this, has nothing to do with it.

Zandile Blay is a style & culture columnist who has written for the Huffington Post for over seven years. She is currently Editor-At-Large at SCENE Magazine and Fashion Journalism Adjunct Professor at Syracuse University.
Calling all HuffPost superfans!
Sign up for membership to become a founding member and help shape HuffPost's next chapter