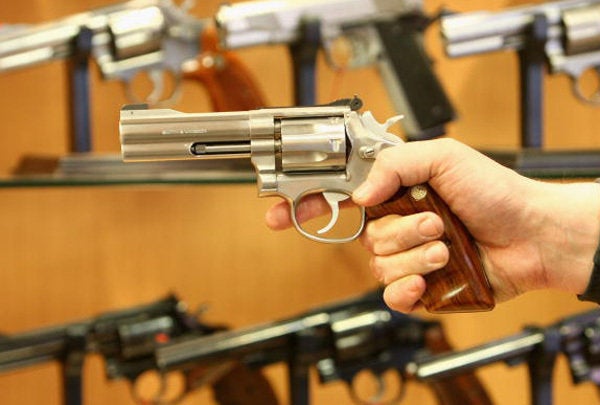 Need a Dark Ops Vendetta Karambit Fighting Knife? Looking for a Punch Dagger "thrust-oriented personal defense tool"? A "Tactical Pen" that "will get the job done in more ways than one"? Or maybe just a Defensive Phone Holster with a "backup blade" to "ensure you'll never be completely unarmed."
Then welcome to the National Rifle Association 2010 holiday catalog which offers "Gifts and Gear with an NRA Twist!"
Mixed in amongst the tee shirts (up to size XXXL), hats, vests, sweatshirts, belt buckles, gun paraphernalia, and concealed carry accoutrements is a collection of weapons that, in the words of NRA chief Wayne LaPierre, are "carefully selected to enhance the NRA lifestyle" -- which, if judged by these products, seems to involve a lot of paranoid stabbing, cutting, and lethal poking.
"Can You Hear Me Now?" -- that's the headline introducing the NRA "Talking Point" Defensive Phone Holster. A description of the cell phone holster reads:
"A defensive tool is only useful if you have it with you. The NRA 'Talking Point' Phone Holster pairs a backup blade with a cell phone holster to ensure you'll never be completely unarmed. A supple black leather cell phone case completely conceals a black oxide-coated stainless steel folding knife. It features an assisted-opening mechanism that enables you to bring its 2 1/4 " drop point blade into play in a flash. Attach the NRA 'Talking Point' Phone Holster to your belt using its integral stainless steel clip, and the knife remains virtually undetectable until you need it."
Bad news for lefties, it comes in "[r]ight hand draw only."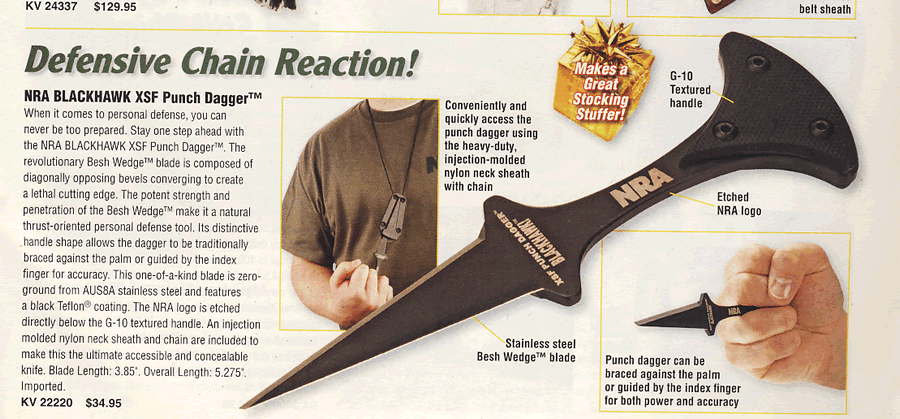 The NRA Blackhawk XSF Punch Dagger "Makes a Great Stocking Stuffer!," according to the catalog. Under the headline "Defensive Chain Reaction!," the description reads:
"When it comes to personal defense, you can never be too prepared. Stay one step ahead with the NRA BLACKHAWK XSF Punch Dagger. The... blade is composed of diagonally opposing bevels converging to create a lethal cutting edge... [which makes]... it a natural thrust-oriented personal defense tool. Its distinctive handle shape allows the dagger to be traditionally braced against the palm or guided by the index finger for accuracy... An injection molded nylon neck sheath and chain are included to make this the ultimate accessible and concealable knife."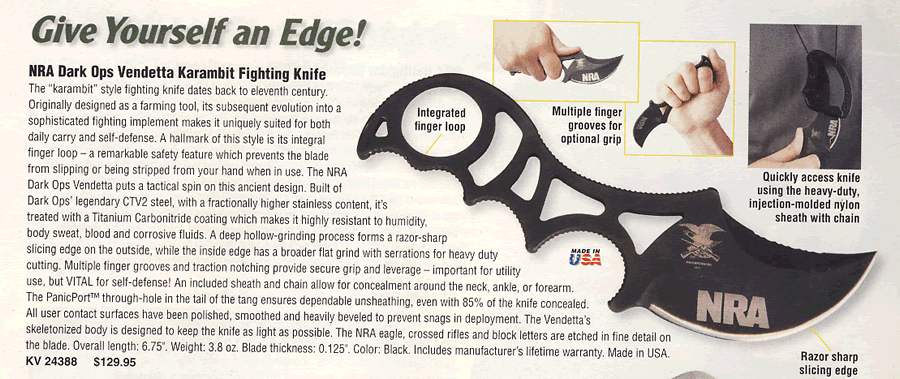 Or, you can "Give Yourself an Edge!" with the NRA Dark Ops Vendetta Karambit Fighting Knife:
"Originally designed as a farming tool, its subsequent evolution into a sophisticated fighting implement makes it uniquely suited for both daily carry and self-defense. A hallmark of this style is its integral finger loop -- a remarkable safety feature which prevents the blade from slipping or being stripped from your hand when in use. The NRA Dark Ops Vendetta puts a tactical spin on this ancient design... Multiple finger grooves and traction notching provide secure grip and leverage -- important for utility use, but VITAL for self-defense! An included sheath and chain allow for concealment around the neck, ankle, or forearm."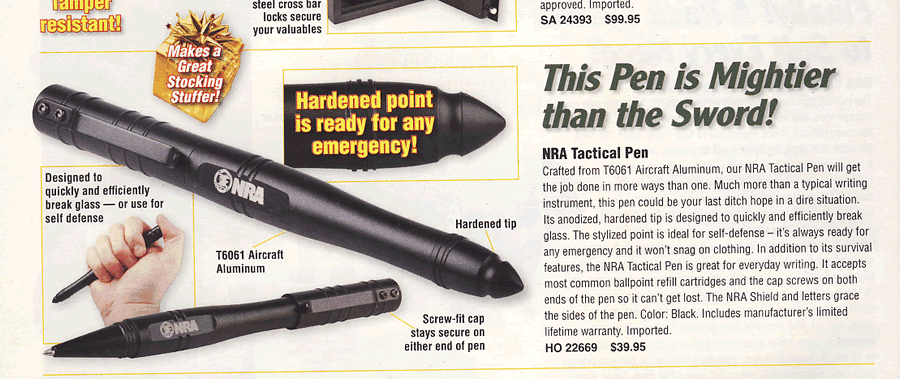 And if you're ever attacked while writing out your holiday "thank you" cards, look no further than the NRA Tactical Pen -- another "Great Stocking Stuffer!" With a "[h]ardened point... ready for any emergency" from breaking glass to self-defense, the NRA states, "This Pen is Mightier than the Sword!" The description promises:
"...our NRA Tactical Pen will get the job done in more ways than one. Much more than a typical writing instrument, this pen could be your last ditch hope in a dire situation... The stylized point is ideal for self-defense -- it's always ready for any emergency and it won't snag on clothing."
Oh, and all the products come embossed with the NRA logo -- so recipients will know who to truly thank as they live "the NRA lifestyle."
Calling all HuffPost superfans!
Sign up for membership to become a founding member and help shape HuffPost's next chapter