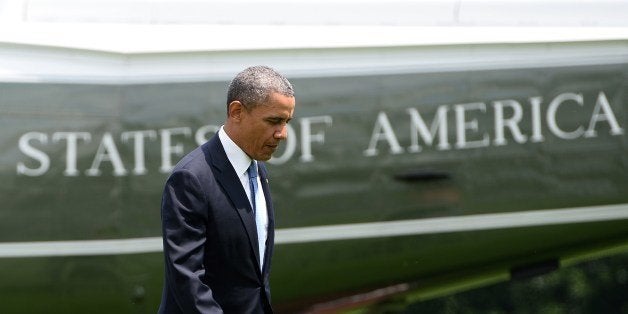 WASHINGTON –- The White House seems acutely aware of the coming fight over soon-to-be-released federal rules on greenhouse gas emissions from power plants.
The administration on Thursday released a paper touting its "all-of-the-above energy strategy," which promotes recent growth in domestic oil and natural gas production, as well advances in renewables, nuclear power, and energy efficiency.
"The U.S. is now the largest oil and natural gas producer in the world," said Jason Furman, chairman of the Council of Economic Advisers, in a call the White House held with reporters Thursday afternoon. Furman noted the growth in domestic energy has made a "contribution to recovery, energy security, and the path to a low-carbon future."

Asked whether this was a "prebuttal" to criticism of the carbon rules, expected to be released Monday, Furman said it was not.
"We at the Council of Economic Advisers have been talking about those trends for nearly a year now, and have done reports on technology and health," said Furman. "This was our opportunity to do one on the topic of energy, which we think is one of the really big, profound, important stories going on in the economy -- one we have frequently referred to, but have not had a chance to fully flesh out until now."
The report touts the growth in natural gas, saying the administration "embraces natural gas as a transitional fuel," while looking at ways to ensure development is "done responsibly."
Environmental groups have criticized the administration's emphasis on gas, arguing that reliance on fossil fuel detracts from longer-term goals of moving toward renewables. While burning natural gas creates less greenhouse gas emissions than burning coal, it still produces emissions.
"There's no question in the current context that the use of more natural gas has been a net benefit from a climate perspective, and we continue to think it has an important role to play in the economy," said White House senior counselor John Podesta. "Over course of time, we'll have to deal with all sources of carbon pollution. But right now, more natural gas in the system is having a net positive effect on emissions."
REAL LIFE. REAL NEWS. REAL VOICES.
Help us tell more of the stories that matter from voices that too often remain unheard.
BEFORE YOU GO
PHOTO GALLERY
15 Ways You Contribute To Climate Change