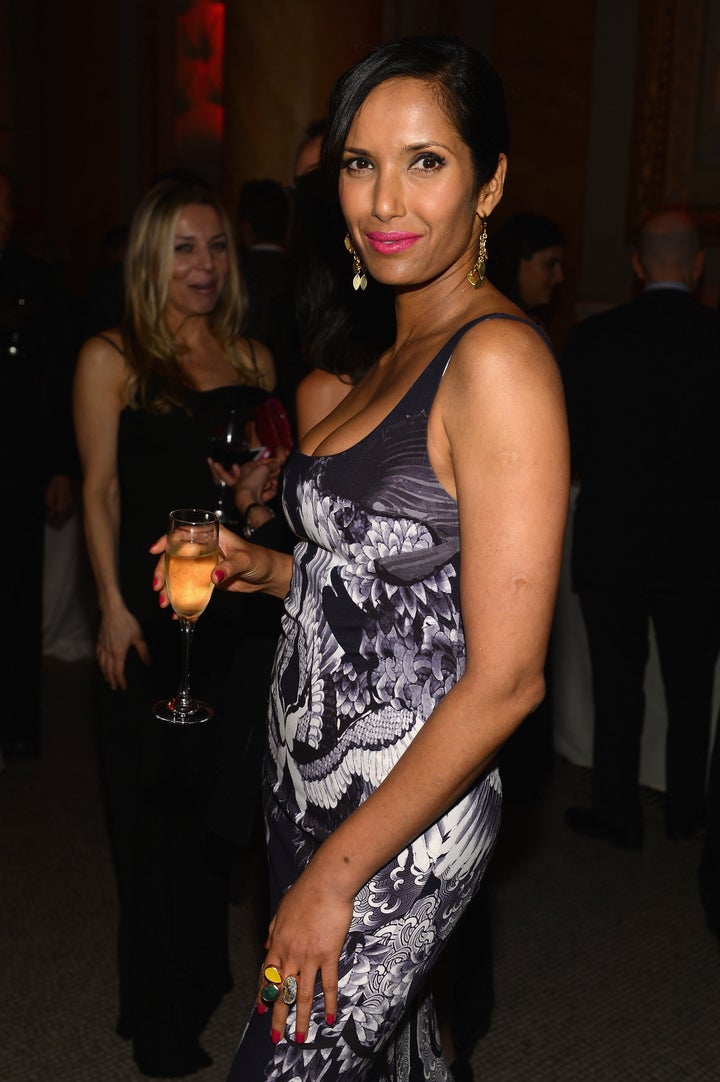 These days, our knowledge of celebrities too often originates with paparazzi images and snarky quotes by anonymous "insiders." After a while, it's easy to forget that stars are real people. That's why HuffPost Celebrity decided to launch its all-new #nofilter quick-fire question-and-answer series. Because how well do you know someone until they've shared their guiltiest pleasures?
What kinds of parties do you enjoy hosting?
So we just had a huge party for the Endometriosis Foundation, it's called the Blossom Ball; you can find pictures online. We were very lucky. We had some interesting and powerful women attend -- Susan Sarandon was the co-chair and also Debbie Harry and Bridget Moynahan. So it was a fun night and we had a great time, it's the biggest party I throw every year and it's to raise money for a cause I'm really passionate about. And we were very lucky because Sterling Wines supplied all the wine. They donated everything, as well as their parent company Diageo, so we're very fortunate because being a charity we can use help in any manner, so we're excited that they were so supportive.
What's your go-to party meal?
When you're planning a menu for a large group, the larger the group the more basic you actually want to be because it's hard to squeeze all the different tastes and dietary requirements. While chicken can sometimes be boring, a beautiful, simple roast chicken is a crowd pleaser. And I think having really comforting things at a party isn't a bad idea, you don't have to be so fancy. People are going to a party not typically for the food, but for the company.
What's the strangest thing you've ever eaten?
Oh my gosh, I have eaten all kinds of things. I was actually a bridesmaid at a wedding where they had all this live crawfish and seafood -- that was interesting. [laughs] You know, I eat for a living so things don't faze me, but you have to remember that when it's a party environment there's a couple of other reasons you want to pick crowd pleasers and simple foods. One is that the women are dressed up, the men are dressed up, they don't want to soil their [clothes]. It depends on the party, but at a beach party they'd be happy to eat with their hands, but if they're getting dressed up for a formal occasion you want to take that into consideration. Also, when you're serving pesto or things that are garlicy, keep that in mind. You don't want guests walking around with green in their teeth! So I think it's best to serve some hearty comforting foods and we all want to drink responsibly, which I know is important to Sterling too. Even if you're not driving, your guests are driving. So when there's drinking, it's especially important to feed your guests so that they don't drink on an empty stomach.
If you were on death row, what would your last meal be?
Probably fried chicken with hot sauce.
What's your guilty pleasure?
I never feel guilty about taking pleasure. In anything.
How do you stay in shape while hosting "Top Chef"? And how do you bounce back after the show?
It's not easy. I just remember that I have a job to do and I try and focus on doing that job well. And sometimes you can't juggle every aspect of your life at the same time because it's hard and I'm on television. So, I want to look cute, so I jump rope, I run up and down stairs. When I'm off of "Top Chef," you know, I gain 10 or 15 pounds every season, and what it takes me six weeks to gain, it takes me 12 weeks to lose. Because your body actually holds on to fat more when it feels like it's deprived of fat. So you want to lose weight slowly and as hard as that is sometimes to wait for, it's much healthier. You don't want to drop and gain weight all the time. That's one of the hardest and, you know, main drawbacks from my job is that my weight yo-yos.
Well you always look fabulous, so you wouldn't worry about it.
Thank you! I have a very talented wardrobe person. We actually have dresses in two or three sizes. And that's one thing I always tell people when they're dressing for a party: You want to be comfortable. You don't want to wear anything tight because if the host or hostess is comfortable than the guests are comfortable.
What's one item that's always in your refrigerator?
A nice cold bottle of Sauvignon Blanc.
What's a New Year's resolution you can never keep?
I don't make New Year's resolutions.
Do you have a secret or hidden talent?
Well my secret is that I'm not as talented as people think I am. [laughs] I wish I had a secret talent!
What's one thing from your childhood wardrobe that you wish you could wear now?
Oh, a onesie!
What's your dating deal-breaker?
If someone's not funny. For me a sense of humor tops my list of requirements.
What's your go-to excuse?
I'm not going to tell you because so many people read The Huffington Post!
What's one thing you do when you're alone that you wouldn't do in front of someone else?
Ooooh, go to the bathroom!
What's your go-to cocktail?
I don't know -- it changes all the time, but it can be a variety of things. I'm not a big cocktail drinker. I like white wine, I love red wine. Sterling has this platinum wine that you can't even get because it's sold out everywhere. They also have a good Pinot Noir that they're bringing back. Their Cabernet is great! It's really delicious, I just had it this weekend. What's good about it is that the minute it hits your palate, it feels very complex, like a big, big wine, but it finishes really nice, so it pairs with more food than a traditionally good-tasting wine like that would.
Who's your ideal drinking buddy, living or dead?
I think I'd love to drink with Dorothy Parker.
Calling all HuffPost superfans!
Sign up for membership to become a founding member and help shape HuffPost's next chapter
BEFORE YOU GO
PHOTO GALLERY
They said WHAT? #nofilter