In 2016 LinkNYC began deploying free public Wi-Fi kiosks throughout the city.
The kiosks made news when people began using the public web browsers to watch pornography, and CityBridge the private consortium administering LinkNYC limited the browsers, and made other changes to limit how LinkNYC would store personal browser history, time spent on a particular website, and lacked clarity about how LinkNYC would handle government demands for user data, among others issues.
But now there's a new battle brewing. It seems that each of the LinkNYC kiosks has front-facing cameras.
Starting on a number of blocks on the Upper West Side, an unknown number of digital protesters has begun to adhere yellow post-it-notes onto the Kiosks, effectively blocking the camera's view.
Then, late a night, a van marked LinkNYC drives up Broadway were a worker with a long stick with a scraper clears the Post-its. But within days, the Post-Its return.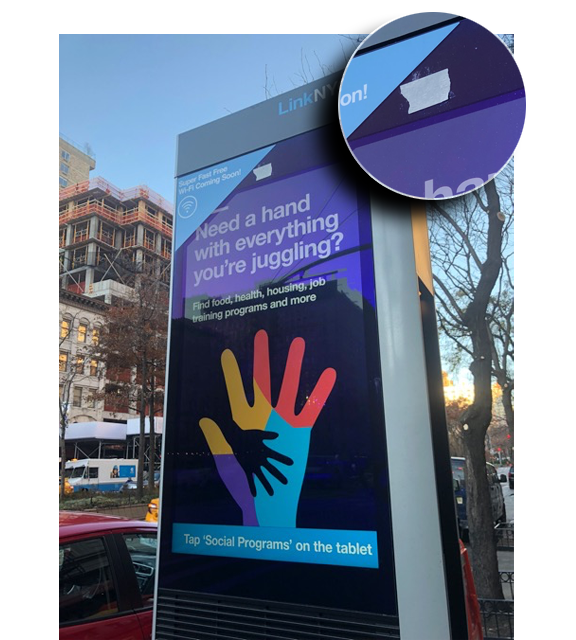 The skirmish over the cameras may have been going on for some time, and it's unclear how widespread the action is, or if there is an organization behind disabling the cameras.
The Electronic Frontier Foundation is reporting that LinkNYC "Improves Privacy Policy, Yet Problems Remain" in a post on their website. They say, in part: "In the wake of its 2017 policy changes, LinkNYC still collects what it describes as "Technical Information," including information such as IP addresses, anonymized MAC addresses, device type, device identifiers, and more, for up to 60 days. Additionally, the LinkNYC kiosks have cameras that store footage for up to 7 days."
And the NYCLU has been engaging Mayor DeBlasio on the matter as well - saying in a letter: "the NYCLU remains concerned about the vast amount of private information retained by the LinkNYC system and the lack of robust language in the privacy policy protecting users against unwarranted government surveillance."
And goes on to say: "The NYCLU seeks clarification on CityBridge's policy regarding sharing of data collected by the environmental sensors and cameras on the Links. The policy states that "[CityBridge] will not give any data collected by environmental sensors or cameras to anyone other than the City or governmental law enforcement," with a few exceptions. One of those exceptions is with "advanced, written permission from the City." We would like to know whether the environmental sensors and cameras will be routinely feeding into any City or NYPD systems, including the Domain Awareness System; if so, that should be made explicit in the privacy policy."
We've reached out to LinkNYC and EFF to get any additional details about the LinkNYC cameras and the ongoing blockage campaign.
Updated (2) : EFF responded with this statement:
"EFF is not familiar with the campaign to cover the cameras on LinkNYC kiosks with post-it notes, but it should come as no surprise" said EFF Director of Grassroots Advocacy Shahid Buttar. "As we have noted before, the LinkNYC system lacks any opportunity for public participation in the policymaking process, as well as remedies for potential violations of its privacy policy or inevitable data breaches. The activation of the kiosks' cameras reflect both of those problems, making them a predictable target for street artists."
A spokesperson for LinkNYC responded: "All Links are visited and cleaned twice a week as part of maintaining the network. This is not a widespread issue."
And NYCLU responded to a request for comment about the cameras being obscured, said: "We appreciate that the city responded to the issues we raised about LinkNYC kiosks and improved privacy protections in their policy. Yet, so long as kiosks capture vast amounts of information about public and private life, we remain concerned for New Yorkers' privacy."
Related
Popular in the Community