For college students in the Midwest, trudging through snow to get to class is a part of life, though some have a way around it.
Minnesota campuses like Augsburg College and the University of Minnesota-Twin Cities have skywalks available for students to use, which connect buildings above ground, usually from the second or third story. People can use the skywalks, sometimes called skyways, to cross streets and switch between buildings without ever stepping outside.
It's not that skywalks are necessarily unique to the Midwest -- you can find them on campuses in Texas and Pennsylvania too, and in other parts of the world. But they're certainly popular in Midwestern states, perhaps due to Minneapolis being largely credited as opening the first system in the 1960s.
Some campuses have another way for students to get around the arctic weather: tunnels.
The University of Minnesota-Twin Cities is one of the biggest campuses to host both a skywalk and tunnel system.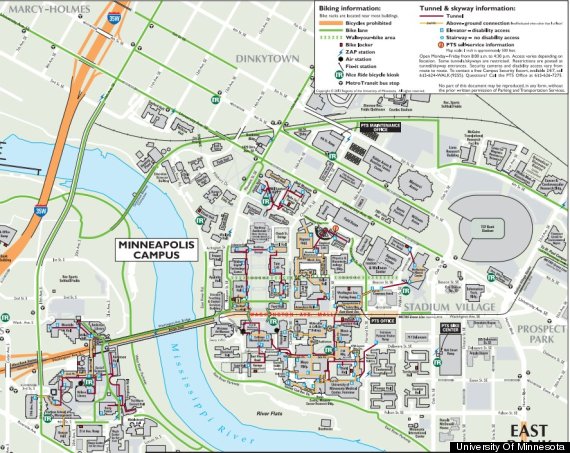 The first tunnels at UM, which are sometimes called the "Gopher Way," date back to the 1920's. The university has 6 miles of tunnels and skyways, UM told HuffPost. A couple of students even created an online game based on the map of the system.
"The Gopher Way is certainly used more often during bad weather as a way for students to move across campus without being exposed to rain, snow or below-zero temperatures," said Tim Busse, commucations director of university services at the University of Minnesota. "At the same time, on a cold winter day you'll notice many students staying above ground taking on the weather and elements, which goes to show how tough Midwesterners are."
But before you start snooping around your campus for some secret tunnels, beware.
At the University of Illinois, students and faculty may be using underground tunnels, but the school tells HuffPost their system is fairly limited. They have four locations for "pedestrian access tunnels" that are designed as "a connection between a few select facilities."
The rest of UI's underground tunnels are actually just steam tunnels, and some old tunnels that are mainly tornado shelters. In other words: those are not designed to be a shortcut between buildings.
Popular in the Community