What we believe shapes our perceptions and our world.
What we believe creates the life we are living.
If we believe that anything is possible, we create an internal narrative that supports that idea. Belief invites us to "be on the lookout" so we can gather evidence to support our theory. Once confirmed we begin to weave the belief into the pattern, fabric and garment of our lives.
If we believe we are not deserving of something, we create the same internal narrative. Yet now we see all the reasons why we are not worthy of getting what we want. Which becomes part of our mental loom and leads to a sense of resolution and giving up.
When we believe we are connected to goodness and support, we believe in our inherent ability to create the things we desire. Feeling our Divine nature is one of love, creativity and supply, we open ourselves up to a new way of experiencing life.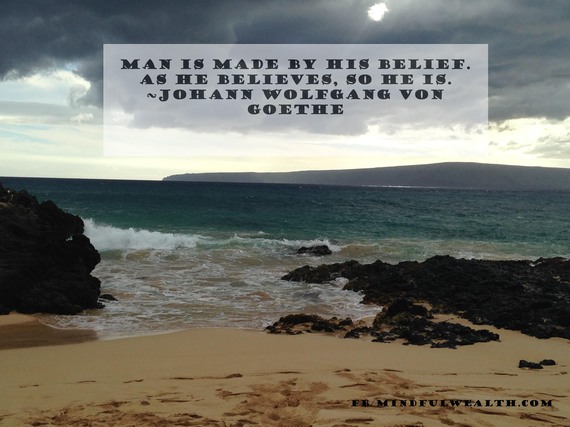 As I accept the belief I am not here to compete but rather to collaborate and co-create, I let go of struggle and open myself up to possibility. Which shifts my consciousness towards opportunities and away from competitive relationships. As this way of being deepens I develop more trusting and inspiring partnerships than couldn't have existed with my past way of thinking.
To shift any condition in our life, we must start with our beliefs and then engage in practices that support our evolving consciousness.
In case you are ready to shift a belief, I'm sharing a Huna (Hawaiian mysticism) practice called Haipule that was inspired by the writings of Serge Kahili King.
There are many forms of this healing practice that means "to make good things happen." Below is my interpretation for using this practice to create a new belief (and to let go of one that is no longer serving you):

Begin with some deep breathing -- whatever pattern feels right to you so you can relax into your body and feel energized.
Words: Affirm the desired state of change or new belief you are ready to step into. Examples include, "My business income is steadily increasing," or "My life is peaceful and calm." If you know the steps that lead to this condition, you can affirm the changes as you see them unfolding. Your words must affirm what you want rather than what you want to get rid of and it is best to write them in the present tense.
Images: Visualize what your life looks like when you are peaceful and calm or when you are making more money. Any tension that arises during this process is part of the releasing process and doesn't matter anymore. Notice what it feels like to release and resolve your concerns and that nothing is as important as the state of mind you wish to feel. See this state as clearly as you can.
Feelings: As you visualize what you want to experience let your body assume the characteristics of your state of mind. Use all your senses. Feel the head relaxed and eased. Feel your heart. Hear how this experience sounds in your ears and smells in your nose. Remember what the world looks like when you are happy, at ease and relaxed. Use every sense to feel yourself in this new state of peace and abundance.
Movement: Make gestures that signifies your relaxation, ease and joy. Raise your hands to the sky in appreciation, make prayer gestures, bow, trust your impulses, and surrender into what feels right for your body. Listen to what your higher self suggests to signify what this state of being means to you. Know that whatever appears is perfect and that your body is happy to support your intentions when you connect into it.
Awareness: I've added this last step as one part of my practice that brings great joy is being aware of who I am in any given moment. So take a moment now to celebrate YOU. Celebrate you for all the ways you care about being the best you can be. For caring so much about others and for caring so much about the world.
Taking this moment to cherish beautiful YOU is one of the greatest gifts you can give yourself.
HuffPost's GPS for the Soul app is based on two truths about human beings. First: We all have a centered place of wisdom, harmony and balance within us. Second: We're all going to veer away from that place, again and again and again. What we need is a great course-correcting mechanism -- a GPS for the Soul -- to help us find our way back to that centered place, from which everything is possible.
Because no one knows better than you what helps you de-stress and tap into that place of peace inside yourself, it's important for you to create your very own GPS guide -- a personalized collection of whatever helps you course-correct. Email us at GPS@huffingtonpost.com and we'll set you up with your very own HuffPost blogger account to share your guide on the site. If you're already a blogger, we encourage you to upload your personal guide today. We can't wait to see what you have to share.