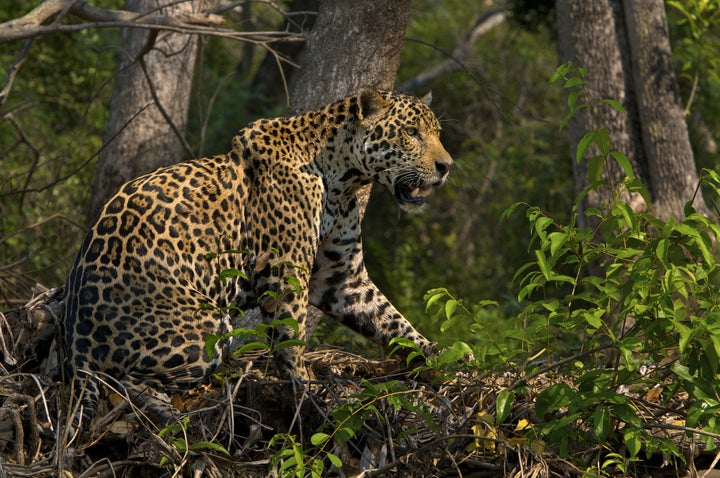 I remember the day in 2006 when I learned that ten years of effort had resulted in the designation of the world's largest tiger reserve in a remote corner of Asia. I was euphoric, until late that afternoon when I received additional news about the deaths of two local people in the area, a mother of five and a teenage boy, who had succumbed to malaria. I had met and spoken with them both during visits to their villages. Now they were considered two more unfortunates on a list whose ranks swelled every year with the oncoming rains. Two thoughts stuck in my head. I knew how to save tigers, but I couldn't save people. And I couldn't save tigers for very long without the people.
(Photo by Steve Winter/Panthera.org)
After nearly three decades of battling to study and save some of the planet's most iconic species, there are not many "wins" I can hang my hat on. I was proud of this new tiger reserve, but I knew its future was questionable. With tigers occupying less than 10% of their historic range, lions less than 20%, and jaguars roaming less than 50% of what they once had, all the world's big cat species are in precipitous decline. The reason: conflict with humans.
It is not earth shattering news, that animals and people must learn to live together if there is to be any true "wildness" for future generations. I am among the majority of scientists and conservationists who have done little to effectively foster this relationship in a sustainable manner. Until now that is.
Last month I helped set up an unlikely partnership between two New York-based institutions that might bring us a step closer towards this goal. Panthera, the world's foremost cat conservation organization, teamed up with Mount Sinai School of Medicine's Global Health & Emerging Pathogens Institute on a groundbreaking conservation program that links the health of rural communities, the training of doctors, and the protection of critical big cat habitats.
This summer, the first team of doctors heads to the Brazilian Pantanal where they will focus on providing medical care to local people and researching prevalent infectious diseases within the critical jaguar corridor recently created in the region. This program, and others like it, is a significant step towards our stewardship of the wild landscapes in which both people and big cats co-exist.
(Photo by Steve Winter/Panthera.org)
The good news is that there are still lots of animals out there to save and plenty of places in which to try and save them. These three big cat species alone still live in more than 60 countries with combined ranges covering nearly 11% of the terrestrial surface of the earth. And most of the existing living space for these big cats is outside protected areas, in the vulnerable human landscape. In short, the future survival of the world's big cats, as well as that of many other wildlife species, depends on the health, well-being, and good will of the people and communities with whom they must share their land.
Wildlife conservation will succeed only when local people are convinced that their lives are tangibly improved as a result of having wild animals around them. The more difficult task of sustaining conservation success will be achieved only with the realization that the well being of both animals and people are inextricably intertwined in the manner in which nature intended.
To learn more about Panthera's Jaguar Conservation Project in the Brazilian Pantanal, check out the following sites:
Related
Popular in the Community