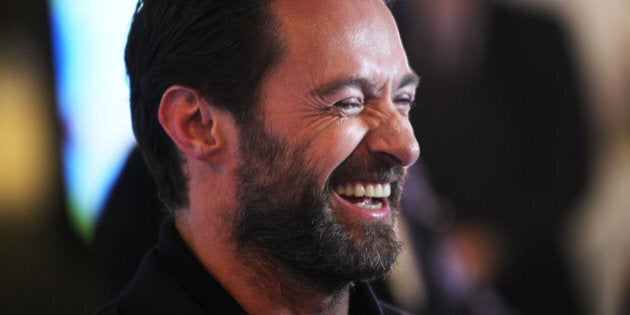 So much is so wrong about this film. But most of it is deliberately wrong and that's one reason why it's so right. Hugh Jackman is the other reason.
The film is Eddie the Eagle. It's a warm, funny, loveable homage to the the world's most unlikely Olympian, British plasterer Michael "Eddie" Edwards, who competed in ski jumping at the 1988 Winter Olympics in Calgary, Canada.
You know that event where lunatics hurl themselves off a long ramp extending from a tower the height of a city office building? Scandinavians are very good at it. Brits are not.
But Edwards, who sported what today would be a hipster mo' but what in the 1980s was an umistakable sign of nerddom, had a dream. He wanted to go the Olympics. The sport didn't matter. What mattered is that he got there one day. Long story short, he became a ski jumper.
How that happened is not represented even slightly accurately in this film. But who cares? What this movie does brilliantly is capture the essence of Eddie's story. A packet of chicken chips contains very little in the way of flesh or feathers, but it tastes chickeny as hell. This movie works the same way.
And I should know. Wait a minute, I'm just some guy. How would I know the first thing about the real Eddie the Eagle story? Well, for one thing because I Googled a bunch of stories like this excellent one, in which Eddie says the movie is only about 5 per cent accurate.
But the main reason I'm well across this story is because I was there. I've been busting to tell you that. Yep, I was actually there, with an incredibly cold backside, in the vast outdoor ski jumping arena in Calgary, Alberta at the 1988 Winter Olympics when Eddie jumped. Here's some footage of that.
My dad, who was on a year-long work stint in Calgary, took me. Twenty-eight years later, I returned the favour by taking him to the media preview of Eddie The Eagle, along with my nine-year-old son. Three generations of Sharwood men sat munching free popcorn having an Eddie good time. God we enjoyed ourselves. Partly that was due to the excellent lead actor Taron Egerton, who plays Eddie with just the right mix of dork, daredevil and dreamer.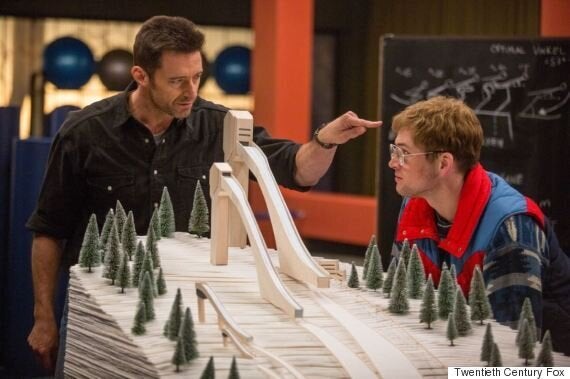 Your bones will snap quicker than this ice cream stick model if you don't do what I say, young man.
But mostly it's Jackman. This would be just another British loveable loser tale if not for Hugh Jackman's suave awesomeness. The Australian plays a washed-up alcoholic American ex-ski jumper who had all the talent in the world but none of the discipline. In Eddie, Jackman's character sees a guy with all the discipline but none of the talent. They're a match made in scriptwriter heaven.
Jackman, as we know, is accomplished at turning comic book heroes into believable movie characters. Here he does the opposite. He takes a believable (though fictional) movie character and lends him a comic bookish charm. He's too drunk, too washed up, too chiselled-handsome, too cool, too kind-hearted. He's a parody of a parody. But it's deliberate. The OTT vibe works. Essence of Eddie is captured, bottled and turned into a story which you can't help but enjoy. That is, unless you're one of those miserable people who never enjoy anything.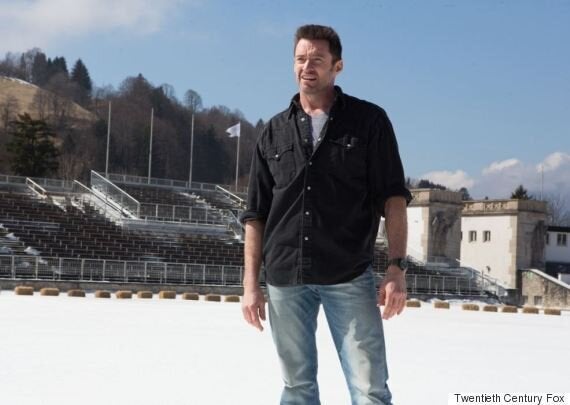 He never wears a jacket in the whole film. Because he's Hugh Jackman.
Christopher Walken has a cameo too. It's not quite as good as his famous 1994 cameo in Pulp Fiction but what is? Walken plays the godfather of ski jumping, the man who literally wrote the book on the subject. Like Jackman's character, he's far too cardboard cutout and comic bookish to be believable. But that's also why his little turn works so well.
Give the directors credit. Though they deliberately veered into storytelling fantasy land here, there are one or two tiny nods to reality which show that somebody really did their homework. The best example is when a few bars of Ravel's Bolero are played during one particularly saucy scene. The famous composition was of course the backing music to the most famous Winter Olympic moment of them all -- the peerless Torvill and Dean ice dancing routine at the 1984 Games. Yes, British Winter Olympians could actually be good.
But mostly you should believe nothing you see in pretty much this whole film. The Olympic ski jumping is set in a magnificent mountainous cauldron when in truth, the Calgary ski jumping happened in the middle of an ugly city, which is situated on an ugly brown plain an hour from the Canadian Rockies.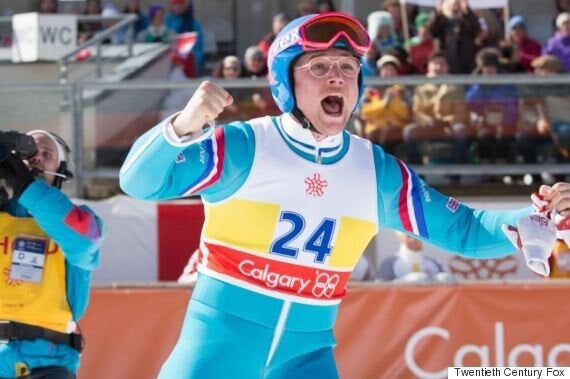 Both the real and fictional Eddie landed all their jumps at the Calgary Olympics. He still finished last but he was received as a hero on his return to England.
Another example of what not to believe is the meeting between Eddie and Matti Nykänen, the Finn who won dual ski jumping gold in Calgary. Eddie and Matti have a fictionalised kindred spirit moment in the elevator ascending the ski jump tower which never really happened. For the record, Nykänen ended up working as a stripper and serving jail time for assault in real life. In sport he flew. In life he just flew off the rails. Sometimes the truth is weirder than fiction.
Edwards, too, had tough times after Calgary. He made big money through speaking appearances for a few years, but was bankrupt by 1992 after his trust fund failed. Life, like ski jumping, has been a huge series of ups and downs for the real Eddie Edwards.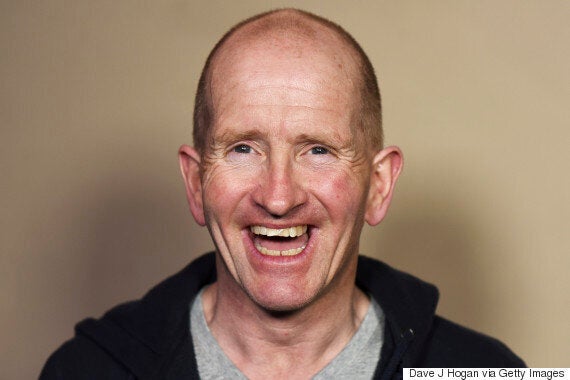 The real Eddie in London in March, 2016. Still smilin', still dreamin'.
This movie focuses on the good times in his life. It's fun and it's inspirational. A real movie reviewer would no doubt come up with better adjectives but those are the best I've got. But so what? Fun and inspirational should never be under-valued. As I said, three generations of my family loved this film. You can't believe most of it, but you can believe in it. That's a subtle but important difference.
Eddie The Eagle is awesome. It's uplifting in every sense of the word. Too many movies are afraid of that these days. As for Jackman, well now, we might have to start calling him Hughie the Hawk.