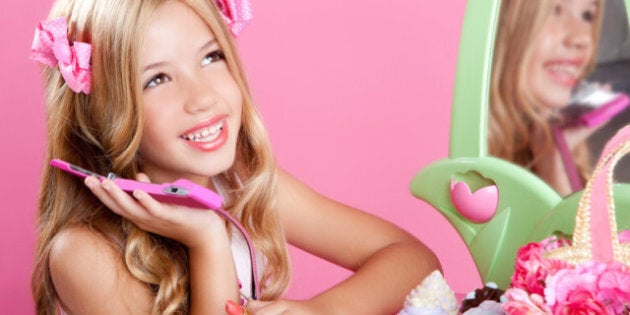 Sophie Grégoire-Trudeau has a motto in her household: the awkward conversation is way better than the silence.
No, she isn't talking about that conversation, but Grégoire-Trudeau, mother and ambassador of the "Because I Am A Girl" campaign by Plan Canada, says talking about gender stereotypes to your kids, whether at the dinner table or one-on-one is important for kids to understand gender equality.
But these stereotypes are nothing new. From shopping in baby sections separated by pink and blue aisles to buying dolls for girls and trucks for boys, parents influence can how kids feel about traditional gender roles.
"Some statistics show peer pressure and media influence the way people view the world and themselves. But, for young girls, self-esteem is actually more influenced by her mother's behaviour," says Grégoire-Trudeau.
This means parents have a huge role in helping children understand and overcome issues surrounding gender inequity. It's something parents should make time for in their busy schedules, says Grégoire-Trudeau.
"The biggest change starts in the smallest of places. The way a man interacts with his kids and wife," will likely shape how the children grow up to view the world and understand gender relations, she adds.
The parents believed they were giving their children the freedom to choose who they wanted to be, unconstrained by social norms about males and females, they told the Star. Similarly, in Sweden, the "Egalia" preschool attempted to fight gender bias by addressing 33 students as "friends" rather than girls or boys. The school had everything from a collection of specific books and coloured toys to ensure children would not fall into gender stereotyped roles.
If you want to take smaller steps, there is one thing all parents should consider. Even if your family is led by a single parent, both parents or guardians, parents have the responsibility to be a positive role model, says Karen Craggs-Milne, a gender specialist with Plan Canada.
"As people live out their daily lives in the family and work context, [they] are perpetuating certain stereotypes and messages if they are leading by example or not," she says.
Choices parents make can alter their kids' understanding of how the world works, Craggs-Milne adds. Treating your partner in a specific way or dividing household chores can reflect how your kids' relationships could be in the future.
"Fighting every manifestation of a gender stereotype is pointless and can have the effect of making kids self-conscious about their own identities," says the father and editor at Quill & Quire Magazine.
Adults And Youth Differ In Opinion
In September, a Plan Canada survey revealed, compared to adults, youth have some very positive views on gender roles: 91 per cent believe equality among men and women is good for both genders and at least 96 per cent of youth believe girls should have the same opportunities to make their own choices as boys.
"What we found encouraging was the high degree of Canadian youth who supported the principle of equality and acknowledged equality was good for boys and girls," says Craggs-Milne.
The bad news is, however, the survey -- which resulted from interviews with 1,003 youth and 1,000 adults -- shows stereotypes and inequalities still exist. One third of Canadian boys believe a woman's most important role is to take care of the home; 48 per cent of youth believe men should be the principle income earner; at least 45 per cent of Canadian kids believe men need to be tough.
Be Optimistic About Change
While the results of the recent study could be viewed as alarming, staying optimistic is important if anyone wants to create gender equality.
"Ask [your daughter] what she's reading. What does she like and dislike and why? There are no wrong answers. You're just generating an intelligent conversation that respects her brain."