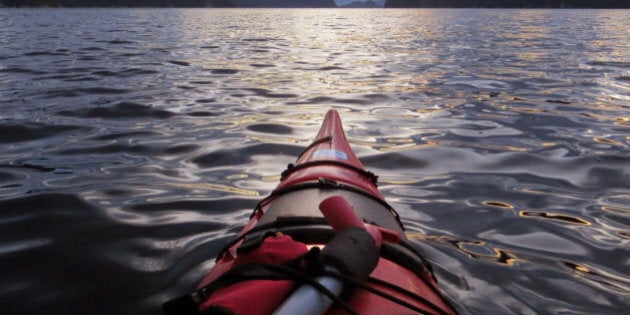 I have written before about how you are never too old to learn a new sport or spend time outdoors. Kayaking is no exception. It is an amazing way to enjoy nature, be close to the water and spend some fun times with friends and family.
Recently, I spoke with Clayton Watson, co-owner of Vancouver Water Adventures Ltd.. Clayton provided the top tips on how anyone can get started kayaking this summer.
If you are between the ages of 10 to 15, it is a good idea to go in a double kayak with an adult. If you are older than 16, then you can try a single kayak. You are never too old to kayak, but occasionally there have been people whose body size may be big for kayaking, this may be something to consider, but it doesn't happen very often.
Do you have to be really fit or active to kayak?
You do not have to be in peak physical condition to kayak. There are different sizes, abilities and fitness levels for kayaking. It just depends what you would like to do, so ask an expert or instructor. One of the best things about kayaking is that almost anyone can try it and fall in love with it.
You can take a lesson or go on a tour or you can also rent a kayak (which should come with a life jacket and safety instructions). Most reputable kayak rental companies should provide you with a short five to 10 minute lesson before you go out.
What are the different types of kayaking?
Sit on top, sea kayaks and white water kayaks are the the most popular types of kayaks. To find out more, look up some videos on the internet and you can view how each of these kayaks bring a unique experience.
When in the year can you kayak?
Here in Vancouver we have a very active community and people are kayaking year-round. Most communities are only kayaking from spring to Autumn.
What are the benefits of kayaking?
Kayaking offers a unique way exercise while getting outside in nature, on the ocean, rivers or lakes. When your kayaking you can leave the rest of your life on the shorelines and enjoy each moment as it comes.
It is also a great way to meet people in your community as there are many clubs and races that happen on a weekly basis here in Vancouver. If you are in another part of the country, you can look for a local group or event in your town and be a part of the kayaking community.
Get a waterproof case for your phone. This will help in case of emergency and help you get that perfect selfie out on the ocean. Learn how to self rescue. It is an easy skill to learn and will increase your confidence and tripping abilities on the water.
I will continue to enjoy the outdoors and share my experiences. If you have ideas or questions about the outdoors, please leave a comment below and I will do my best to find the answer for you.
Your suggestions are always welcome, as I continue on my journey to enjoy life to the fullest. Let's have the very best 2015!
Popular in the Community