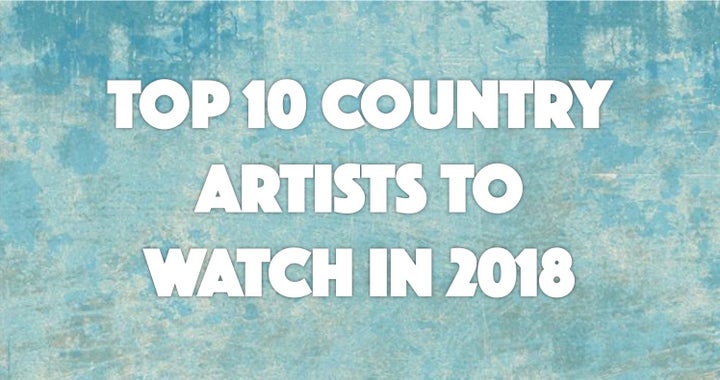 2017 was a pretty great year for the artists spotlighted on last year's Artists To Watch list. Carly Pearce inked a record deal and scored her first number-one hit. Brett Young and Luke Combs found themselves on top of country radio charts two times each, and almost every other artist had their best years ever, including award nominations, headlining tours, and critically-acclaimed albums.
The ten newcomers below are on track for breakout years in 2018. Here, ranked from 10 to 1, are this year's Top 10 Country Artists To Watch and the songs you need to check out right now!
Adam Hambrick hit number one twice as a songwriter in 2017, with Dan + Shay's "How Not To" and Justin Moore's "Somebody Else Will." Heading into 2018, it's his catchy originals "Do The Math" and "White Lying" that have country fans talking. With a new record deal and new music on the horizon, the months ahead are looking bright for this Arkansas native.
Ozark, Arkansas native Lance Carpenter has an unmistakably traditional sound, but that hasn't stopped him from penning contemporary tunes like Kelsea Ballerini's breakthrough hit "Love Me Like You Mean It." Carpenter released a fantastic EP called Mustang in 2017 and recently signed to Toby Keith's Show Dog Nashville label. His debut single, "Anyone Else," is a romantic duet with Keith's daughter, Krystal.
The youngest of seven kids born to a single mom in Portland, Maine, Kalie Shorr began writing songs when she was six years old. She's earned acclaim for her songs "Fight Like A Girl" and "He's Just Not That Into You," and 2017's "Two Hands" is setting up 2018 to be a breakthrough year for this Song Suffragette. Catch her on CMT's 2018 New Women of Country tour.
Ruston Kelly's sound is as much classic rock as it is country—simultaneously current and effortlessly timeless. Each song on his 2017 album Halloween, via Washington Square, sounds like it could be on a movie soundtrack. That makes the title of his current hit "Hollywood" all the more appropriately. He's promised fans more new music in 2018.
Muscadine Bloodline spent 2017 earning tens of thousands of new fans with sold-out shows across the Southeast and opening gigs for acts like Luke Combs. Their self-titled EP helped them tally more than 7 million streams on Spotify. With new music slated for 2018, the year ahead will undoubtedly be a big one for this duo from Mobile, Alabama.
Tegan Marie is primed to be country music's first Gen Z star. The 14-year-old prodigy has been writing songs almost since she learned her ABCs. Her YouTube covers have earned tens of millions of views, and her new record deal with Warner Music Nashville means new original songs are right around the corner. Between her natural talent and the powerhouse team behind her (hitmakers Scott Hendricks and Nathan Chapman, plus Gen Z media gurus Sweety High), don't be surprised if Tegan Marie is a breakout country star sooner than later.
Kassi Ashton capped 2017 by signing a record deal with Interscope Records and UMG Nashville. Interscope CEO John Janick calls Kassi a "badass," and everyone who's seen her gives the girl mad props for her songwriting and stage presence. Look for this California girl (that's California, Missouri!) to turn heads and break boundaries in 2018.
Devin Dawson is climbing country music charts with his debut single, "All On Me." The talented songwriter toured with Maren Morris this year and will join labelmate Brett Eldredge in 2018. His debut album, Dark Horse, hits sites and stores on January 19, but you can hear to stories behind the songs now in his popular "Songs In The Key of F" web series.
Russell Dickerson initially released his smash hit "Yours" independently in 2015. Fast forward to 2017, it's the title track on his debut album and a wedding staple with more than 10 million YouTube hits. Yours is stacked with great songs, so don't expect his breakout ballad to be all you hear from Dickerson on the radio next year.
Walker Hayes' journey to Billboard's Hot Country Songs Chart Top 15, where "You Broke Up With Me" finds itself this week, was a long one. Like many Nashville acts, it took years and a failed record deal for Hayes to finally find his voice. That voice, showcased on his brilliant debut for Monument Records, boom., is one of the most refreshing (and most FUN!) country music has heard in a while. This road warrior has already announced dozens of shows for 2018. Make sure you see him when he comes to your town, because it won't be long until he's selling out huge venues at much higher ticket prices.
Related
Popular in the Community