When actor Josh Lucas worked on the film Poseidon, Wolfgang Petersen's remake of the Poseidon Adventure, his character wore a Montblanc Star Chronograph Automatic watch. The actor likened the accessory to a piece a armor which made him feel strong. "I wore it throughout filming and it got terribly, terribly banged up," recalls Lucas. "At the end of the film, I thought, I wish I had a not-destroyed one of these." Wish granted. Petersen ended up giving Lucas a new Star Chronograph Automatic. "I had never been given a gift quite like that," says Lucas, still in awe, "it's something that I can give my son."
Since Montblanc was founded in 1906, writers, presidents and popes have relied on their Montblanc pens, watches and other accessories. In 1963, when German Chancellor Konrad Adenauer, who was with President John F. Kennedy, went to sign the city of Cologne's Golden Book, it turned out that he had no pen. President Kennedy came to the rescue when he reached into his suit jacket and offered the chancellor his Meisterstück 149 which JFK always had on hand. Winston Churchill singed key documents with his Montblanc and it has been the pen of choice for Ernest Hemingway and Nelson Mandela.
With such a rich legacy, the challenge remains how to move forward in the 21st Century yet keep Montblanc so classic. Montblanc's chief executive officer, Jerome Lambert, who was recently in New York City for the opening of Montblanc's newest boutique on Madison Avenue, offered insight.
Jeryl Brunner: So how does Montblanc remain modern, yet hold true to tradition?
Jerome Lambert: We move forward with our clients. Twenty years ago creating an iPhone case for small letter goods would have been useless because the iPhone did not exist. It's a very light nice leather. We inject resin in them which makes them elastic. There is no steel inside. My hand doesn't touch the plastic or cold iPhone. This innovation comes from our clients. Their life changes and we help pave the way for invention.
Jeryl Brunner: What makes Montblanc products so special?
Jerome Lambert: We have craftsmanship behind every single product. With development time, it can take 3 years to create one unique artisan pen. It's really a three dimensional structure. The pieces are developed in three dimension, in wax. Also, the consistencies we have are very important. There's the complete integration of our manufacture. For example, with a Meisterstück, there's technical performance, the hand polishing, the shape, the attention to quality. It's very consistent from day one.
Jeryl Brunner: Do you remember your first watch?
Jerome Lambert: 35 years ago, when I was seven years old, my grandfather gave me a Texas Instruments quartz watch. It was very meaningful because it showed me that I had been given responsibility to manage my time. As we say in French, it meant "âge de raison." Also, it changed my visibility in the school. I had an exquisite watch to show to my friends. It increased my popularity, or at least during a few weeks. Then when I was around 12, my friends showed me their father's Meisterstück in his study. I can picture the study, the position of the desk, the emblem. They told me 'it's a Montblanc.' It was like discovering a treasure.
Jeryl Brunner: You became Montblanc's chief executive officer 3 months ago. What is your great challenge?
Jerome Lambert: To marry consistency and creativity. In terms of codes, colors, DNA, maison expression, there is a consistency in all what we do. We have to combine that with creativity, originality, inventiveness. It requires a high level of balance.
Jeryl Brunner: How involved are you in design?
Jerome Lambert: I'm very clear that I'm not a designer, I've never been and I will never be. We have a very strong art director. I respect the creativity and inventiveness of our designers. For example our belts are without stitching. They're created using a traditional Italian technique. It has one single part comes together.You need twice the quantity of leather and it's a very complicated process so it's flexible, not stiff. But you have the purity and the beauty of one piece of leather.
Jeryl Brunner: The company is so philanthropic. Each year Montblanc sponsors the 24 Hour Plays and which raises money for Urban Arts Partnership to bring innovative arts programs to many students in undeserved public schools, Why is that so important?
Jerome Lambert: Our writing instrument is a medium for creativity and inventiveness. That's so genuinely connected to our reason to exist.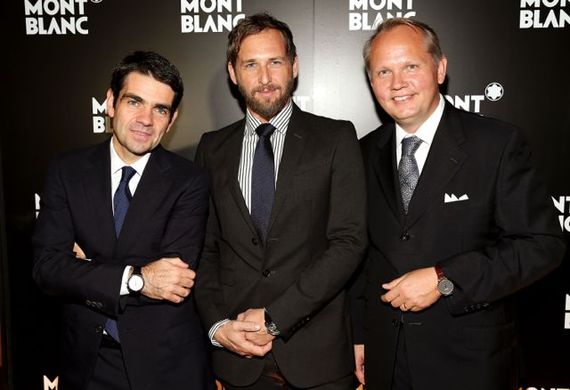 Left to right: Jerome Lambert, Josh Lucas and Jan-Patrick Schmitz (CEO of Montblanc North America) at Montblanc's Madison Avenue Boutique Opening.
Photos used with permission. Courtesy of Getty.