Art and wine are a perfect pairing. The organizers of the Palos Verdes Art Center's annual benefit have been implementing this union for over ten years now with its Celebrate Chefs & Cellars event. The venue, Catalina View Gardens, stole the show with its breathtaking views of the Pacific Ocean and Catalina Island.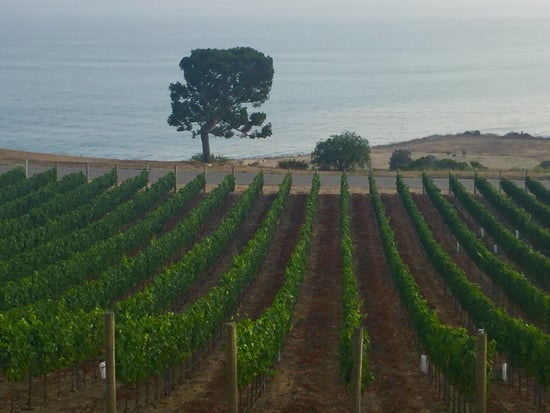 View Gardens was founded nine years ago. "We started growing citrus and avocados… grapes took longer," said owner Jim York. "We first had to study the soil and weather. The vines were custom grown for the conditions." York is a longtime art lover. "Our youngest daughter first got interested in art from her early participation in Art at Your Fingertips at PVAC. She graduated from the USC School of Architecture and works in architecture in Denver." This is the 2nd year PVAC's Chefs & Cellar's event was held on his vineyard. He added, "We hope to keep hosting it." http://www.catalinaviewgardens.com
A wine glass painting element was added this year to accompany the yearly art auction. Attendees were given paint and other supplies with which to adorn their wine glasses, allowing them to walk away with their own functional work of art. The event featured local food caterers and restaurants along with guest wineries.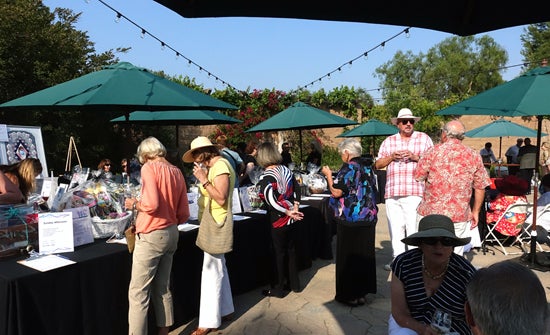 I had the chance to speak with Deena Gribben, president of the Associates of Palos Verdes Art Center, who was actively engaged in the planning of this event. The organization is made up of sixty-five members who work to raise vital funds for the arts center throughout the year. Gribben has volunteered with the group for over four years and has held several positions. "We are so pleased with the venue (Catalina View Gardens), the restaurants and beverages, and the artists and donors who supported the silent auction. Our restaurants and beverages were excellent this year with delicious food pairing with so many types of beer, wine and more. Our paint project this year included painting on a wine glass, and I saw lots of artistic works from our guests which they took home with them."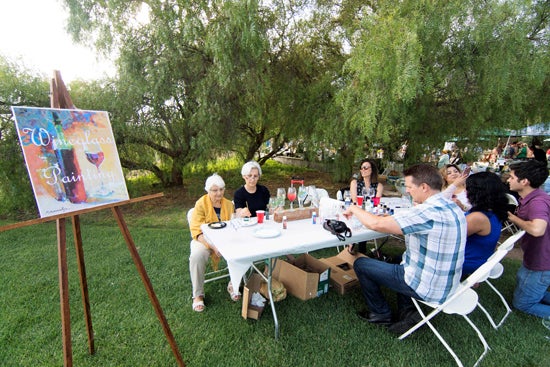 Gribben enlisted the help of local artists involved with the art center to donate works. Artists such as Lisa Dennen, Karen Gale, Meg Greenwood, Roxanne Lawrence, Judith Solomon, June Treherne, Nancy Veits, and more all donated art, jewelry, fashion, etc. to the cause.
At the beginning of the event, I met a lovely trio at Kinship Wines. Owner Jess Knauft said he enjoys participating in art and non-profit events…he recently poured his wine samples at the Pasadena Armory Center for the Arts. "I loved doing the event and believe the PVAC is an important cause. My mother was an artist who did sculptures and even worked with welding at one time in the early 1970's. I'm a big fan of the art community at large."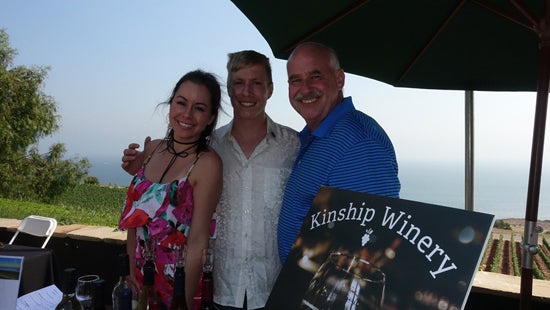 I am a lover of red wine…but due to the warm weather, I decided to start with a white Rhone blend comprised of Marsanne and Rousanne. It was crisp, yet delicate with a subtle aroma of honeysuckle. I did go back to try the 2013 Pinot Noir, a delicious round flavor with grapes sourced from Santa Rita Hills). Kinship Wines supports several non-profit organizations. Be sure to visit the website to find out more about the wines and nonprofits. kinshipwinery.com
I was then greeted warmly by Lara Silber, manager of the Whale & Ale, who beckoned to me holding a plate of roast prime rib of beef au jus on a french roll with a side of creamy horseradish…it was simply magnificent. Silber said she was having a great time. "We think that Celebrate Chefs and Cellars is a wonderful event serving a very worthy cause. We are happy to donate our time and product to support the Palos Verdes Art Center. The venue was breathtaking and a good time was had by all."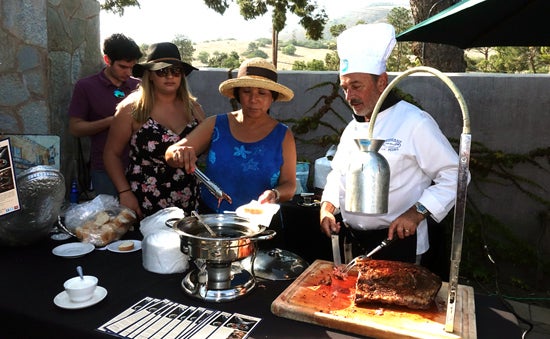 Silber is the daughter of co-owner and Chef Andrew Silber and co-owner Adela Silber, who were all there serving up the delicious cuisine. http://www.whaleandale.com/
Julia Parker from Pall/Bergsten Wine Importers was on hand pouring Danube Valley Sav Blanc, Danube Valley Cuvee, and Danube Valley Cab Franc. I tried the cabernet which had an earthy, full-bodied flavor, while my photographer enjoyed the cuvee. This was Parker's first time participating in this event. She said, "It was a great event. I met so many nice people and also made some sales." http://www.pbimporters.com/
Another fantastic restaurant in attendance was Bluewater Grill Seafood Restaurant, which served an ahi poke with sesame seeds on crispy wonton with avocado, cucumbers, and cilantro. Here, I also enjoyed an oyster shooter with cocktail sauce with lime, horseradish, and wasabi…delish! https://www.bluewatergrill.com/
The tacos at Rebel Republic Social House were fantastic. The dish featured pork cheek, queso fresco, poblano avocado cream, red onion radish salsa, and was topped with Korean chili threads. It was scrumptious! The restaurant opened just over a year ago and is located in Redondo Beach. http://www.rebelrepublicsocialhouse.com/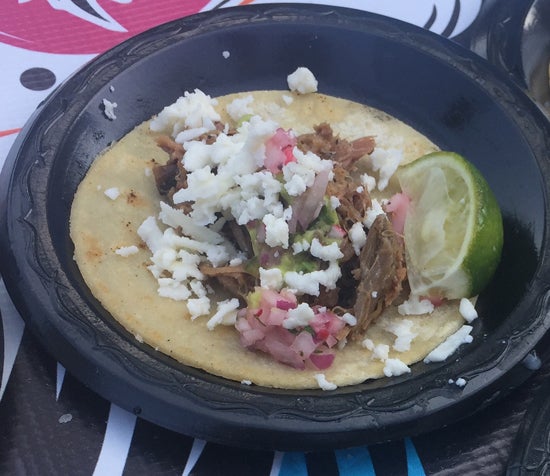 Next, I headed to Montemar Wines, where I met Kyle Arrowood, son of owner Caryn Arrowood. He said he was a winery assistant. "I started working with my family in the garage at home, but when I went to college in San Francisco, I couldn't help out as much." When the winery expanded to Lompoc, Arrowood continued to help out around his schedule. Now that he turned twenty-one, he moved to Santa Barbara and has been able to work in various aspects of the winery. I sampled a 2012 Pinot Noir (Bentrock vineyard) and a 2012 Syrah (Watch Hill vineyard). Both were delicious…fruity and bold. http://montemarwinery.com/
Art and wine is a no-brainer. Add delicious food, and you've got a slice of heaven. Celebrate Chefs and Cellars is an annual event which supports the Palos Verdes Art Center...it's a great cause. Don't miss it next year! http://celebratechefs.com/
Calling all HuffPost superfans!
Sign up for membership to become a founding member and help shape HuffPost's next chapter
This post was published on the now-closed HuffPost Contributor platform. Contributors control their own work and posted freely to our site. If you need to flag this entry as abusive,
send us an email
.