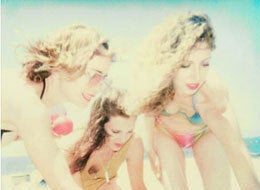 First Person Artist is a weekly column by artist Kimberly Brooks in which she provides commentary on the creative process and showcases artists' work from around the world. This week's featured artist is German-born photographer Stefanie Schneider.
Last week, Polaroid announced that it would be discontinuing the beloved Polaroid film. Even if it was expected, I became instantly saddened by the news. With today's digital "take 50 keep 2" picture-taking mentality, I know fewer and fewer people who even keep photo albums because the sheer editing task is so daunting.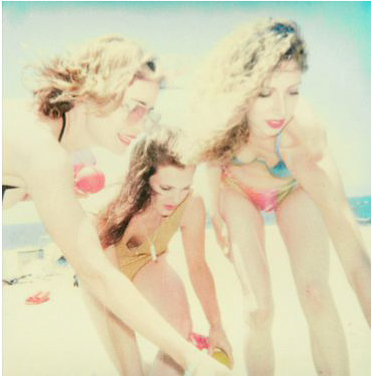 Stefanie Schneider. Untitled 40.2 x 39.4 inch Limited Edition
I will never forget when my parents brought home their Poloroid SX-70 Camera. After "say cheese" we would grab the photo from its mouth and flap it around like angry chickens with the misguided belief that this would help it develop. Then, we watched the image appear like a magic trick before our very eyes. Little did we know then that the real magic would occur decades later, when the colors would fade in a yellow green haze and offer an aesthetic aftertaste even richer than the instant gratification of seeing it develop.
During my last show, "Mom's Friends," about my mother and her friends in the 70s, I foraged through old family albums and found page after delicious page of distorted photos that to me signified nothing less than the new born freedom of a generation redefining itself.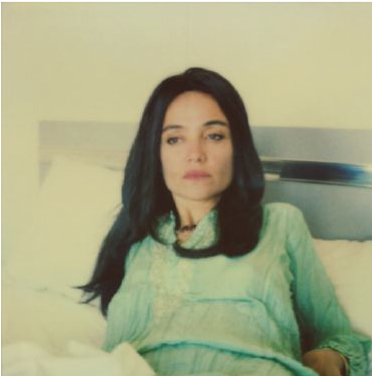 Stefanie Schneider. The Princess, 128 x 125cm, c-print, edition of 5
It was around this time when I was researching my show that I discovered and fell in love with the work of the German-born artist Stefanie Schneider. Schneider uses expired Polaroid film and lets the medium's natural distortions and milky opalescence infuse every frame. She creates narratives with a cast of characters who sizzle in what appears to be imported thirty-year-old California sunlight. Like old film stills, the ensuing dreamscapes provide an ideal stage to watch a story unfold. I caught up with her in her studio in Berlin where we discussed light, love, her new film and the reality of obsolescence.
Kimberly Brooks: How are you mourning the news that Polaroid is discontinuing your medium?
Stefanie Schneider: It's an era ending again. No more family pictures developing in front of the children's eyes. A piece of beauty disappearing....a piece of culture. Polaroid material has the most beautiful quality -- the colors on one side, but then the magic moment in witnessing the image to appear. The time stands still and the act of watching the image develop can be shared with the people around you. In the fast world of today it's nice to slow down for a moment. At the same time Polaroid slows time, it also captures a moment which becomes the past so instantly that the decay of time is even more apparent-- it gives the image a certain sentimentality or melancholy. Because of that intensity of the moment it seems to change the interaction of the next moment. The Polaroid moment is one of a kind, an original every time.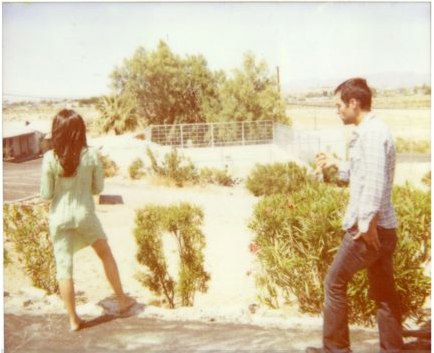 Stefanie Schneider, The Days I Saw Him Last, 125 x 150 cm, c-print, edition of 5, 2007.
KB: You're from Germany, yet you in many ways capture such a California essence. Did you spend time in California before you conceived of your first show shot there? What was your first California experience?
SS: California always had been a dream to me. I guess growing up in the 70s with movies like Vanishing Point, The Getaway, and Badlands formed the need for me to leave Germany for California. I'd never even visited before I moved there. When I moved to Los Angeles in 1996 right away I felt at home. Everything was in place and the dream was alive. California looked it and the Polaroids made it even more real.

Stefanie Schneider, Untitled, triptych 60 x 70 cm each, c-print, edition of 5, 2007.
KB: In Hollywood, it's a truism that all the best cinematographers are foreigners because they can see a place the way a native can't. You capture the essence of California better than most Californians do. At what point did your work with Polaroid start your journey as an artist?
SS: It was all a coincidental life source. When I started taking polaroids I didn't even have a gallery. But I met gallerist Susanne Vielmetter about half a year after I started working with Polaroids and when I shuffled them out of a box onto the table. She loved them right away and we planned a show together.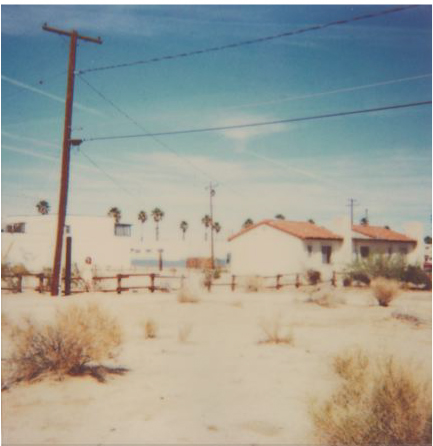 Stefanie Schneider, 29 palms lot, 60 x 60 cm, edition of 10, c-print 1999.
KB: I recognize California beaches and Joshua Tree, in your work. Is it all in California or did you venture out?
Almost all my photographs are taken in California, a few in Nevada like the Vegas series and the photographs for the movie Stay have been all taken in New York, of course. Most of my work is being shot in 29 Palms in the California Desert.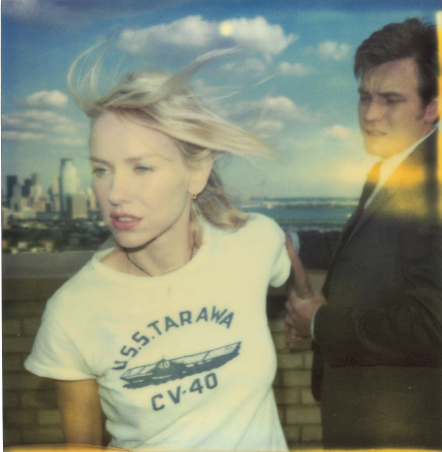 KB: I saw the photos from Stay (featuring Naomi Watts and Ewan McGregor). Even though I recognize them as actors, the sequence still allowed me to get lost in the narrative --What were they doing on the top of the building? Why does he grab her arm?", etc. Have you ever worked on a movie?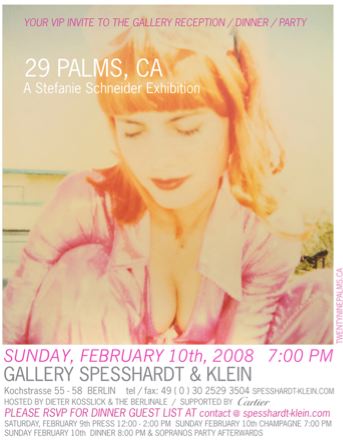 SS: I am working right now on a feature film on Polaroid. In it I explore and document the dreams and fantasies of a group of people living in a trailer park community in the California desert. It will be finished in about five years and is developed online at www.twentyninepalms.ca". Every year we are having an exhibit to show the bits and pieces already shot. I hope I will be able to finish the film. Due to the closure of Polaroid this project might be in jeopardy. Because I'm working on outdated material I have a little bit more time. This is the first and only film ever made on Polaroid. Right now in Berlin I'm showing the very first exhibition of the project. It's still on till March 15th.
KB: What is the ultimate subject for this medium?
SS: Love. There is no past, no future, no present. All seems to be happening at the same time. It breathes a senseless pain that has no place in the present. The ex-lover experiences the residues of love as an amputee experiences the sensation of a ghost limb. It is the tangible experience of "absence" that has inspired this piece below.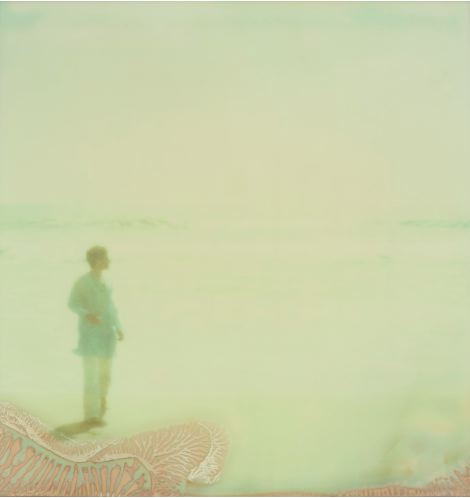 The Princess' Brother, 128 x 125cm, c-print, edition of 5, 2007
KB: In terms of artistic inspiration, who are some authors or artists you look to?
SS: I am more inspired by film, music and books. Like Days of Heaven, Badlands, 2046, The Last Picture Show, The Flaunder by Guenther Grass, the songs by Hildegard Knef and Serge Gainsbourg or Coco Rosie. I am also inspired by the 29 palms, California Group. We inspire each other.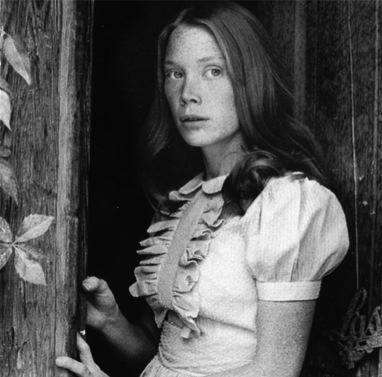 "Badlands" Movie Still from featuring Sissy Spacek
Stefanie Schneider received her MFA in Communication Design at the Folkwang Schule Essen, Germany. Her work has been shown at the Staedtische Ausstellungshalle am Hawerkamp, Muenster, the Kunstallianz, Berlin, the Institut für Neue Medien, Frankfurt, and the Nassauischer Kunstverein, Wiesbaden, Kunstverein Bielefeld, Kunstverein Recklinghausen, Museum für Moderne Kunst Passau. Upcoming shows include
Berlin: "29 Palms, CA" <> ), Galerie Spesshardt-Klein, Berlin - 10th of February to 2nd of March 2008 - also shown at the Berlinale / Forum expandedLes Rencontres d'Arles - Photo Festival South of France, 7th to 13th July 2008, curated by Christian LacroixFrenzy, Salzburger Festspiele, Sujet of the year presentationSidewinder, Galerie Robert Drees, Hannover, GermanySidewinder, c.art-Galerie, Bregenz, Austria
Related
Popular in the Community