We understand the need to get attention in this media-saturated, 24/7 world. But Ashley Madison, we're guessing you didn't need to go this far.
Ashley Madison, a "married dating service for discreet encounters" (yes, such a thing exists), just released the second of two ads that mock a plus-size model for her look, Jezebel reports.
The dating site, which seeks to connect married or "attached" individuals for affairs, released an ad last week stating, "Did your wife SCARE you last night?" with a photo of an overweight woman lounging sexily in lingerie.
The logic, we presume: with a wife that frighteningly fat, the only solution is to seek sex elsewhere. With married folks on Ashley Madison, specifically.
Now the site has released a second ad that reduces the argument even further to this simple logic: skinny = good, fat = bad. The same image of the scantily clad plus-size model is juxtaposed with another woman, a slender model boasting smoother hair, tanner skin and, oh yeah -- a body half the size.
The ad tagline: "We call it as we see it."
The two ads alone, with their blatant insulting and rejection of overweight individuals in favor of an unrealistic physical ideal, would be bad enough. But what irks us even more is that after the first ad came out, the overweight model in question spoke out against the ads and requested that Ashley Madison not present her photo that way.
I am a size 32. I am beautiful. I think women of all sizes are beautiful. Beauty is not and has never been one-size-fits-all. I do not appreciate my image being used, without notice or permission, to tell women I have never met otherwise.
Not only is it personally offensive, Jacqueline wrote, but it sends the wrong message to viewers, particularly those who are overweight themselves:
As has been widely reported, teens are committing suicide in shocking numbers all over the world as direct result of this sort of shaming ridicule. Be it directed at race, size, sexual orientation or anything, bullying is a vicious force in this world. Contributing to this widespread and creeping depression by suggesting, blatantly and without pretense, that fat people are patently undeserving of love and loyalty is repulsive. It is incumbent upon advertisers, and society at large, to act responsibly before foisting something like this onto the world.
Ashley Madison's response to Jacqueline's reasonable request last week?
"The best thing that could've happened to this woman is that we used her in our ad. [...] if she can get great publicity from this, all the power to her," the site's CEO told Jezebel.
And then they released the second ad today.
See the spots below... do you find them as offensive as we do?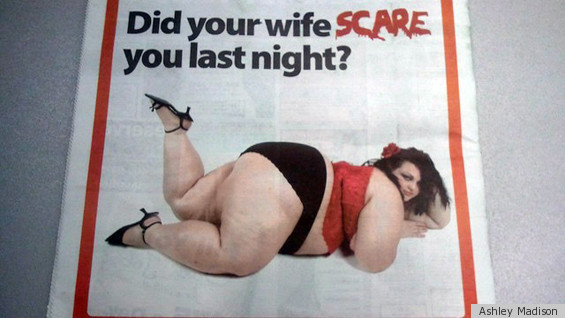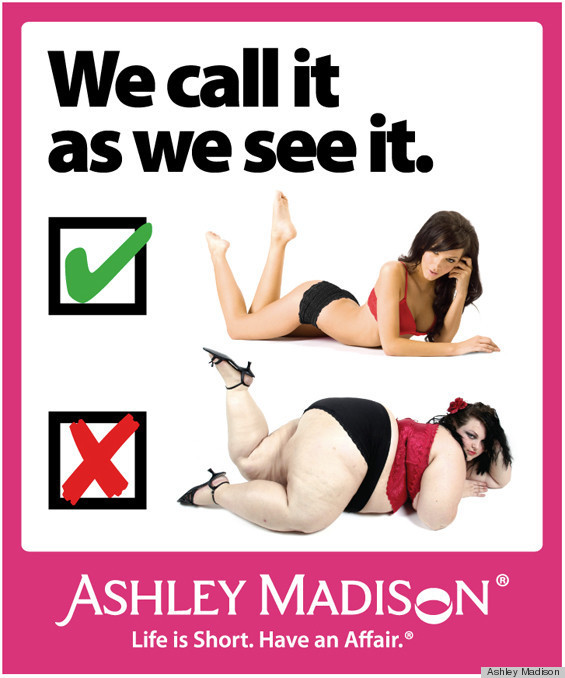 Related