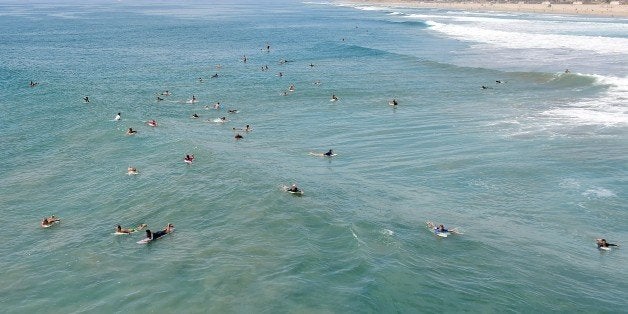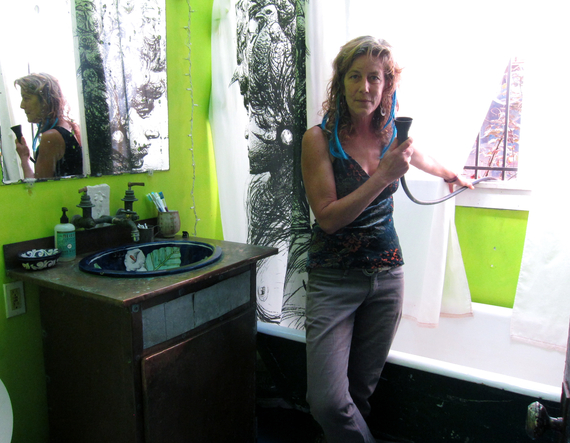 Anticipation is building that El Nino will bring much-needed relief to drought-stricken California this winter. But will it end the drought? And how will it impact the Golden State's impressive drive to conserve water?
In my recent report for the BBC's Business Matters, I explored the, um, creative ways in which the water conservation message is being spread and how things might change when the expected El Nino deluge arrives.
"However you can reach out to consumers in their language, that's how you do it, so if sex is the way to reach the end user and it achieves a good societal goal, I have no problem, because this is a crisis." Gary Kremen, Chairman Santa Clara Valley Water District
The report aired on the BBC World Service last Thursday (Listen from 16:45 in the podcast). Here's the original report and a transcript of the program, edited for length and clarity.
The BBC's Fergus Nicoll: The last month has seen some pretty freaky extremes of weather across the U.S. We reported on the drought in California and the flooding in South Carolina...bursting dams that have been caused by torrential rain in different parts of the state. Well maybe California can expect more of the South Carolina treatment?
I'm going to bring in Alison van Diggelen of Fresh Dialogues for more on this. Set the scene for us...it seems, partially at least, down to El Nino?
Alison van Diggelen: Absolutely. The experts have called it a "Godzilla" El Nino. An enormous one is building in the Pacific right now and experts are predicting record breaking rainfall this winter. As most people probably know, we're in our fourth year of drought (in California) and things are getting pretty desperate. But people have been pretty good about water conservation...so I wanted to explore how authorities are getting this water conservation message out and how things might change, once the rain does start falling.
I interviewed Elizabeth Dougherty. She's the founder of Wholly H20, a nonprofit in Oakland that wants to make water conservation, as she calls it, "hip and sexy." She says it's not a supply issue but has to do with our relationship with water.
Here's the piece:
Ambi: Sound of bucket being put in shower, tap turning on...water running, shower hitting tub
Dougherty: I keep a bucket in the shower...you can use that water to flush the toilet, water your outside plants, give water to your animals....
"Extreme water saver" Dr. Elizabeth Dougherty says her phone has been ringing off the hook with people looking for rainwater harvesting and graywater systems for their homes. Her California non-profit "Wholly H20″ aims to make water conservation "hip and sexy." Dougherty, an anthropologist, wants us to explore our relationship with water.
Ambi: Sound of running water in sink...
Dougherty: The water crisis in California, the world, is not a crisis of supply; it's a crisis of connection. We are so disconnected from water, we don't even know where our water comes from, how much we use every day.
And this crisis has produced fertile ground for water and landscape consultants. Water maybe scarce in California, but it's boom time for water related "green jobs."
Dougherty argues that it's normal to ask: where does my food come from? The energy for my home? So why not ask: where does your water come from? What's "on tap" in your home?
Dougherty: We want the hipsters in Downtown Oakland to be thinking water conservation: Wow, hey....so where do you get your water?
This Fall, Wholly H2O is partnering with Burning Man artists on community interactive water features; and is launching a series of crowd-funded video shorts to get the message out via social media. Dougherty has Hollywood connections and hopes to get "green" celebrities like Leonardo DiCaprio, Matt Damon and Gwyneth Paltrow to take part. Is California's Governor on her list?
Dougherty: (CA Gov) Jerry Brown skips a shower for the day. I'm thrilled, I'm glad. Would I hold him out as one of my hip and sexy people? No I wouldn't. I'd like to see Batman...how about Michael Keaton? Let's see you bucket your heat-up water from your shower and dump it in your garden!
Dougherty's mission to make water conservation hip and sexy has been adopted by the San Francisco Public Utility Commission. Here's one of their video ads:
SFPUC Video: (Sultry baritone like Barry White, sound of tap running) Conservation can feel, ohhhh, so right. Turn off the faucet while soaking those...oh so dirty...hands. Get some efficient fixtures for your kitchen and bathrooms...screw them on...yeah! Beat the drought. Hetch Hetchy water is too good to waste.
This summer, the commission spent $300,000 on billboard ads with provocative demands like
"Go full frontal, upgrade your washer!" and "Nozzle your hose, limit outdoor watering."
Love them or hate them, the water conservation message is sinking in. In July, Californians reduced their water consumption by over 30 percent (compared to 2013 levels) in response to a state mandated reduction of 25 percent. But with dramatic El Nino conditions building in the Pacific and predictions of an unprecedented deluge of rain hitting drought-starved California this winter, will the "save water" mantra evaporate as the first raindrops fall?
Fifty miles south of SF, in Silicon Valley, Gary Kremen, board chairman of Santa Clara Water Valley Water District, is taking nothing for granted.
"Water districts are conservative. We have to assume it's not going to happen. We have a comprehensive education enforcement campaign to make sure one raindrop doesn't cure the drought. The good news is people in Santa Clara Valley are pretty educated, they can hold two thoughts at the same time: we're in a drought, you have to conserve, and you have to prepare for flash floods," Gary Kremen
What does he think of SF's sexy water conservation efforts?
Kremen: However you can reach out to consumers in their language, that's how you do it, so if sex is the way to reach the end user and it achieves a good societal goal, I have no problem, because this is a crisis.
And he predicts the crisis could get worse as climate change produces a "new normal."
"What climate change could mean to us is more volatility: more floods, more droughts." Gary Kremen
I ask Wholly H20's Dougherty what one thing we all can do to end the water crisis. Her answer is surprising. She's not pushing low-flow toilets, rain barrels or graywater systems...instead she says:
"Go and sit next to a river and not talk, but simply watch the river for half an hour." Elizabeth Dougherty
For Dougherty, the anthropologist, it's all about strengthening our connection with water and thinking of that river every time you turn on the tap.
Ambi: sound of tap going on, water hitting sink.
Fergus Nicoll: Very nice piece, Alison. Thank you.
It's going to be a bit of a culture shock if California goes from drought to heavy rain?
Alison van Diggelen: Yes, it's going to be a major shocker, but as Gary Kremen from the water district says, they can't rely on the El Nino conditions coming. It's been predicted before and it didn't materialize, so we may get floods but they've got to store that water and make sure that it's available for future years.
Fergus Nicoll: All options still to be considered. Great to have you with us.
Read more from Fresh Dialogues:
Related
Popular in the Community