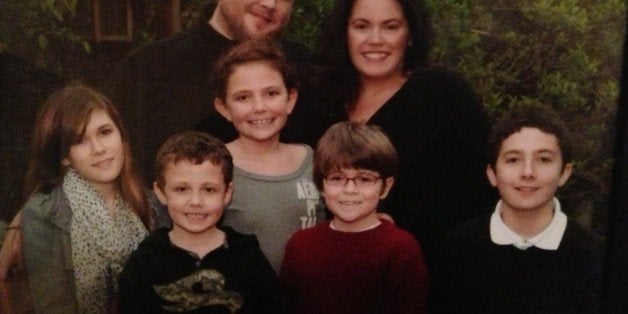 As part of our Blended Family Friday series, each week we're spotlighting a different stepfamily to learn how they successfully blended their two families together. Our hope is that by telling their stories, we'll bring you closer to blended family bliss in your own life!
This Friday, we'd like to introduce you to Tobias and Raiye's family. Raiye, who blogs about blended family life at The New Normal, admits that "becoming a family has meant lots of baby steps." Below, she shares how she and her husband have banded together to help their kids adjust to blended family life.
Hi, Raiye! Please introduce us to your family.
We call ourselves The Homewood 7 on gift tags. There's me and my husband, Tobias, and our kids: Reilly, 15 (in 5 weeks!); Jared, 14; Phaedra, 12; Max, 10; and Dylan, who's 10.
How did you and Tobias meet?
Tobias and I graduated high school together in 1993 but we didn't really know each other then. We became friends on Facebook many years later, lost touch for a while and then reconnected while going through our divorces. I finally admitted I liked him in the fall of 2010. We were married October 27, 2012 at a costume party wedding at our new home, underneath a huge tree dripping with golden leaves.
What has been the hardest thing about blending your two families?
There was resistance from time to time for all of the children. They still mourned the breakup of their families of origin. Reilly, my eldest, had the worst time with it and I remember her crying at our wedding, begging me not to do this. It tugged my heartstrings but I married Tobias anyway, knowing in my heart that whether it was that day, next year, or 10 years into the future, she, and any of the rest of the kids who had doubts, would come around. They did.
What's been the best thing about being part of a stepfamily like yours?
The best thing about being in a blended family has been watching the kids laugh and goof around together. One time, we were telling them about Costa Rica and how they have howler monkeys there. We looked up some videos of howler monkeys and the kids ran around for weeks making the howler monkey sound and doing the "Bernie dance." The frequency of laughter in our home is my primary indicator of whether or not we're doing this right. Needless to say, we try to make sure we're laughing a lot.
What makes you proudest of your family?
The kids love to camp out in the backyard and one particular moment stands out. We hadn't had a chance to do that in our new home until earlier this summer. The first night we had together, it was supposed to rain. The kids got creative and created a tent city in the backyard with the patio umbrella, a ladder and a big tarp, and then brought out mattresses and futon cushions to create an enormous bed underneath. We had a fire in the pit, the kids roasted marshmallows and sang campfire songs, and then we snuggled into our sleeping bags to watch a movie while the rain gently pattered above our heads. Watching them create this entire evening of their own accord made my heart swell with pride. They could have chosen to do any number of things, alone or in smaller groups, but the fact was, they wanted to do this all together.
Lastly, what's your advice for parents who are struggling to keep the peace within their stepfamilies?
I have a few pointers: First, remember "this, too, shall pass." The good, the bad, the ugly -- don't get too attached to any one feeling. Also, use a chore chart, for the love of all that's good in the world. Seriously, it changed everything. (See the slideshow below for a photo of the chore chart.)
Click through the slideshow below the see photos of Raiye and Tobias's family.
If you'd like your own family to be featured on a Blended Family Friday, please email us at divorce@huffingtonpost.com. We're looking forward to hearing your story!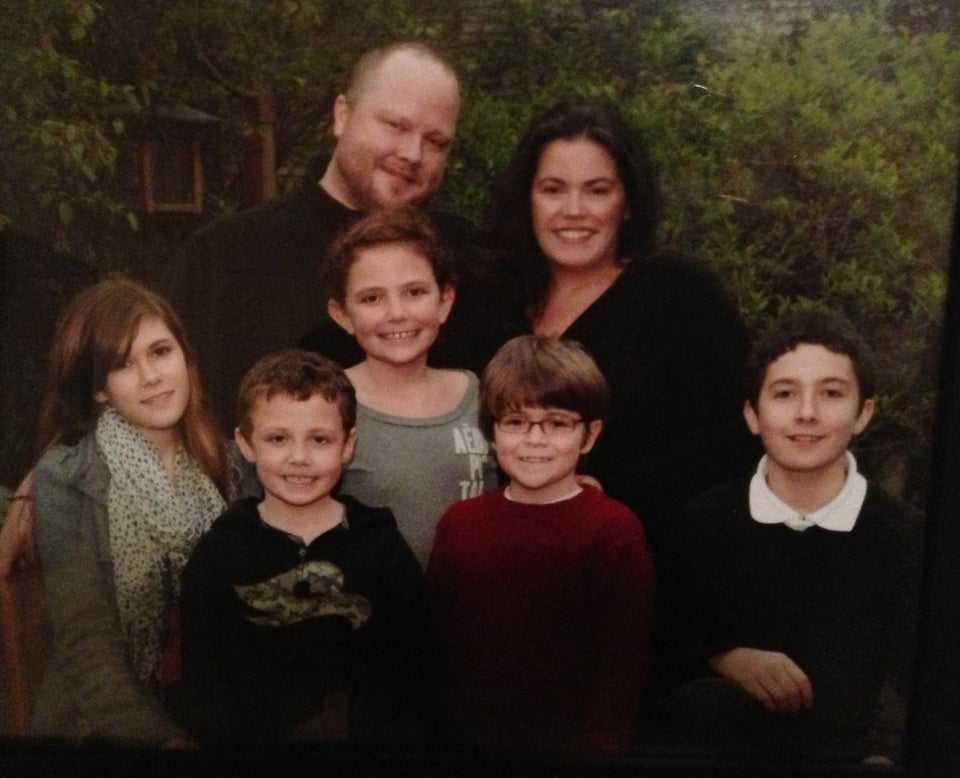 Meet Raiye And Tobias's Family
Related