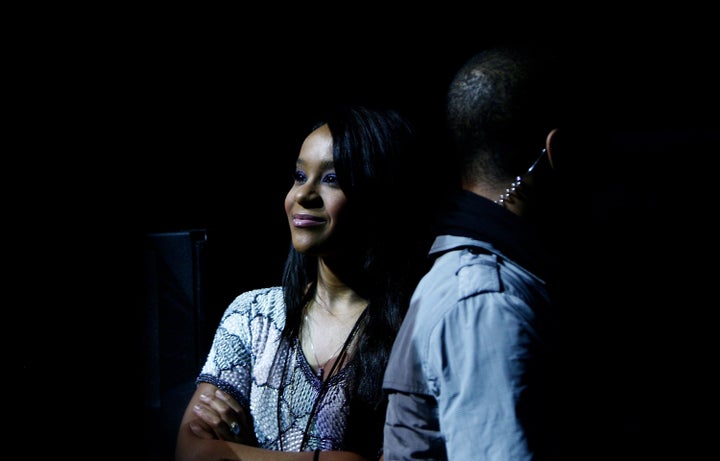 Whitney Houston's daughter, Bobbi Kristina, undoubtedly took the news of her mother's sudden death the hardest of everyone, having to be hospitalized twice.
And new reports suggest that in the days following her mother's passing, the 18-year-old hasn't been coping at all -- and even went missing after Saturday's service. She was allegedly found doing drugs after Houston's funeral.
According to The Daily Beast, several hours after the funeral the teenager was found in a hotel "getting high," according to a source who was with the family when they learned the news.
"It's a horrible situation for everyone," said a close family friend. "They tried to save Whitney, and it didn't work. Now with Bobbi Kristina, they fear the same thing is happening again and won't be able to stop it either. Bobbi Kristina is all [Whitney's Mother] Ms. Cissy has left of Whitney. She's so tired, but she's ready to fight again to save her grandbaby."
A rep for the Houston family denied that the incident occurred, telling The Daily Beast that while there was confusion about Bobbi Kristina's whereabouts after the funeral, she was not using drugs. They claimed she's "just emotionally fragile" and "going through a very hard time as you can expect."
Despite the denial, sources say some family members are so concerned about Bobbi Kristina that they wanted her to head straight to rehab, while others fought for her to stay to see her mother buried.
Though Bobbi Kristina has been rumored to have a drug problem for some time now, with photos of the then-17-year-old snorting what appeared to be cocaine surfacing in March 2011, family members, including her grandmother Cissy, reportedly refuse to admit she's abusing drugs, one source told the website.
The reports continued on Sunday at Houston's burial, where sources told RadarOnline that Bobbi Kristina almost didn't make the service and appeared "wasted" at the cemetery.
"Bobby Kristina didn't want to be at the burial, and she looked wasted," a source told the website. "[Her] eyes were glassy, and she seemed to be very disconnected from the service. [She] hasn't been eating or sleeping and just can't stand to be around her family right now."
Sources for RadarOnline also claim that Bobbi Kristina's father, Bobby Brown, is growing increasingly concerned for his daughter, and wants her to go to rehab. "Krissy has taken her mother's death really hard, not surprisingly, and Bobby is terrified she's going to do something stupid," said the source. "He wants her in a treatment center, getting professional help to get her through the grieving process without falling back on alcohol or drugs to mask her pain."
Though sources told The Daily Beast that Cissy Houston refused to admit her granddaughter has a problem, the alleged incident at the funeral may have opened her eyes. The New York Daily News reports that the troubled teenager is now under her grandmother's watchful eye and she's determined not to lose her too.
"In the aftermath of Whitney's death [Cissy] is running the show. [She] couldn't do nothing with Whitney and the hangers-on, moochers and enablers that sucked the life out of her, but she's has the reins of this now," a source told the Daily News, adding that her new attitude is, "I'll be damned if I'm burying my grandbaby."
Photos from the scene at Saturday's funeral: