We have a question for you. Don't think. Just answer.
Name the most gorgeous, most sexy woman of all time?
We'll bet your answer wasn't Kate Moss or Twiggy. More likely you imagined Marilyn Monroe (sans reefer). Sophia Loren, hair tied back in a scarf, big black glasses. Or, maybe even Mad Men star Christina Hendricks, the glorious Joan, buxom and wide hipped in her pinch waist dress. Ever thought about what dress size these gorgeous women fit into? We're pretty sure we're not talking size 0, size 2, even size 4.
Last September model Lizzie Miller made a splash when she appeared in Glamour sporting--gasp!--some belly fat. The celebration that followed (or the extra media attention?) seems to have compelled Glamour to do a feature on more normal-bodied women.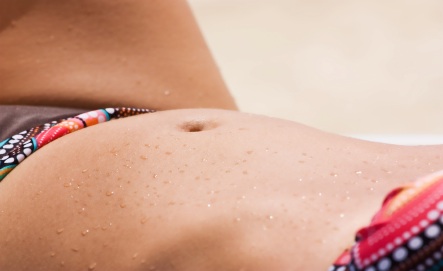 So in November, Glamour featured a bevy of curvy, gorgeous women--again, in an article about body image; not simply as an unacknowledged part of a fashion or beauty spread. And the current issue includes a handful of gushing reader letters, complimenting the forward-thinkingness of the magazine. We're disappointed that these women didn't just appear, wordlessly, as part of a fashion photo shoot.
We've been wondering why is it that the fashion and magazine industry seems obsessed with making women's bodies appear skinny to the point of absurdity. Case in point? The Ralph Lauren ad featuring a model whose head is wider than her airbrushed waist. Kind of creepy, no?
Unrealistic presentation of body image is not limited to the States. French Parliamentarian Valerie Boyer wants to make tricky graphic altering illegal: she proposes legislation mandating that photoshopped pics contain a disclosure: "Photograph retouched to modify the physical appearance of a person." Violators could be fined thousands and thousands of dollars!
Look at Michelle Obama. She's gorgeous. Not since Jackie Kennedy have we had such a beacon of fashion to aspire to. An entire section of the Huffington Post is devoted to her style. French Elle just voted her "best-dressed: politique chic" (beating out the French First Lady). Yet fashion designers are not making sample sizes for shoots in Mrs. Obama's size, are they?
Girls growing up today have enough pressure without these unrealistic and unhealthy images of scarecrows. Us gals at Bitches on a Budget have had enough.
We say bring back the belly. Quick.
Popular in the Community