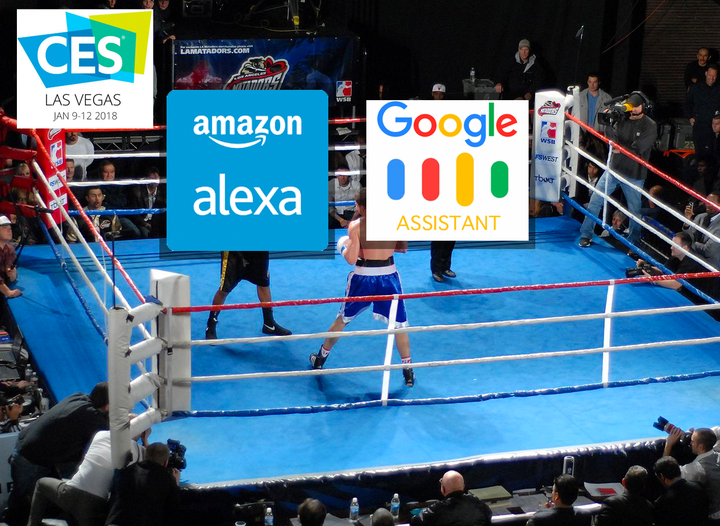 Who will own the consumer? Each year, the battlefield shifts. It's the flatscreen, it's mobile, it's the Internet of Things, it's virtual/augmented reality.
And each year, a hundred thousand thought leaders, early adopters, journalists, and product proselytizers make the post-New Years' trudge to Las Vegas to try and claim a leadership position on the next new thing.
This year, there's only one all-out war: voice activation.
CES is counting on more than 170,000 attendees from 150 countries this year — so the war isn't domestic, it's global.
"Voice is the new UI," Dave Isbitski, chief evangelist for Alexa and Echo, said at CES last year. And for 2018, Amazon is pulling out all the stops. Panels hosted by Amazon include: "Building a Smarter Home with Alexa," "Integrate Alexa Voice Technology into Your Product," "The Art and Science of Alexa Conversation," "Enabling the Future of Automotive with Alexa," and "Amazon's Quest for Alexa to Be Everywhere."
That's one heck of a lot of Alexa, no matter how you feel about the voice-enabled platform.
The battle comes down to Apple, Google, and Amazon.
Apple famously shrugs off the CES show, even as Apple peripherals and Siri-enabled HomeKit devices appear all over the show floor. HomeKit integrations will include a WeMo HomeBridge from Belkin, faucets and shower heads from Kohler and Moen, security cameras from Netgear and even an Orbit sprinkler systems. "Hey, Siri, can you water the lawn?" Sure, why not. Kohler is promising voice commands for an "intelligent" toilet. I'll leave that up to your imagination.
And Google, hardly happy to be second to anyone, is growing its CES presence this year. For travel to and from convention hotels, the Las Vegas Monorail is plastered with a huge "Hey, Google" advertisement. As in, "Hey, Google, what are you doing to catch up with Alexa?" Google says Assistant will connect with 1,500 devices from 225 brands, so the push to land connected-device partnerships is clearly one of Google's big plans for CES this year.
Here's what's important to remember. The trend toward smart home devices was hot a few years back, but stalled as each manufacturer of TVs, refrigerators, door locks, and other Internet of Things devices kept consumers away with their own proprietary — and often clunky — operating systems. Now it's clear that consumers want a single device to act as the gateway to their IOT world. If you've ever tried having both Amazon Alexa and Google Assistant running in the same living room, trust me: It's not pretty. I've done it. And, at least for now, Amazon won out in my home.
So at CES, it's game on: Amazon vs. Google, with Siri trying to make up for lost time.
Hey, Google, call me an Uber!
Popular in the Community