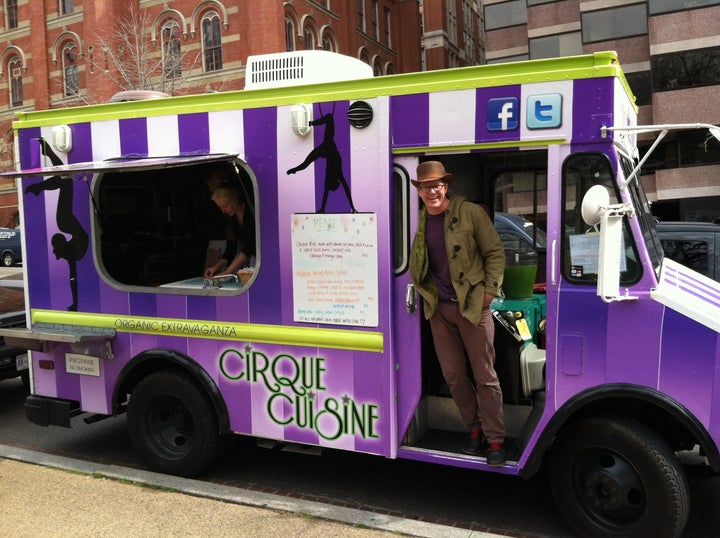 WASHINGTON -- If you think local food trucks couldn't get any wackier in D.C., just wait. Two former circus clowns recently launched Cirque Cuisine, a big tent-themed truck that's been serving up organic global cuisine since late February.
Looking at the official resumes of founders Jessica Shields and Sean Swartz, you wouldn't know that both have served stints as professional clowns. They carried with them a love of circuses through their later careers -- Shields as a Culinary Institute of America-trained professional chef and Swartz as a Trapeze School New York instructor and a real estate agent. The two plan to combine their passions by founding a circus program for children, which would teach onstage skills. Cirque Cuisine, they say, is the first step.
"Circuses make money from concessions," Shields told The Huffington Post, "not so much from the circus tickets. And, it's kind of an oxymoron to be teaching children about how to be fit and active and then serving funnel cake and cotton candy and stuff like that. So, we kind of were like, we need to have an organic food truck and that will be the first step of having this circus."
The truck's menu changes weekly, but has recently included items like breakfast sandwiches on French brioche stuffed with fried egg, ham, Swiss cheese and tomato; quiches with bacon, spinach, butternut squash and cheddar cheese; grilled cheese on sourdough with buffalo mozzarella, Swiss, cheddar and fontina cheeses; and a grilled "Aztec" salad with grilled cilantro lime shrimp, romaine lettuce, radish, cucumber, mango, avocado, garbanzo beans, queso fresco, sunflower seeds, crispy tortilla strips and a blood orange-chipotle vinaigrette.
There are always gluten free and vegetarian options and vegan choices as well. Healthy reinterpretations of classic carnival fare, like funnel cakes, popcorn and cotton candy, are on the way.
While Shields helms the kitchen as the "goddess of organic goodness," Swartz takes care of the truck's entertainment. The self-proclaimed "czar of merriment and fun" can often be seen acting as a sideshow barker of sorts, riding his unicycle as patrons place orders. In the coming weeks, he plans to host jugglers, stilt walkers and other costumed folk.
"We hope to have performers on a weekly basis, kind of around the food truck," Shields said. "But our whole truck is very circus themed. It looks like a circus tent and we have music playing all the time."
So far, Shields and Swartz say the reception has been overwhelmingly positive. Many days, the truck sells out completely.
"Ideally, what we would like to do is have a second truck up and running by the summer," Swartz told HuffPost. "However, reality wise, I don't really know. we have to see how things are going."
For now, the truck plans to operate Tuesday through Friday in Washington, D.C., and Saturday in Virginia. To track Cirque Cuisine's comings and goings, watch the truck's Twitter account and check menu offerings on its Facebook page.
Support HuffPost
The Stakes Have Never Been Higher
Related
Popular in the Community