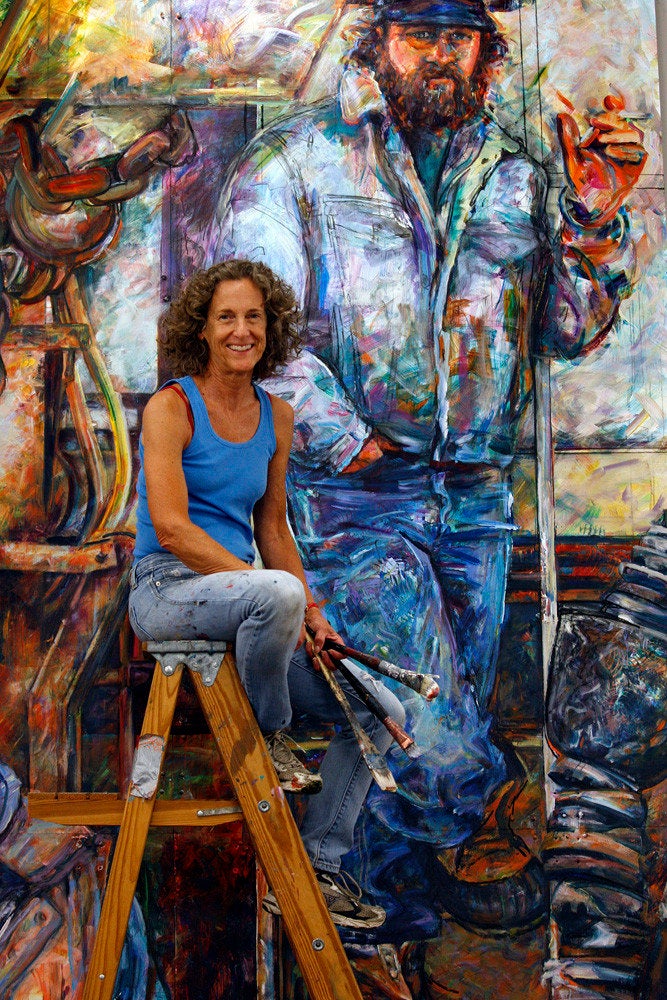 You really don't need to ask Ellen Griesedieck about the importance of arts education in schools -- she's more than happy to share her thoughts on the subject.
"What isn't obvious is that when you cut off the arts, you're also cutting off the way kids get into certain things, the way they learn," Griesedieck said. "We're talking about critical creative thinking here."
Indeed, the 63-year-old Connecticut-based artist's passion for nurturing young talent is what partly inspired the American Mural Project -- a three-dimensional painting reportedly 120 feet long, five stories high and up to 10 feet deep -- which will ultimately comprise the work of over 10,000 students from diverse communities across the country.
The massive painting itself, which Griesedieck describes as "a tribute to working Americans" that recalls Jackson Pollock, will eventually be displayed in two former mill buildings in Winsted, Conn. Rather than being a particularly unified work, the project is a hybrid piece that contains colorful contributions made by groups of youngsters nationwide. For instance, one segment created by Nevada's Andre Agassi College Preparatory Academy, located in one of Las Vegas' most at-risk neighborhoods, features items of various textures -- including action figures and shoes -- which represent each of the students' identities. Another piece, done by preschool students in California's Japantown, is intended to depict the experience of Japanese Americans, with a collage-like assortment of paintings and drawings done on rice paper.

Take a look at some photos of the American Mural Project, then scroll down to keep reading: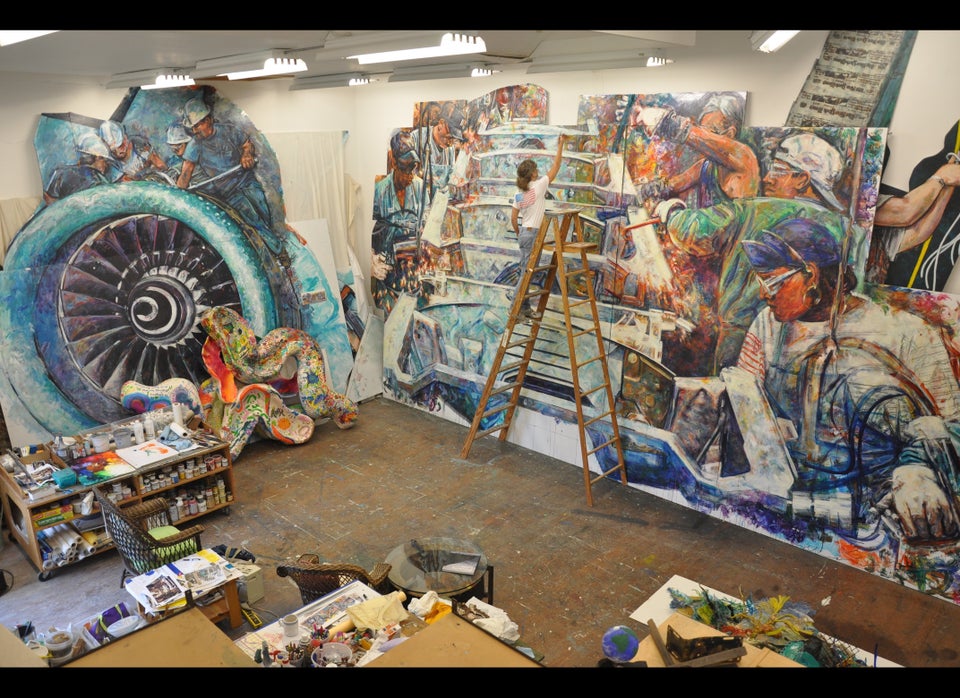 American Mural Project
And it isn't just student artists and Griesedieck who are involved -- famous athletes, including New York Mets veteran Joe Torre, signed the sports section of the mural.
"It started out as me just making something big so that people would take notice, and now it's developed into something to which many wonderful people have contributed," Griesedieck, who conceived the project over a decade ago, said. "It's ours."
And while the planned northwestern Connecticut location might come as a surprise to those who expect to find such projects in cities like New York or Los Angeles, Griesedieck -- who previously worked as a photographer for Sports Illustrated and People before becoming a full-time painter in 1980 -- calls it an intentional choice that relates directly to the project's historic leanings.
"I don't want it in Orlando, I don't want it in Washington," she noted. "Winsted is a New England mill town defined by the work that was done there, and I really wanted to capture that spirit of the town." As for the decision to house the project in a renovated mill, she added, "These are really our cathedrals, and [mills] are some of the finest architecture in the country."
At present, Griesedieck estimates that roughly 70 percent of the mural is complete, with additional involvement from art students in various schools nationwide planned for the fall. She said she is still searching for a major sponsor who will help finance a planned visitor's center to stand adjacent to the renovated mill exhibition. "It's that last piece," she said. "The minute we have funding, I'm on it."
So, in an economic downturn when many arts programs are being slashed, what continues to inspire Griesedieck? "The best thing you can do as an artist is be generous with what you have," she said, quoting artist Frank Stella. "I can't begin to describe what great art has the power to do for others. I don't know if I'm doing it, but I'm giving it my best shot."
For more information on the American Mural Project, click here.

Related
Popular in the Community