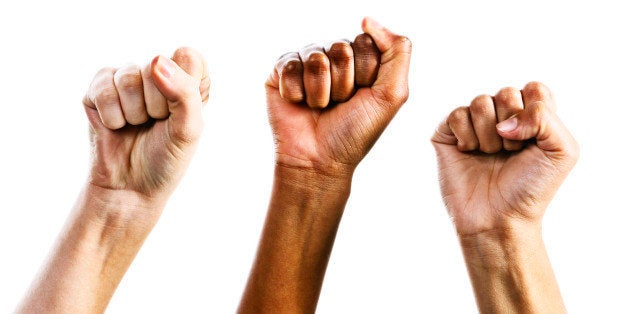 This piece was also written by Dolores Huerta: labor leader, civil rights activist, and co-founder of United Farm Workers.
Women's Equality Day, August 26th, commemorates the 1920 passage of the 19th Amendment to the United States Constitution, which was the first step toward all women having the meaningful opportunity to vote. It is a fitting day for all of us to exercise our influence on the political process by demanding an end to poverty wages undermining women's equality, especially women of color.
California Senate Bill 3, authored by Senator Mark Leno (D-San Francisco), will do just that. The bill will raise the state minimum wage to $13 an hour by 2017 and then tie future increases to inflation. The bill is part of a broader women's economic security package called Stronger California, which is gaining traction in Sacramento. This progress comes not a moment too soon.
The call for fair pay is getting louder. The public loved Patricia Arquette's wage equality demand from the podium of the Academy Awards and reacted with outrage to news that U.S. Women's Soccer Team received $33 million less as 2015 World Cup Champions than the 2014 men's winner. Indeed, one polled revealed that ninety percent of voters favor policies that help women achieve equal pay for equal work and raise wages for women and families.
All of this is great news. It reveals that more people in this state and country disapprove of a "gender wage gap" that hurts entire families. Pay gap numbers (which reveal the difference between the average wages earned by men and women working full-time) are shocking, especially for women of color in this state: African American women make on average just 64 cents to the dollar earned by white men; Latinas just 44 cents to every dollar.
But an overlooked contributor to the gender wage gap is the concentration of women into minimum wage jobs. Six out of ten minimum wage earners in California are women and women of color are disproportionately represented among them. Nationwide, 23 percent of minimum wage workers are women of color, compared to 16 percent of workers overall.
If we are serious about women's equality and closing the gender wage gap, especially as it impacts women of color, we must raise the state's minimum wage and we must do it now. Studies confirm that raising the minimum wage would help close the gender wage gap by increasing wages for workers at the bottom of the income spectrum.
California needs a minimum wage fix. Despite the state's great wealth, California has the highest overall poverty rate in the United States. Twenty-five percent of our residents are living in poverty, as are 39 percent of families headed by single mothers. These figures are not surprising given that Californians earning a minimum wage make just $18,000 per year before taxes. That means a hardworking mother of two who earns a minimum wage lives below the official federal poverty line. This is unacceptable.
Working women and their children deserve to be economically stable. Nine to $10 an hour isn't enough for women and their families in California to pay their bills, put healthy food on their dinner tables, and pay for child care.
If our legislators and Governor really support fair pay for women, as 90 percent of the voters think they should, supporting Senate Bill 3 is the right thing to do.
Calling all HuffPost superfans!
Sign up for membership to become a founding member and help shape HuffPost's next chapter